Roasted Vegetables with Chicken and Turkey Sausage is a super flavorful and easy dinner recipe that the whole family is sure to love. Did I mention that it was super easy?
All you do to make this meal is literally cut up some vegetables and sausage, toss in olive oil and let it roast away. I made this with potatoes, squash, cherry tomatoes and chicken & turkey sausage.
I was once asked by the husband of fellow food blogger (Erin of Well Plate) what I enjoyed cooking most when I wasn't working on recipes for the blog or clients. It didn't take me more than a second to respond with 'roasting vegetables and meat.' He probably went home and had a conversation with Erin that went something along the lines of 'and she calls herself a food blogger?' (I kid…at least I hope lol)
But truthfully, as dorky and simple as it may sound, I love combining vegetables and roasting them with a protein to make a meal. It's super easy and super versatile, you can mix it up depending on what you have in the house!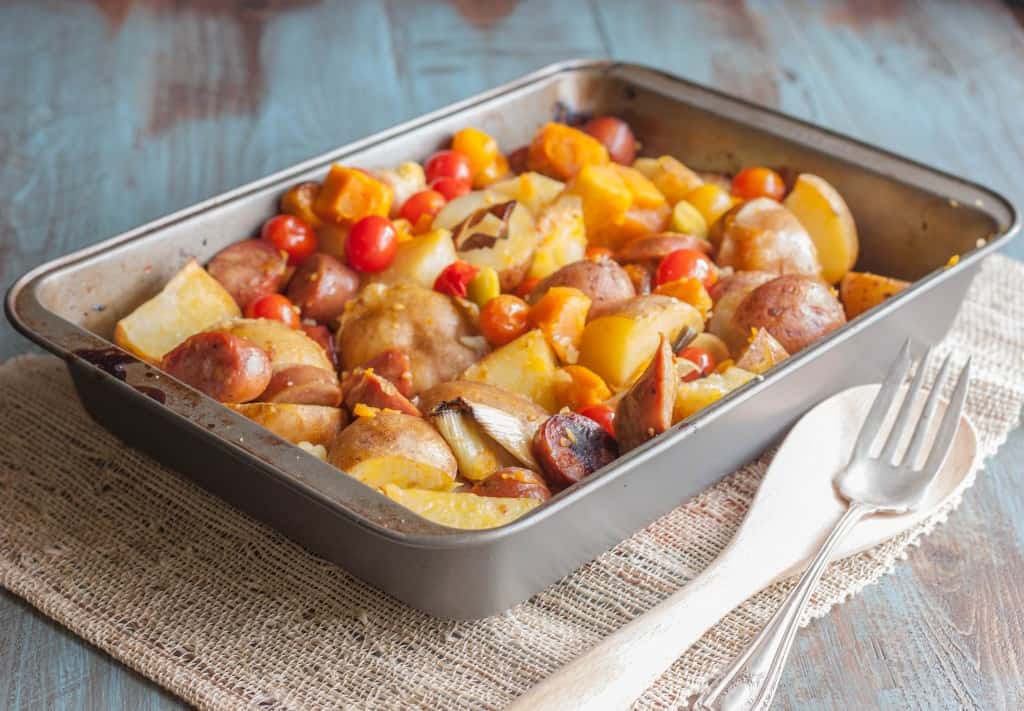 And good thing this is my favorite thing to make, because for the next 30 days I'm embarking on a program called Whole30, the concept is basically eating whole foods and eliminating added sugar, dairy (except eggs), legumes, grains, gluten and alcohol. Did I mention no sugar? Wow does everything have sugar in it in some form or another, like sausage…why does packaged meat and sausage have sugar in it?
So as I'm perusing the labels at the grocery store (grocery shopping took me about 10 times as long) I came across a brand (the only one I was able to find, might I add) that didn't have sugar in it, and that was Applegate Farms brand. I found Fire Roasted Red Pepper Chicken & Turkey Sausage which I used in this dish (but like I said, you can use whatever you like…do you like chicken sausage? use that! Do you like hot Italian sausage? use that! Use whatever kind of protein you like, I've made this exact same dish with chicken breasts and it still came out great.)
And fair warning…over the next few weeks I feel like I'm going to break some kind of record on how many times I use the word 'roasted' … told you I'm obsessed.

Ingredients
3

medium potatoes

cut into chunks/cubes

1/2

butternut squash

cut into chunks/cubes

1

pint

cherry tomatoes

I used 1/2 pint cherry tomatoes and 1/2 pint sun tomatoes

1/2

onion

cut into chunks

2

garlic cloves

crushed

1

package fire roasted red pepper chicken and turkey sausage

cut into pieces (or any protein you choose to use)

2

Tbs

extra virgin olive oil

2

tsp

salt

1/2

tsp

pepper

1/2

tsp

garlic salt
Instructions
Preheat oven to 400.

Combine chopped vegetables and sausage in a large bowl. Pour in olive oil and stir to coat the vegetables and sausage in olive oil.

Sprinkle seasonings in and stir again.

Pour into a baking dish and bake for 20 minutes. Remove from oven, stir, and bake for another 20 minutes or until a fork goes into the vegetables with ease. Remove from oven and allow to cool for 5 minutes, then enjoy!