Enjoy these salted honey blondies as the perfect dessert for summer (or really the perfect dessert for any time of year, they just make me think of sunshine and outdoors!) The light flavor of honey comes from using Honeycomb cereal in the batter as well as real honey, and is finished off by a nice hint of sea salt, making it the most wonderful sweet and salty combination!

Summertime is finally upon us! The sun is shining, and life is good.
Life is good because when the sun is out and the weather is warm, I feel like being outside – I'm not the only one, am I? It makes me feel all around happy. You know what else makes me happy? Honeycomb cereal! No joke, I've loved the cereal forever,  the little honeycomb shaped cereal just begs to be eaten whenever I feel like cereal.
As I was getting to the bottom of the box once I saw that the contents were a little crushed up – you know what I'm talking about, the little bits that get stuck in the corners – and as I was pouring them into a bowl, a thought crossed my mind that I could use the the cereal like a flour.
That's right. Crushed up Honeycomb cereal used as a flour! You just HAVE to try it. The cereal grinds up really nice and fine in a food processor and then can be used instead of a flour, which is exactly what I did with this recipe. The end result is just phenomenal! The first time I made these (I've made them several times, each time getting rave reviews until I got the recipe juuuuust right for you) I gave a little square to my husband to try and said asked what he thought, he said he needed another just to be sure (haha) and then he said 'you know, they remind me of childhood, a really homey and comforting dessert with an adult twist, I just can't stop eating them.' I squealed with delight, that is EXACTLY what I thought they tasted like.
[Tweet "Next time you need to bring a dessert – make these salted honey blondies from @sweetphi"]
The salted honey blondies have a subtle sweetness from the honeycomb cerial, and then the perfect finish with the sea salt, they taste almost like a butter cake, but better. The next time you need to bring a dessert to a gathering, bring these – there won't be a crumb left!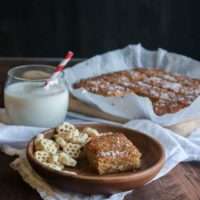 Ingredients
2

cups

Honeycomb cereal

crushed (makes 1 cup crushed)

1/2

cup

flour

1

stick

1/2 cup butter, melted

2

eggs

1/2

cup

sugar

1/2

cup

brown sugar

2

Tbs

honey

1

tsp

vanilla extract

pinch

of salt

2

tsp

sea salt

fleur de sel
Instructions
Preheat oven to 350. Line a square baking dish with parchment paper and set aside.

In a food processor pulsate the cereal until it is a fine powder and only a few small pieces remain.

In a bowl melt the butter for 30 seconds in the microwave, then add all the remaining ingredients except the sea salt to the bowl (crushed cereal, flour, eggs, sugar, brown sugar, honey, and vanilla extract) and stir until combined, then spoon into the prepared baking dish.

Bake for 25 minutes or until golden grown, then remove from oven and sprinkle sea salt on top as soon as it comes out of the oven. Allow to cool for at least 20 minutes, then slice up (I slice into 16 bars - 4 x 4) and enjoy!
This post has been sponsored by Post Honeycomb cereal. As always, thank you for reading and for supporting the brands that make the SweetPhi blog.  All thoughts and opinions are as always mine alone. Happy baking!