Oh do I love a good Savory Pie! I've made my recipe for Black Bean Pie numerous times and it always comes out great. So I decided to make my own crust and play around with some filling options and wow oh wow are these amazing, the Butternut Squash filling ones are beyond good, and the ones using the Black Bean Pie filling are delightful as always! These are also an awesome make ahead and throw in the freezer until ready to eat type of dish!
Ingredients
For the Cheddar Crust

you can half this, I doubled my recipe to make 2 separate batches: 5 Cups Flour

4

oz

Sharp Cheddar

Cubed

1.5

Sticks Butter

1

Stick or 6 oz baking Vegetable Shortening

3

Tbs

sugar

2

Tsp

salt

1/4-3/4

cup

ice water

3

tsp

apple cider vinegar

For the Butternut Squash savory filling: 2 tbs olive oil

1/2

small onion

1/2

lb

italian style ground turkey

1

cup

cubed butternut squash

1/2

an apple

peeled and finely chopped

dash of salt/pepper

Approximately 5 Tbs Farmers Cheese

Approximately 5 Tbs shredded sharp cheddar

Herbs de Provence for sprinkling on top

For the Black Bean Savory Pies: 1/2 small onion

1/2

lb

Italian style ground turkey

1

cup

salsa

1

can black beans

drained and rinsed

Approximately 5 Tbs Farmers Cheese

Approximately 5 Tbs shredded sharp cheddar

chili powder and cumin for sprinkling on top

1

egg plus 1 tbs for egg wash
Instructions
For the crust: Put all the dry ingredients in a food processor and blend for a few seconds. Next add the butter, shortening and cheddar and pulsate until combined (for a more chunky cheese crust you can add the cheese last). Next add the wet ingredients, adding as much water until there is a soft doughy consistency (mine used 3/4 cup water with the doubled recipe...don't add too much water because then the dough becomes unmanageable and you will need to add more flour! Carefully take out of the food processor, form into two ball/disc shapes, wrap with plastic wrap and put in the freezer for 45 min or in the fridge for an hour and half.

For the fillings: In a large pan combine olive oil, onion and Italian ground turkey and sprinkle with a little salt and pepper. When the ground turkey is almost done take half of the mixture out and put it in a bowl (this will be the bowl for the black bean filling.) In the pan add the butternut squash and the apple, let cook until turkey is all cooked through and the butternut squash is almost done, about 5 min. In the bowl with half the turkey add the black beans and salsa and stir.

When removing dough from the freezer, flour a surface liberally and with a rolling pin roll the dough out, and then cut each disc into 8 roughly equal pieces.

Preheat oven to 400.For assembly, spoon a dollop of the Farmers cheese onto each piece, add a few heaping teaspoons of filling, add a sprinkling of cheddar cheese, then pick up the corners folding them into each other and pick up the entire thing and form it into a ball shape, then put seams-side down on a parchment lined baking sheet. I worked in two batches, I made one set of 8 hand pies with the butternut squash filling, then another set with the black bean filling, and each kind got its own baking sheet. Brush the egg wash on, sprinkle with seasoning and bake for 45 minutes. Let cool for 5-10 minutes and then enjoy!
 Savory hand pie ingredients
 Flakey cheddar crust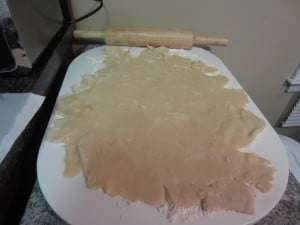 Flakey cheddar crust rolled out
 Fillings
 Assembly
 More lovely assembly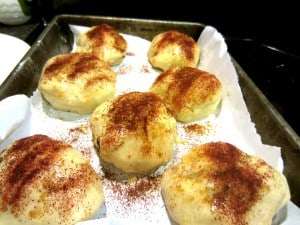 Black Bean hand pies
 Butternut squash hand pies
 The beautiful hand pie on a plate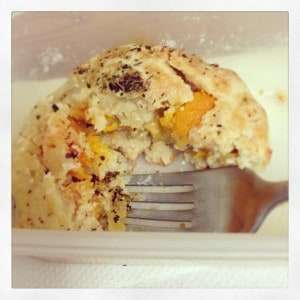 yummmmmmmm!