This Scooby snacks cookies recipe was inspired by a book we got as a gift and it ended up being so fun to make with the kids!  Plus, the cookies were tasty too!
When the twins were born, my sister-in-law gave us Scooby-Doo! Encyclopedia because of a character named Frederick (which is what we named the boy of our boy-girl twins).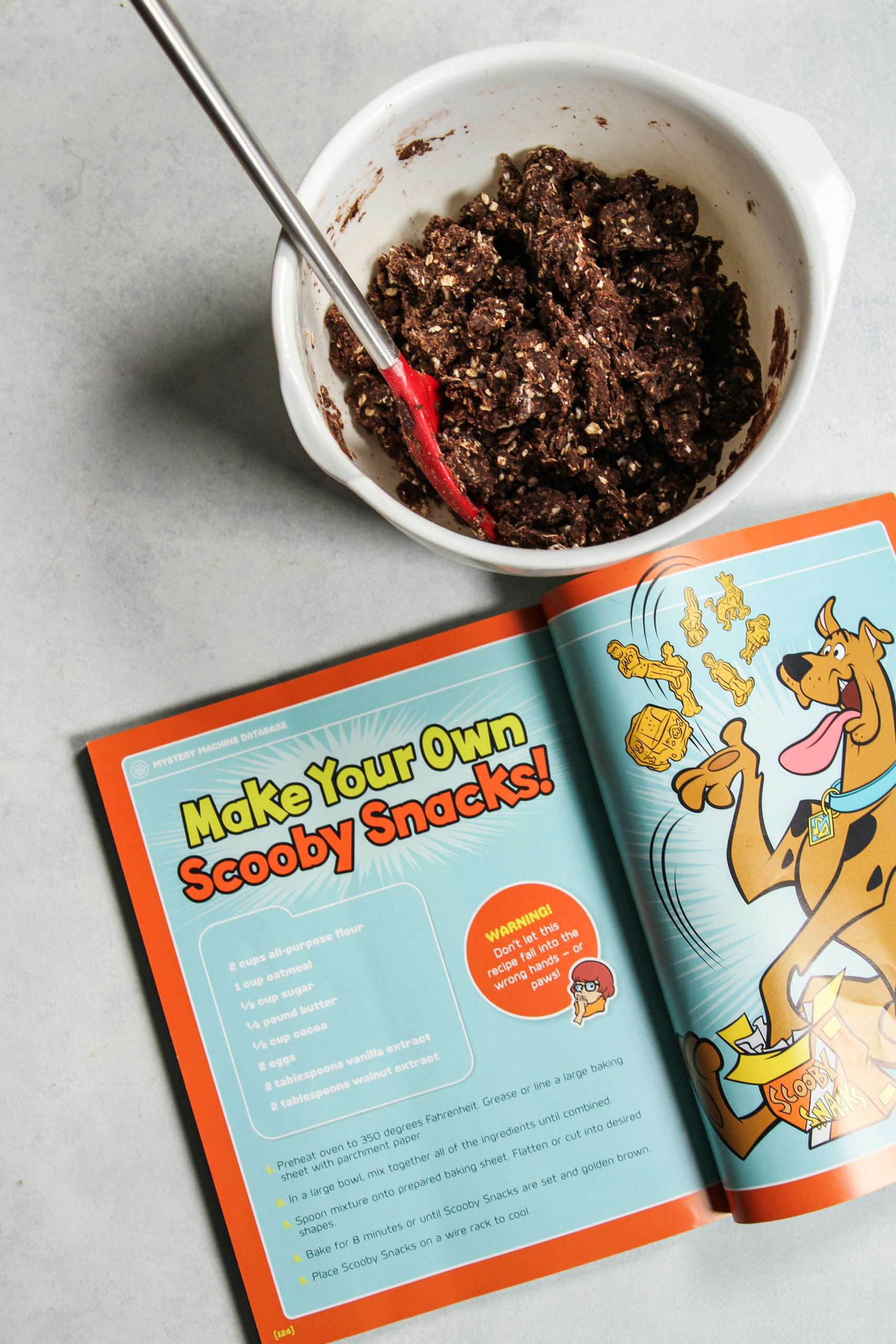 The other day, Ben was watching a Scooby-Doo episode and then found the Encyclopedia, so we've been all about Scooby-Doo in our house lately.  In the back of the book, there is a recipe for Scooby Snacks.  Ben said he wanted to make them, so we gave it a shot!
What ingredients do you need to make your own Scooby snacks?
You'll use a variety of ingredients that you're used to seeing in any and all baking recipes, but a few notes about the ingredients more unique to this recipe.
All-purpose flour – you can use a regular ap flour, or a gluten free baking flour
Oatmeal – I would suggest grinding up the oats to make an oat flour
Butter – you'll need one stick, or 8 tablespoons (salted or unsalted is ok)
Sugar – these cookies aren't overly sweet, so feel free to add a little extra
Cocoa powder – this is what gives the color the yummy chocolate brown color
Eggs – regular large eggs are used in this cookie recipe
Vanilla extract – I like using a good quality vanilla extract like this one.
Walnut extract – the most unique ingredient that gives the cookies a nice nutty flavor, I just buy one off Amazon (here)
The cookies turned out to be great.  They are a 'healthy' tasting cookie; not too sweet – which is how I like them.  They are very mild in flavor, but at the same time I couldn't stop eating them, lol.
How do you make your own Scooby snacks?
Preheat the oven.  Grease or line a large baking sheet.
Mix together all ingredients, until well combined.
Roll or flatten the dough, then cut into desired shapes.
Bake for 8 minutes.
Cool and enjoy!
To be honest, I was very surprised when I first read the recipe because these scooby snacks cookies contain cocoa powder and dogs should not eat cocoa powder or chocolate because it speeds up their heart rate and contains caffeine.  The recipe does come with a warning in the book which says 'don't let this recipe fall into the wrong hands-or paws' – still an odd choice I thought.
But, this is a recipe for kids, not dogs, so we're all in the clear!  In case you'd like to make these dog friendly, simply replace the cocoa powder with 1/3 cup whole wheat flour.
And if you want to be super Mom and get a little crafty, I have a simple project you can do to store your cookies.
I just googled a picture of Scooby Doo, cut it out and put it on a jar – it's as simple as that!  The jar itself is from Crate and Barrel.  This simple clip art project was so thrilling to Ben, so I was more than happy to do it.
Ingredients
2

cups

all-purpose flour

1

cup

oatmeal

(ground up oats)

1/4

lb.

butter

(8 tablespoons, 1 stick)

1/2

cup

sugar

1/2

cup

cocoa powder

2

large

eggs

2

Tbs.

vanilla extract

2

Tbs.

walnut extract
Instructions
Preheat oven to 350 degrees. Grease or line a large baking sheet with parchment paper.

In a large bowl, mix together all of the ingredients until combined. 

Roll/flatten dough (we did this by putting the dough between two sheets of wax paper, and then rolling out thin. Then remove the wax paper and cut into desired shapes.

Spoon mixture onto prepared baking sheet. Flatten or cut into desired shapes

Bake for 8 minutes, or until scooby snacks are set and golden brown

Place scooby snacks on a wire rack to cool. 
Notes
The nutrition information presented on this site should be considered an estimate as the calculations will change based on the exact products you use in your own kitchen.
Nutrition
Calories:
61
kcal
|
Carbohydrates:
9
g
|
Protein:
1
g
|
Fat:
3
g
|
Saturated Fat:
2
g
|
Cholesterol:
6
mg
|
Sodium:
21
mg
|
Potassium:
28
mg
|
Fiber:
1
g
|
Sugar:
3
g
|
Vitamin A:
71
IU
|
Calcium:
4
mg
|
Iron:
1
mg