Impress your guests with these super easy and deliciously perfect homemade sea salt and olive oil crackers. And by easy I'm talking making these right before guests arrive and then serving them just as they have cooled. And since these crackers only have five ingredients, they're perfect for my Five Ingredient Fridays series.
These homemade sea salt and olive oil crackers came about because we had some friends over and had just bought some cheese but forgot crackers.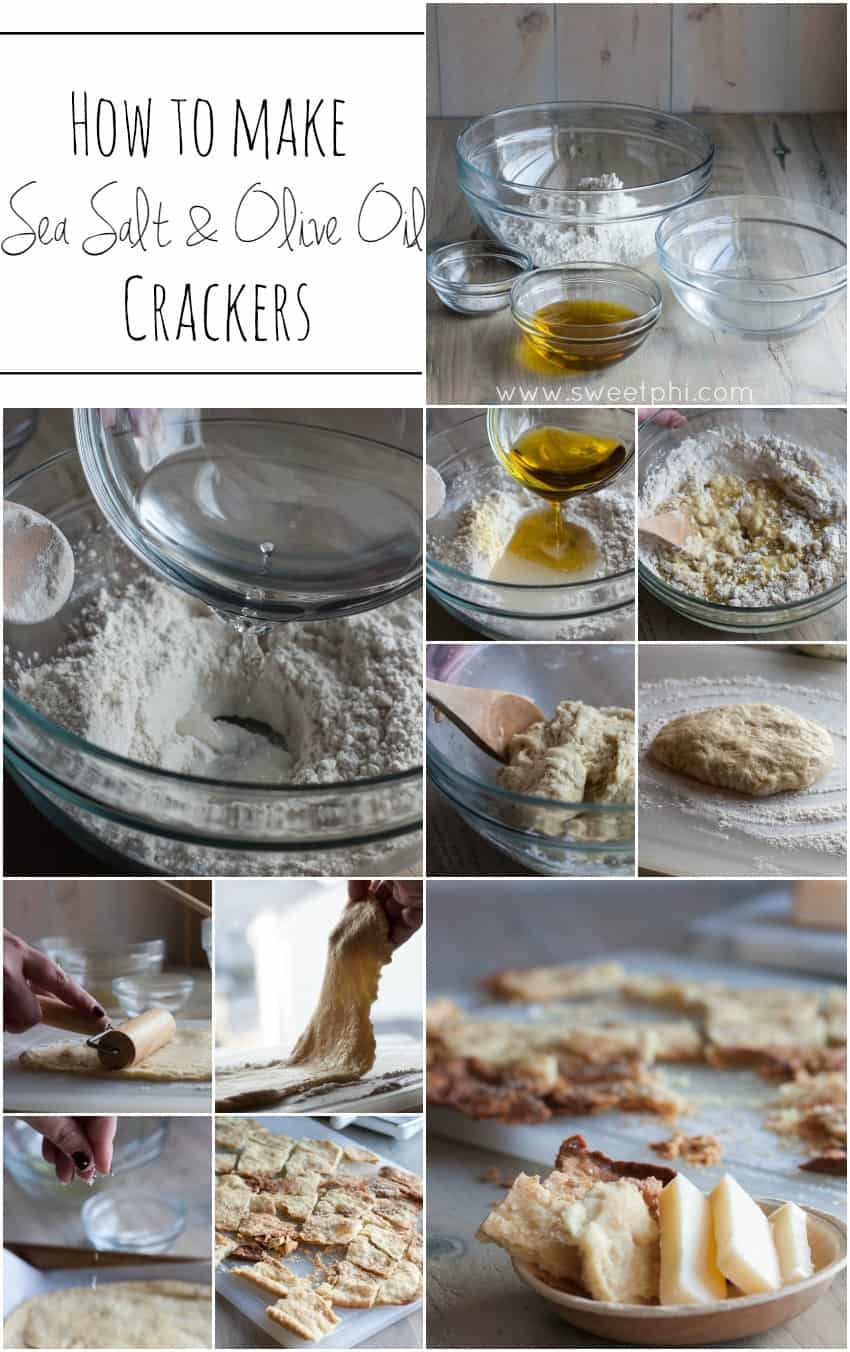 Since I've always wanted to make crackers (and we needed some) I thought I'd try to throw something together quickly to see how it would work. And wow! They're super easy to make, in fact, I made them and was serving them within an hour. They're flaky and have rich flavors of olive oil that are complimented oh so perfectly by the sea salt that they're topped with!
To make these crackers you make a super simple cracker dough: you combine flour and a little baking soda, make a well and add in the water and olive oil and add a little salt, mix it together, then roll it out on a floured surface, place it on a parchment lined baking sheet and sprinkle with some sea salt. Bake, let cool, and then cut into crackers and enjoy!
This was the state of the crackers at the end of the afternoon:
I've also made these sea salt and olive oil crackers with 1/2 whole wheat flour and 1/2 all purpose flour and they've come out great!
I also like serving these crackers on a board (this is our cool & board) and just putting whatever we have in the fridge and random things on it to make a 'cheese and cracker board' for lunch – our (almost) 3 year old toddler loves having this for lunch!
Ingredients
2 3/4

Cups

Flour

plus more for rolling the out the dough

1

tsp

Baking Powder

1

Cup

Water

2 1/2

Tbs

Extra Virgin Olive Oil

2

tsp

Fleur de sel sea salt
Instructions
Preheat oven to 425, line a baking sheet with parchment paper.

In a large bowl stir together the flour and baking powder and one teaspoon of the sea salt. Make a little well in the middle of the flour and pour in the water and olive oil. Stir with a wooden spoon until all combined and can be formed into a ball.

Flour a board or flat surface and place dough ball on the floured surface and roll it thin to about 1/4 inch thickness and place onto parchment lined baking sheet. I didn't have a board big enough so I split the dough into two pieces and rolled them out and then pressed them together when I placed them on the parchment paper. Sprinkle remaining sea salt on top of the dough.

Bake for 20 minutes, then check to see the color, you want it a golden brown. If you need to bake the crackers a few more minutes for them to be done, do so.

Remove from oven and allow to cool for 10 minutes.

Lift the parchment paper out of the baking sheet, and slide the big cracker onto a cutting board. Now cut into smaller cracker pieces and serve!