In this slow cooker mushroom and beef burgundy dish beef is braised to tender perfection in a red wine and beef broth sauce which is gently flavored with onions, garlic and mushrooms and is served  over creamy mashed potatoes.
Beef burgundy (or beef bourguingnon as some may know it) is a dish that originated in the French Bourgogne region, and can be easily made in your home. The version I'm sharing with you is a warming slow cooker meal that I like to serve with a glass of bold red wine (aka burgundy wine).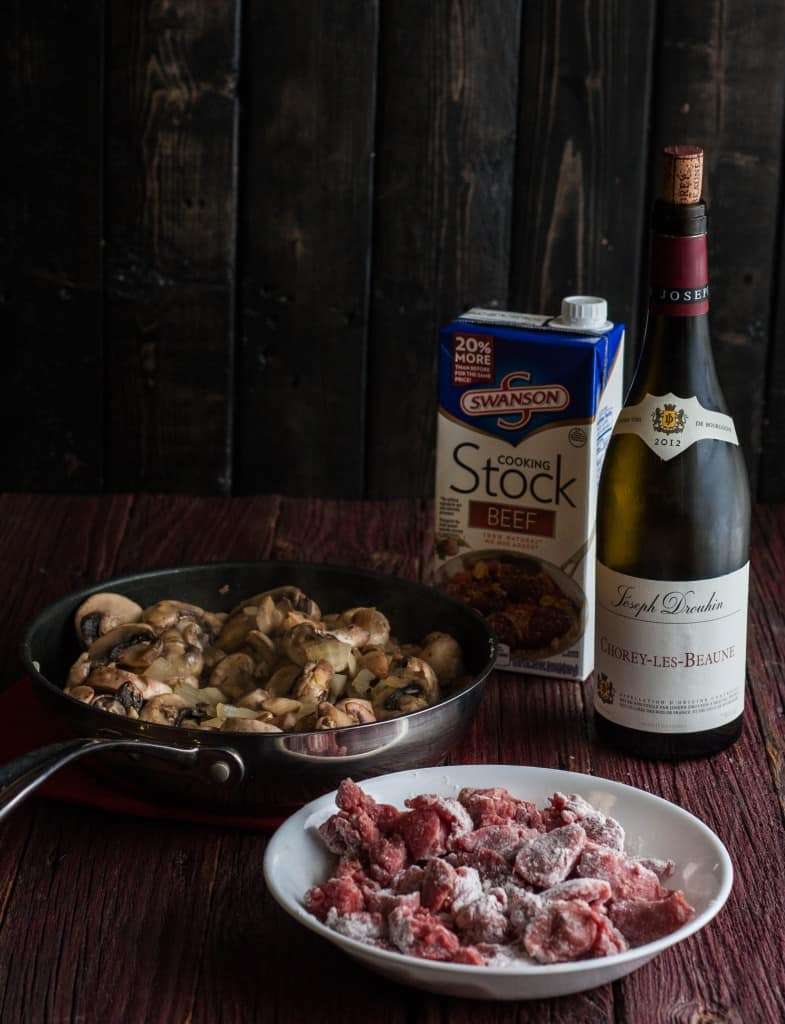 Warming dishes that can be made ahead of time and then enjoyed throughout the week (or later if freezing it – which I'll talk about below) are what I find myself being drawn to. What I've started doing is making a meal in my slow cooker/crock pot on the weekends, and then using it during the week or portioning it out and freezing it. My favorite tacos recipe, that one, for example, is perfect for making on the weekend and then using throughout the week. I simply make the salsa chicken and shred it, and then use it for meals such as tacos, as a topping for my enchilada flatbread (that recipe comes together super fast) or as a salad topping or on quesadillas. Make it one, enjoy it many times. Those are the kind of meals I'm all about these days.
With this mushroom and beef burgundy I find myself doing the same thing. I'll make it on the weekend (I even double the recipe sometimes) and then have it in the fridge to enjoy during the week. I use this slow cooker, it's super big, so it's very accommodating if I ever want to double a recipe.
Mushroom and beef with wine is just such a great flavor combination. It reminds me of the mushroom and wine sirloin steak sandwiches recipe I just posted about…maybe I can get my husband to make this dish as well? I know he definitely enjoys this dish. It's also one of those dishes that is perfect to make if you're having company. It's just so flavorful and everyone is going to think you spent hours upon hours in the kitchen, when really all you did was prep the meat, put the ingredients in the slow cooker, and then made the mashed potatoes. With the mashed potatoes what I like to do is make a parsnip and potato mash. The parsnips add a nice earthy and creamy flavor to the potatoes, it works perfectly as a bed to serve the mushroom and beef on.
And lets say that you don't want to enjoy this meal later on, as in, a few weeks from now, well, this dish is one that works very well as a freezer meal. To freeze it simply make it, then let it cool, then put the mushrooms and beef in a freezer zip lock bag or tupperwear container and put the parsnip and potato mash in a separate container, label it (don't forget to label it!) and then put it in the freezer. When you're ready to serve it simply let it thaw in the refrigerator and then warm it in the microwave or via stove top. The parsnip and potato mash may seem a little liquidy when thawed, but I've found that in the process of heating it the liquid gets absorbed and it is just the right texture when warm (microwaving it works great!)

Ingredients
For the Mushroom & Beef Burgundy

1

lb

beef chuck

cubed into 1 inch pieces

2

Tbs

flour

2

tsp

salt

1

tsp

pepper

1

Tbs

butter

1

medium yellow onion

finely chopped

2

garlic cloves

finely chopped

2

packages

8oz. each sliced mushrooms

1

tsp

vegetable oil

1 ½

cups

red wine

1 ½

cups

beef broth

For the Parsnip & Potato Mash

5

medium potatoes

2

parsnips

1

Tbs

butter

3/4

cup

milk

1

tsp

salt

¼

tsp

garlic salt
Instructions
Place flour, salt and pepper on a plate. Roll beef cubes in the flour.

Heat butter in a frying pan over high heat and add the chopped onion. Cook until the onions start to become translucent (about 5 minutes) then add the garlic cloves and mushroom slices and 1 tsp salt and cook for 3 minutes, stirring occasionally and then transfer the contents into a slow cooker/crock pot.

Now in the same pan add the oil and add the beef cubes in. Cook the meat for 5 minutes until it starts to brown (the best way to do this is to just let it sit without stirring but once to allow for the meat to form a brown crust). Then add the meat to a

crock pot

. Pour the wine in the pan and deglaze until it reduces in size (about 5 minutes) then and pour in the crock pot and add beef broth and cook on high for 2 hours (or low for 4 hours) until the meat falls apart when a fork is poked into it. I like it best when it has time to really cook low and slow, so I go with the 4 hours on low

To make the parsnip potato mash, peel potato and parsnips and boil for 30 minutes, then strain them, and return to the pot. Add in the butter, milk, salt and garlic salt, mash until creamy.
Want to
pin with me
? Here's an image with step-by-step photos to pin for later:

Just like my chocolate chip oatmeal stout cookies, this recipe was created for an in print feature in a local Milwaukee publication called the Alcoholmanac as part of their March issue. Some of the above links are affiliate links, if you purchase amazon products through my store at no cost to you, I will earn a few pennies. As always, thank you for supporting the brands and products I love that make the Sweetphi blog possible.