This sourdough pierogi recipe is the sourdough starter discard recipe you've been looking for! Making homemade pierogi is a fun cooking project and I'm sharing two filling for pierogi below: sweet potato kale cheese and potato and cheese.
Pierogi are dumplings with a filling, very similar to ravioli. Don't have a sourdough starter discard? Use the recipe for Pierogi Ruskie: potato – cheese pierogi from Spruce Eats which I used as a base before modifications here.
Pierogi are made by making a dough, then filling the dough/dumplings with fillings (sweet or savory) and then boiling them and then serving them with a little butter and fried onions, or pan frying them.
For those of you who don't know, I grew up in Chicago which has a really large Polish cultural community. Growing up, I had some friends with Polish heritage, and I remember going to their houses and their moms would make homemade Pierogi for us to enjoy.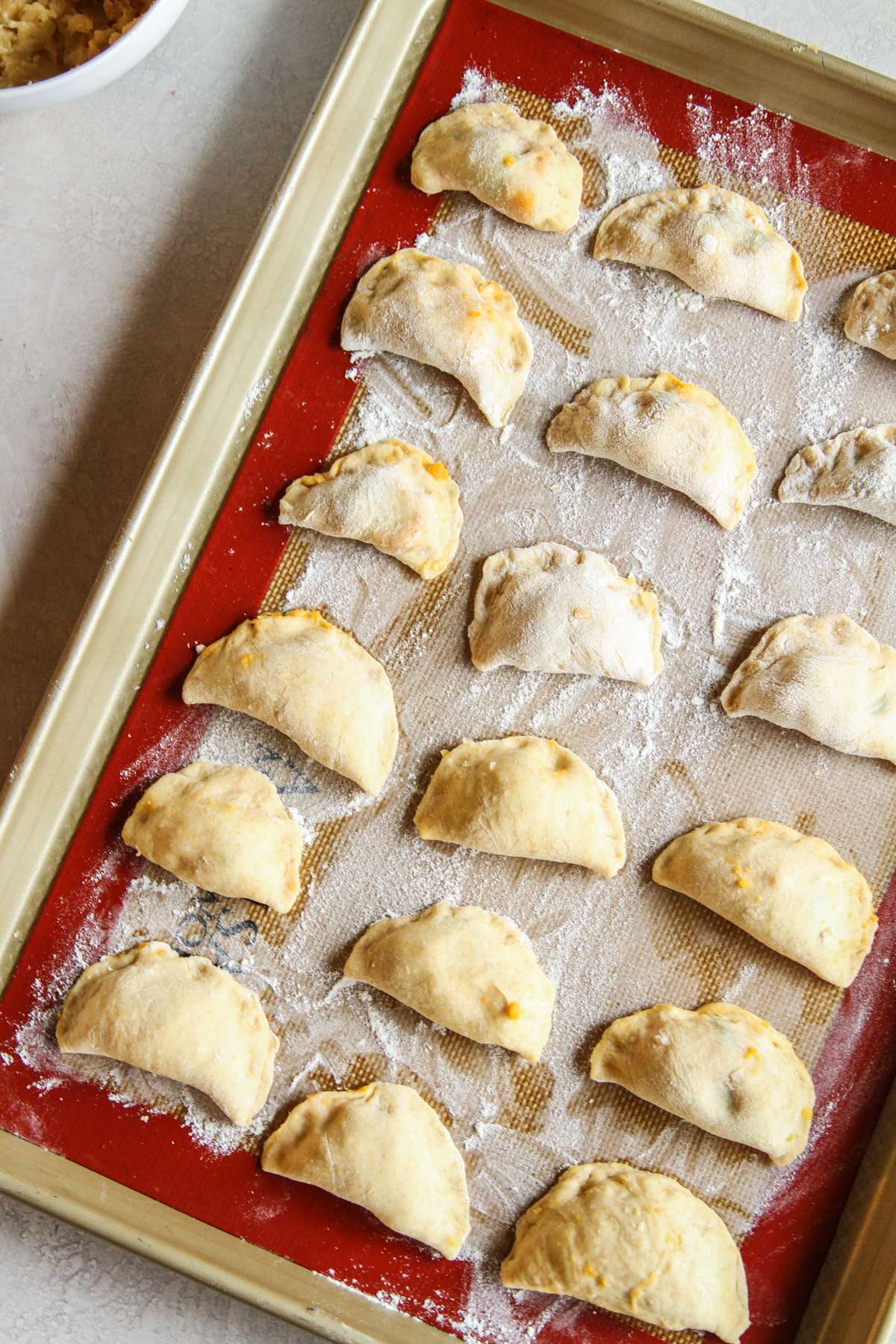 Homemade pierogi are so so good, especially fresh and homemade. But just like making any pasta from scratch, it's not a 5 minute easy recipe (I mean the recipe is easy, but you make a dough, make filling(s), roll the dough, fill the dough and make dumplings, boil the dumplings and then enjoy!) It's a labor of love, but there's nothing quite like the amazing homemade taste, especially with these sourdough starter discard piergoi!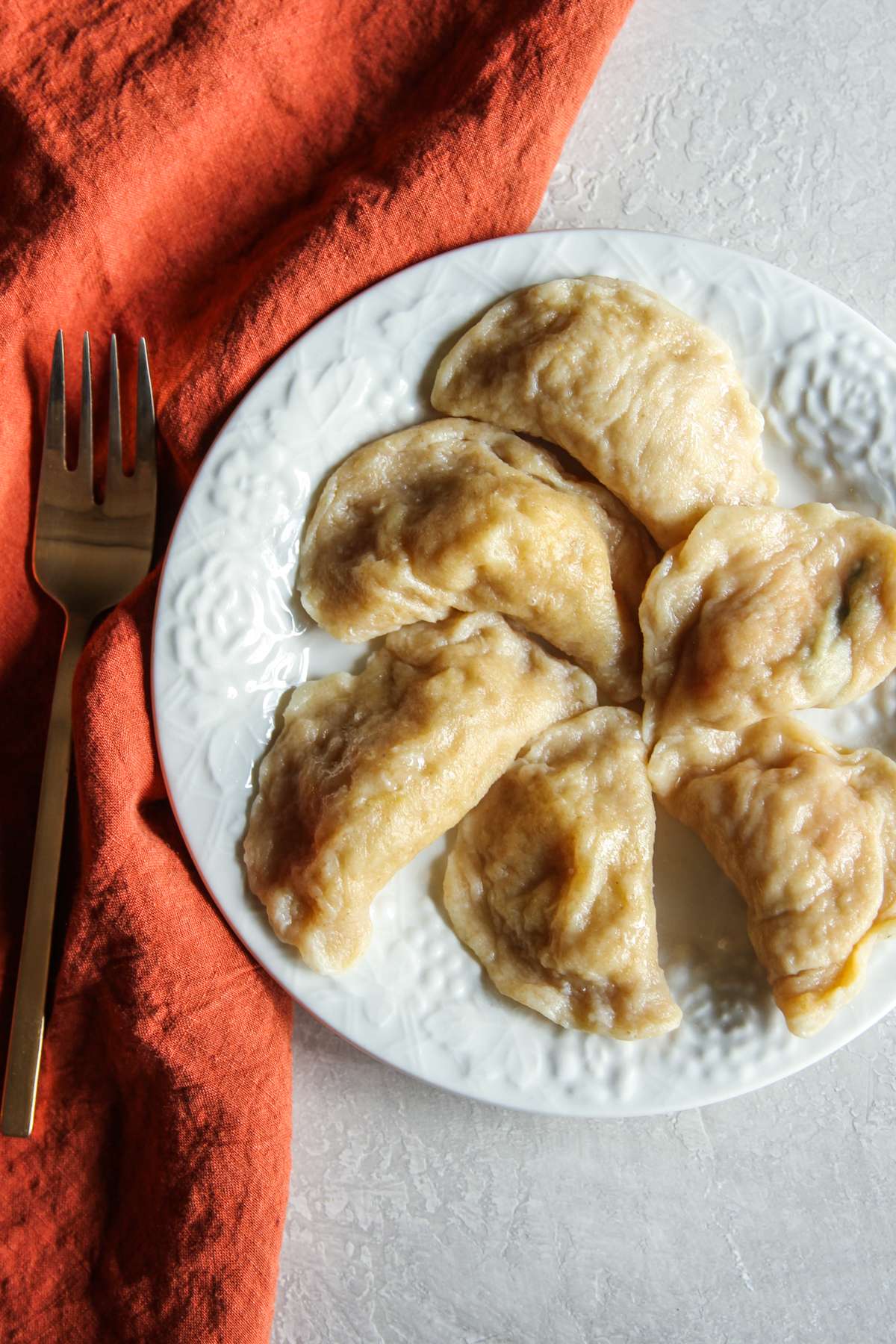 I'm new to the whole sourdough starter thing. When you're first 'growing' your sourdough starter, you're feeding it every 12 hrs, and you end up discarding a bunch, twice a day. Since it's just flour and water and adds a nice airy texture as it matures, I didn't want to waste it. I've been using the sourdough discard and making all sorts of recipes (like this incredible sourdough pizza crust recipe).
I made two different fillings because I followed a recipe that said you needed about 2 lbs of potatoes and I only had 1, but I had quite a bit of filling leftover, so please note that you probably only need 1-1.5 lbs of potatoes for filling, so you could make one or both, in smaller quantities. These pierogi make an amazing vegetarian dinner!
Tools that made making homemade pierogi easier:
For cutting the shapes, using a biscuit cutter made it so much easier (this is the set I have – I used one with a 2.25 inch diameter). You could also use a glass to cut a round shape.
For rolling out the dough, I used a small pastry roller (I use this all the time and it makes rolling dough so much easier I find)
Silicone baking mats (I use these all the time, made it easy for resting the pierogi before cooking them, and then after cooking I used them to freeze the pierogi)
I gave some to my in-laws to try, and they too loved them. My husband loved the potato and cheese filling, and I (and my in-laws) loved the sweet potato kale and cheese filling. Both pierogi fillings are super good (I literally ate the leftover filling straight out of the bowl!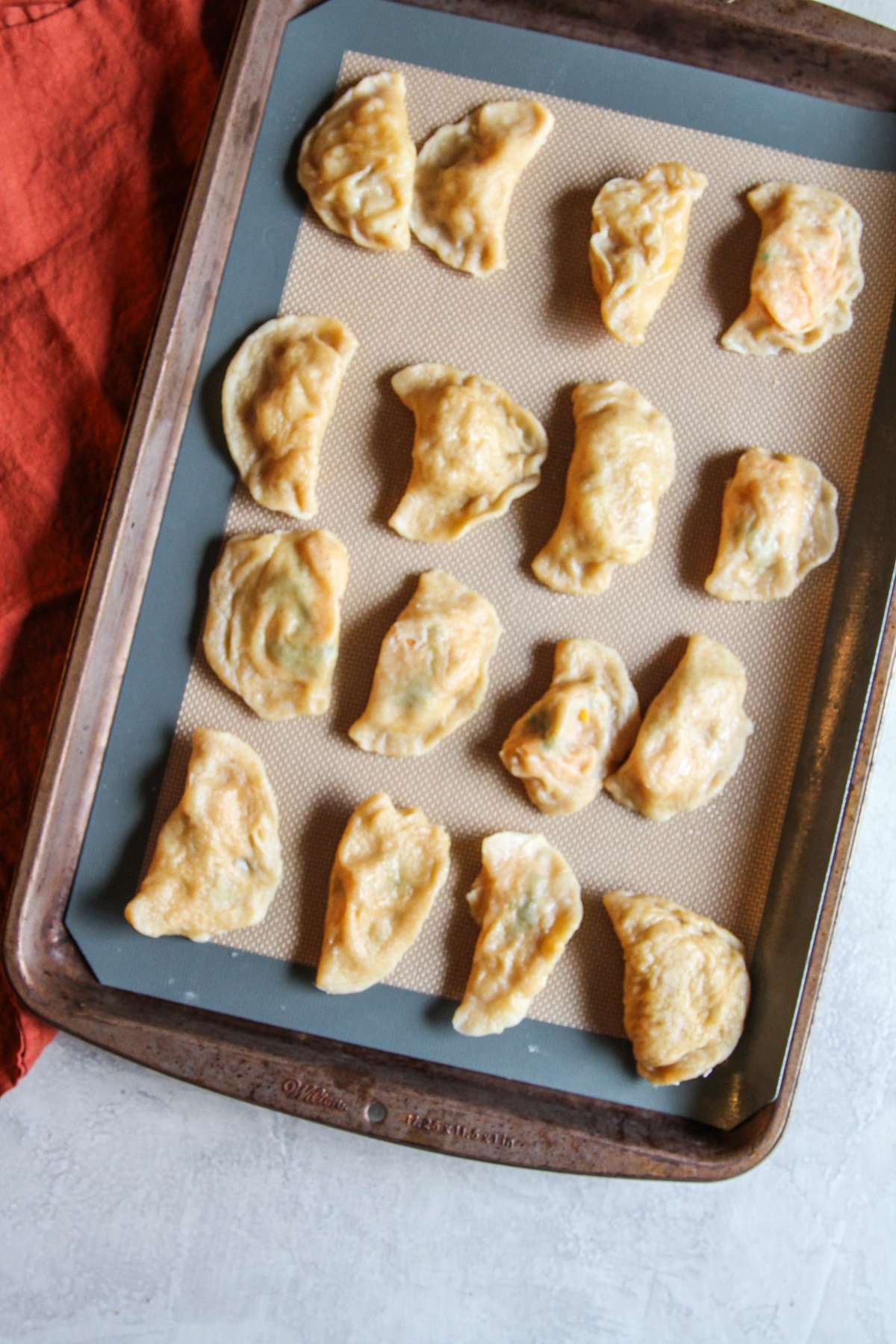 Using sourdough starter discard to make this pierogi recipe is something I'll continue doing with my discard, because it was such a fun and flavorful dinner. Have you ever made homemade pasta or pierogi before?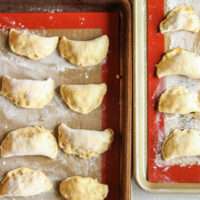 Sourdough Pierogi Recipe
This sourdough pierogi recipe is the sourdough starter discard recipe you've been looking for! Making homemade pierogi is a fun cooking project and I'm sharing two filling for pierogi below: sweet potato kale cheese and potato and cheese
Print
Rate
Ingredients
For the fillings
2

lbs

potatoes

I used 1 lb yellow potatoes and 1 lb sweet potato - which was 1 sweet potato

2

tablespoons

butter

1/2

large onion

finely chopped

1/2

teaspoon

salt

2

tablespoons

Parmesan cheese

shredded

4

oz

marscarpone cheese

use cream cheese if you don't have marscarpone

1/4

cup

kale

finely chopped, optional, can use spinach instead
For the pierogi dough
1 1/2

cups

all purpose flour

1

large egg

at room temperature

3/4

cup

sourdough starter discard

1/2

cup

water

lukewarm

1

teaspoon

salt
Instructions
To make the pierogi filling
Peel potatoes, cut into 2 inch pieces or large chunks

Bring a large pot of salted water to a boil, and boil the potatoes until soft when pierced with a fork.

Drain water.

In a small frying pan, add 2 tablespoons butter and onion pieces, fry until slightly browned and caramelized (about 7 minutes).

In a bowl, place white potatoes and in another bowl sweet potatoes (or if using just one kind of potato or you want to mix them, add them in whatever bowl combinations.)

Mash the potatoes, leaving a little bit of potato pieces so they're not all smooth.

Either divide among the 2 bowls with potatoes or into the 1 bowl the onions, salt, parmesan and marscarpone cheese. Add greens to the sweet potatoes (or potatoes or leave out if not using).

To make the pierogi dough
Place flour in a large bowl, make a well in the center.

Crack the egg into the center.

Pour sourdough starter discard around the edges of the bowl on top of the dry flour, sprinkle salt over everything in the bowl, pour water around the egg.

Using hands (or a wooden spoon or a stand mixer with the dough attachment) mix contents of the bowl so that it all comes together, kneading everything until it turns into a dough.

You might need to add a little flour or water if the dough feels too wet or dry.

This

recipe had great step by step photos.

Divide the dough ball in half and place both halves in the bowl you just used for mixing and cover it with a kitchen towel (or some plastic wrap loosely draped over the bowl and let it rest 20 minutes.

If you have a very mature/active starter, you might see some bubbles in your dough.

I usually make the fillings when the dough is resting, see making filling step.

After the dough has rested, flour a surface (I just used a cutting board)

Roll out 1 of the dough balls. I use a

small pastry roller

, but a rolling pin would do the trick. Roll the dough very thin, then using a 2-inch round biscuit cutter or edge of glass, cut the dough into circles.

Put a little spoonful of filling in the middle of a dough circle, then fold/pinch the edges together.

Gather scraps, re-roll and fill. Repeat with remaining half of the dough until all dough is filled (I got about 40 pierogi).

Place finished pierogi on a lightly floured baking sheet or baking sheet with a silicone baking mat so it doesn't stick, and cover with a tea towel so they don't dry out.

Bring a large pot of salted water to a boil.

Drop in about 6-8 pierogi at a time as to not crowd them. When pierogi rise to the surface, they are done cooking (just like with ravioli!)

Use a slotted spoon and taste test for doneness, when done, transfer to a lightly buttered plate so they don't stick.

Serve warm.

Can serve with fried onions, or serve pan fried.

You can freeze pierogi by allowing them to cool on a baking sheet and then freezing them on the baking sheet and then transferring them to a freezer safe container/bag. Good in the freezer for 2-3 months.
Notes
I used The Spruce Eats recipe for Pierogi Ruskie Potato-Cheese Pierogi and modified it slightly.
Nutrition

 information disclaimer: the 

nutrition

 information presented on this site should be considered an estimate as the calculations will change based on the exact products you use in your own kitchen.  
Nutrition
Serving:
1
g
|
Calories:
338
kcal
|
Carbohydrates:
53
g
|
Protein:
12
g
|
Fat:
9
g
|
Saturated Fat:
5
g
|
Polyunsaturated Fat:
3
g
|
Cholesterol:
46
mg
|
Sodium:
572
mg
|
Fiber:
5
g
|
Sugar:
2
g