After searching endlessly for sourdough starter discard recipes and testing multiple recipes, I've come up with a wonderful sourdough pizza crust recipe using sourdough starter discard! This recipe is based on my sheet pan pizza recipe so if you don't have a sourdough starter I'd recommend checking out that post.
You see, after claiming I would never start a sourdough starter, I did just that. I now have a sourdough starter named Crust Hemsworth which is 8 days old (he's not quite ready to make bread yet). When you're making a sourdough starter there are so so many resources out there (this is the recipe I followed to make my sourdough starter) but the one thing that truly surprised me was 1-how complicated and science-y everything was (which is fine, I get it, bread baking is a science) and 2-how there was a lack of recipes sharing what to do with the sourdough starter discard.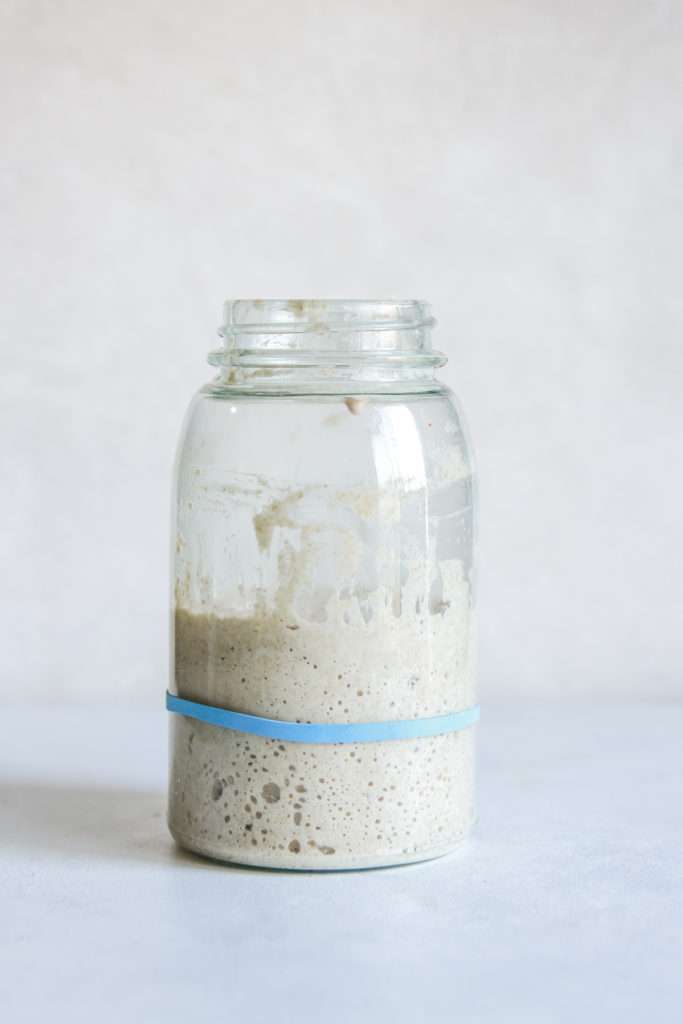 When you're first growing your starter, twice a day you're 'discarding' more than half of it! During these times when flour and yeast is hard to come by, I've been taking notes and making all sorts of recipes with the discards (which are just flour and water combined!)
I shared my list of how to have a zero waste sourdough starter, but my favorite sourdough starter discard recipe, by far, has been this sourdough pizza crust recipe!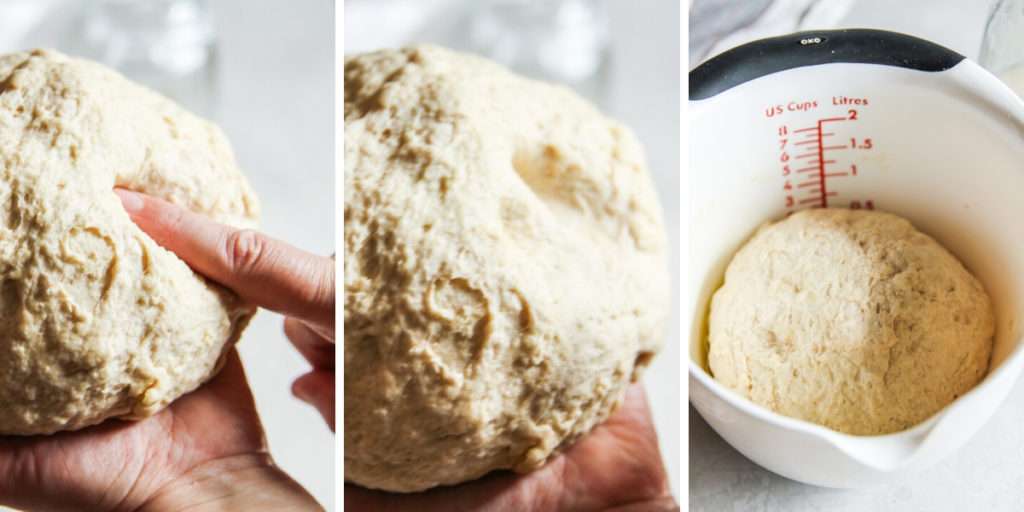 This is a sourdough pizza crust with no added yeast. If you're looking for a pizza dough/crust with yeast recipe, I would highly recommend my sheet pan pizza recipe (or if your sourdough starter isn't all that active, you can totally add in a active dry yeast).
After testing this pizza crust recipe out with no added yeast and finding that the trick was letting it sit overnight for a very slow rise, I read the most beautiful thing about yeast: it doesn't really matter how much you use. "As long as there's a food source (starches and sugars in the dough) and you don't kill it (with super hot water), the yeast will slowly multiple and work and work and work until the job is done. If your recipe calls for 2 1/4 tsp (a packed) and a  1/2 hr rise time, you could actually use 1/2 tsp and let it rise for 5-6 hrs." (source)
And it worked!! So for this sourdough starter discard pizza crust recipe, the key is just making the dough (really simple and only 5-10 minutes hands on time) and then letting it rest for a long time (I've found the key is about 8-12 hrs, or overnight is what I did). I even tried putting this in the fridge to rise and it worked. If putting it in the fridge, it's an even slower rise (mine took about 18-20 hours.)
If you're adding a little bit of active dry yeast, you could dramatically reduce the rise time, but I'd recommend a minimum of 2-4 hours.
When your pizza dough is done rising, you're going to bake it on an olive oil lined baking sheet. You simply stretch the dough from the bowl and press it onto the baking sheet. If it doesn't go all the way to the edges, simply wait 5 minutes, and then finish pressing it.
I recommend par-baking the crust (like I do with my whole wheat pizza dough) and then adding the toppings (like sauce and cheese) to finish baking. I didn't par-bake the pizza crust once and the center wasn't full cooked. It was fine when re-heated, just not as good!
I know someone who made this into Grandma Slice -Grandma Pie with this sourdough pizza crust recipe and it looked so amazing.
Because it's baked in olive oil, it has this almost focaccia like crust, this sourdough pizza crust is truly amazing, I hope you enjoy!
Sourdough Pizza Crust Recipe
This recipe is for sourdough pizza crust, made with sourdough starter discard and has no added yeast!
Print
Rate
Servings:
1
sheet pan pizza (16 large slices)
Ingredients
1 1/2

cups

water

room temperature

1

cup

sourdough starter discard

1/4

teaspoon

sugar

1 1/2

teaspoons

kosher salt

3

tablespoons

extra virgin olive oil

plus 1/4 cup for the pan

3

cups

all purpose flour
Sauce and toppings
1 1/2

cups

sauce

I use a really good pre-made marinara sauce or pizza sauce

2

cups

shredded cheese

I use a combination of 1 1/2 cups mozzarella cheese and 1/2 cup shredded parmesan cheese

1

tablespoon

seasonings

like fresh chopped basil
Instructions
In a bowl combine the water, sugar and salt, stir to dissolve.

Add the sourdough starter discard and 3 tablespoons olive oil, stir to combine and then add the flour, 1 cup at a time. Stir with a wooden spoon to combine. If the dough feels too sticky, add a little bit of flour, if it feels a little too dry, add a little water. It should feel sticky, but not drippy or firm and crumbly.

Either by hand or with a stand mixer with the dough attachment on, knead the dough for a few minutes, until well combined.

You should be able to poke a finger into the dough and leave a finger indent that slowly comes out.

Transfer dough into a oil lined bowl, making sure to put a little oil on top of the dough or loosely put a piece of plastic wrap on the top of the dough so it doesn't dry out.

After 30 minutes gently wet hands and stretch dough, stretch again 30 minutes later (this stretching is optional, but it really builds dough structure!)

Cover the dough with a kitchen towel and allow to rest for 8-12 hours, or until it has risen (this step is important, if you don't let it rise, it will still be good but will be denser), sourdough starter is slower yeast and needs a while to do its thing. *see note to make smaller pizzas

Pull/stretch the dough from the bowl into the lined baking sheet and press edge-to-edge, pressing it into the corners. If it doesn't go all the way into the corners, wait 5 minutes and press again.

Preheat oven to 425 degrees and bake crust without toppings for 10 minutes. Then remove from oven and add sauce and cheese and seasonings. Increase the heat to 450 then bake for 15-20 minutes, until the cheese has melted.

Remove from oven, slice and enjoy!
Notes
If your sourdough starter isn't super active, I'd recommend adding a little bit of active dry yeast (even 1/2 a teaspoon is ok.) Just allow the dough time to rise.
*to make smaller pizzas, after it has risen, divide the dough into 4 equal parts and put in the refrigerator for 6 hrs, up to 3 days. This builds additional flavor and dough structure. 
When you're ready to bake the individual pizzas, remove dough from refrigerator.
Preheat oven to 500 degrees and put a pizza stone in the oven for 1/2 an hr.
Turn dough onto a floured surface and gently stretch the dough into a circle crust shape. Put dough onto a piece of parchment paper. If dough isn't stretched as thin as you want it, wait 5 minutes, and then press/stretch it again. 
Add sauce and toppings to your dough. 
Carefully place/transfer parchment paper onto pizza stone. I do this by putting the parchment paper with the pizza on it onto a baking sheet with no lip, and then carefully pulling it onto the stone. It takes a little practice because it's awkward. 
Bake pizzas 7-10 minutes - until done to your likeness depending on toppings. Carefully remove from oven, allow to cool for a few minutes, slice and enjoy!
Nutrition information disclaimer: the nutrition information presented on this site should be considered an estimate as the calculations will change based on the exact products you use in your own kitchen.  
Nutrition
Serving:
1
g
|
Calories:
3410
kcal
|
Carbohydrates:
525
g
|
Protein:
97
g
|
Fat:
97
g
|
Saturated Fat:
36
g
|
Cholesterol:
177
mg
|
Sodium:
4937
mg
|
Potassium:
758
mg
|
Fiber:
20
g
|
Sugar:
5
g
|
Vitamin A:
1766
IU
|
Calcium:
1424
mg
|
Iron:
25
mg