Happy Taco Tuesday! We're celebrating taco tuesday with this delicious steak stacos with cranberry salsa recipe! These are super unique and so tasty.
Last week I had a once in a lifetime opportunity to do something super special: visit a cranberry marsh! If you follow me on instagram (@philiakelnhofer) you would have seen lots of behind the scenes of my day spent learning about how cranberries are harvested.
Not only did I get to learn about how cranberries are harvested, but I got to learn about how they are FRESH harvested, something super unique and a LOT different than 95% of the cranberries on the market (which get processed immediately into frozen/concentrate/juices/dried cranberries, etc), and I'm so excited to share this post with you through my partnership with the Wisconsin State Cranberry Growers Association.
My husband and I spent the day with Ray, a fourth-generation cranberry grower and CEO at Habelman Bros. Cranberries (responsible for 1/3 of the fresh cranberries in the world).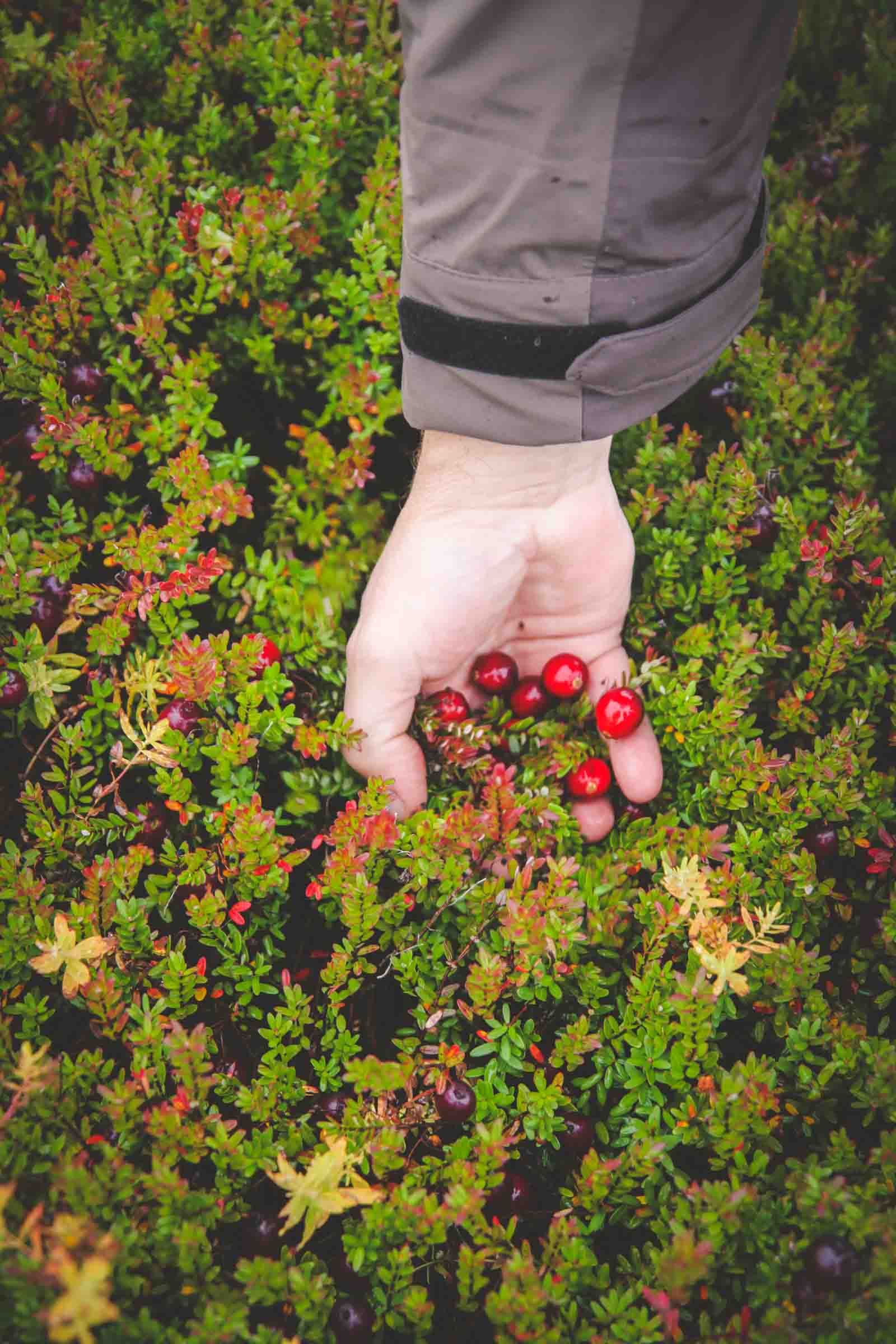 I learned:
Cranberries are grown on a VINE in the ground and that they're perennials. Meaning, a vine is planted and then it comes back year after year! Vines last upwards of 100 years.
The cranberry vines need a lot of pollination, so they rent a lot of honeybees to help the process
You know they're ripe when they start turning red
Fresh harvesting is a lot different that what you may think or have seen on commercials
They start by flooding the cranberry beds with 6-8 inches of water
The cranberries float, but do not come off the vines.
They bring in harvesting machines that gently comb the cranberries off the vines
The berries are then put into silver tubs
The tubs are brought to the edge of the marsh, and then picked up by a truck, and then they are transported to the processing facility where they are dried until they're ready for processing.
I was awed at how much care goes into the fresh harvesting of cranberries, and how much love Ray had for the fruit.
I took so many photos that I am going to be sharing another post with all the photos, otherwise I wouldn't have a chance to talk to you guys about the amazing cranberry salsa and these steak tacos.
Really quickly though, I have a funny story: we were sent home with a super generous box of fresh cranberries. I asked Ray to stand there and hold them so I could take a picture, and he obliged. We then got home and my husband went to pick up the crate of cranberries he said "Phi, these are SO heavy, I can't believe you made him hold them for so long" lol! A big thank you to Ray for having us and indulging me in my picture taking.
Ok, soooo… these steak tacos with cranberry salsa, I gotta tell you, they're really delicious.
I've been digging unique tacos – like these Korean beef bbq tacos, or these slow roasted chicken tacos – and now these steak tacos with cranberry salsa, tacos are where it's at!
The fresh cranberry salsa really makes the recipe. You start by making the cranberry salsa, it's almost like a pico de gallo recipe, but a little finer, and has a great tangy flavor (thanks to the fresh cranberries). Then you make a flank steak which is simply cooked in a skillet, but is seasoned with brown sugar, cumin, and chili powder which makes it super flavorful. To assemble the tacos you add the steak, cranberry salsa, some queso fresco and fresh cilantro to a tortilla, and voila!
Next time you're in the mood for a unique Taco Tuesday recipe, make these steak tacos with cranberry salsa!
Other recips you might enjoy:
Yield: 10 tacos, serves 4-5
Steak Tacos with Cranberry Salsa Recipe
Happy Taco Tuesday! We're celebrating taco tuesday with this delicious steak stacos with cranberry salsa recipe! These are super unique and so tasty.

Prep Time 15 minutes

Cook Time 10 minutes

Additional Time 5 minutes

Total Time 30 minutes
Ingredients
For the steak:
1.5 lb. flank steak, trimmed and patted dry
3 teaspoons brown sugar
2 teaspoons cumin
1 teaspoon chili powder
1/2 teaspoon garlic salt
1 teaspoon vegetable oil
For the fresh cranberry salsa:
1 cup fresh cranberries
1/2 cup fresh cilantro (about 1/2 of a big bunch)
1 large tomato, cored, cut into 4
1 jalapeno, stem removed and seeded
1/4 red onion
1/2 of a lime, juiced
1/2 teaspoon salt
For the tacos
10 small tortillas
2 oz queso fresco, crumbled (or feta or cheese of choice)
1/4 cup fresh cilantro
Instructions
For the steak:
Pat steak dry with a paper towel. In a bowl combine brown sugar, cumin, chili powder and garlic salt and press 1/2 of the seasoning mixture onto the steak.
In a large skillet over medium high heat, heat the vegetable oil for 30 seconds. Put the flank steak, seasoning side down into the skillet. Pour remaining seasoning over the unseasoned side and press down. Cook for 5 minutes, then flip and cook for another 5 minutes, or until desired level of steak doneness is achieved with a meat thermometer. Mine was at 155 when I took it off the heat, for medium. Remove the skillet from heat, and allow the steak to rest for 10 minutes, then transfer to a cutting board and cut into thin slices.
For the fresh cranberry salsa:
Combine all the ingredient for the salsa in a food processor and process for 10 seconds, until ingredients are chopped. Scrape down sides and process for another 5 seconds, or until no more large pieces of any single ingredient remain. Remove blade and then let salsa sit for 5 minutes, after 5 minutes drain off excess liquid.
To assemble the tacos place 2 thin slices of steak in a tortilla and spoon a tablespoon or two of the cranberry salsa on, sprinkle with a pinch of cheese and a few fresh cilantro leaves, then enjoy!
Nutrition Information:
Yield:
5
Serving Size:
1
Amount Per Serving: Calories: 708Total Fat: 24gSaturated Fat: 9gTrans Fat: 0gUnsaturated Fat: 13gCholesterol: 120mgSodium: 1136mgCarbohydrates: 69gFiber: 6gSugar: 6gProtein: 51g

Nutrition information isn't always accurate.


This post is brought to you by my partnership the Wisconsin State Cranberry Growers Association. Thank you for supporting the brands that make the Sweetphi blog possible, as always, all thoughts and opinions are mine alone.
Let's pin together: