I never ever, ever, ever thought I'd be sharing a post titled 'Summer of Smoothies & Salads' with you. But here we are.
And I'm actually SO EXCITED to share this post with you. I could hardly wait to put it all together and hit publish.
A few weeks ago, my husband Nick and I were talking about how we wanted to eat healthier. This is a recurring conversation. We're always striving to be better, which I think is a good goal.
Then life gets busy and nothing really changes in terms of eating healthier.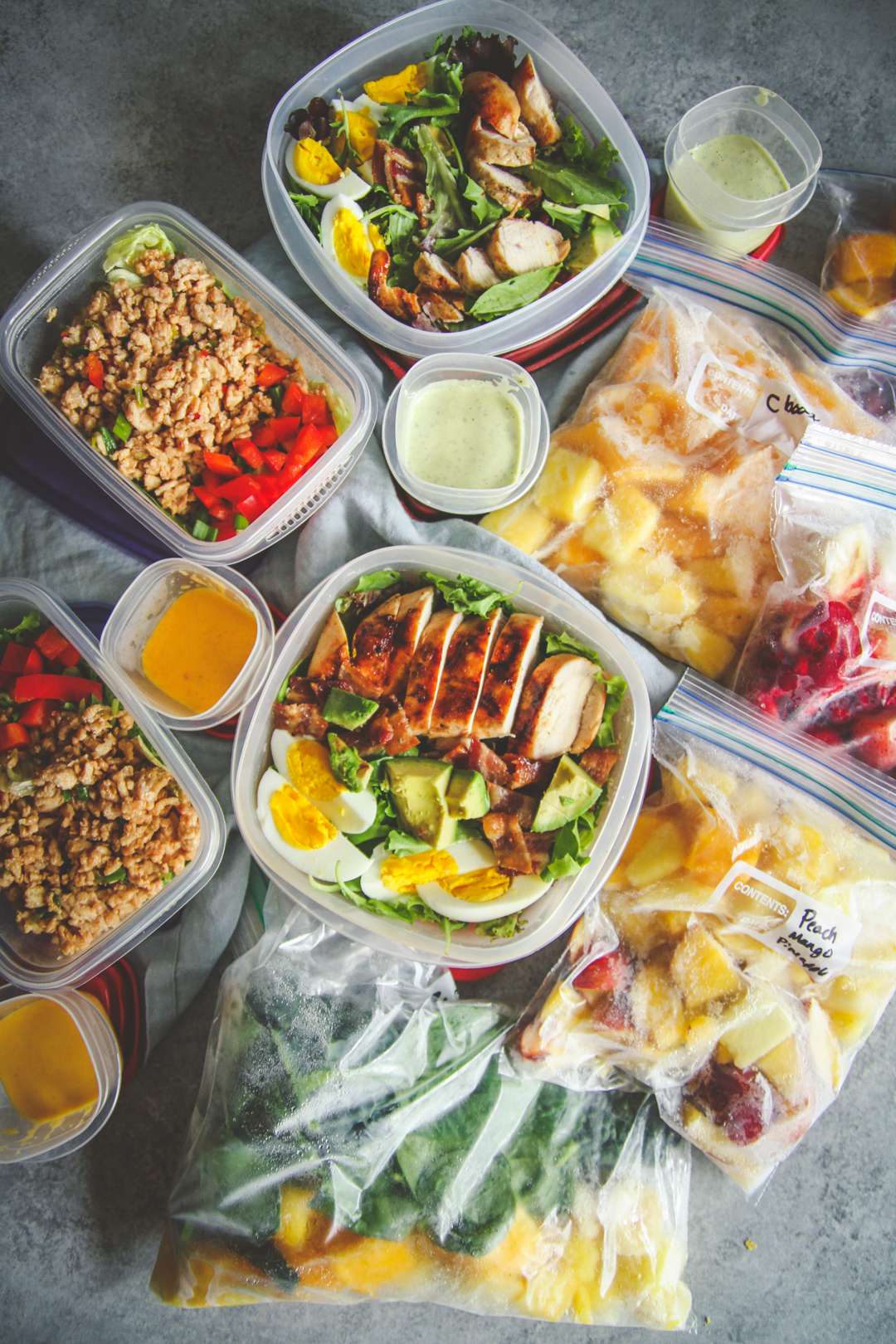 As we were talking one Sunday night recently, he said "how about we do the summer of smoothies and salads?"
I love rhymes and this sounded interesting. So I asked for more details.
He elaborated that he thought we should do smoothies for breakfasts, and salads for lunch during the week.
I LOVED the idea, and was so inspired by it that I actually did it, I got going, and now love it so much, that I can't stop and thinking about it!
I shared a few pictures on my Instagram stories, and was overwhelmed by the number of people asking for more information and shopping lists and recipes! So I put everything together and gah, I'm just so excited for this.
The 1st day, I had the worst headache at noon after having just a fruit smoothie and salad. It made me think "oh my goodness, how bad was I eating that my body is reacting to fruits and veggies like this?" After week 1, I felt great. I'm not doing this to lose weight, I'm just doing this to get more fruits and veggies in my diet and be healthier (weight loss will be a nice added side effect? I haven't weighed myself, but my husband lost 5 lbs the first week of us doing this).
Smoothies are such a great way to get in those fruits and vegetables. I can definitely say I'd suggest starting slow before adding in too may crazy greens or nutitional ad ons (like chia seeds, etc.) and I'll share tips with you below (like making smoothie bags ahead is such a time saver!)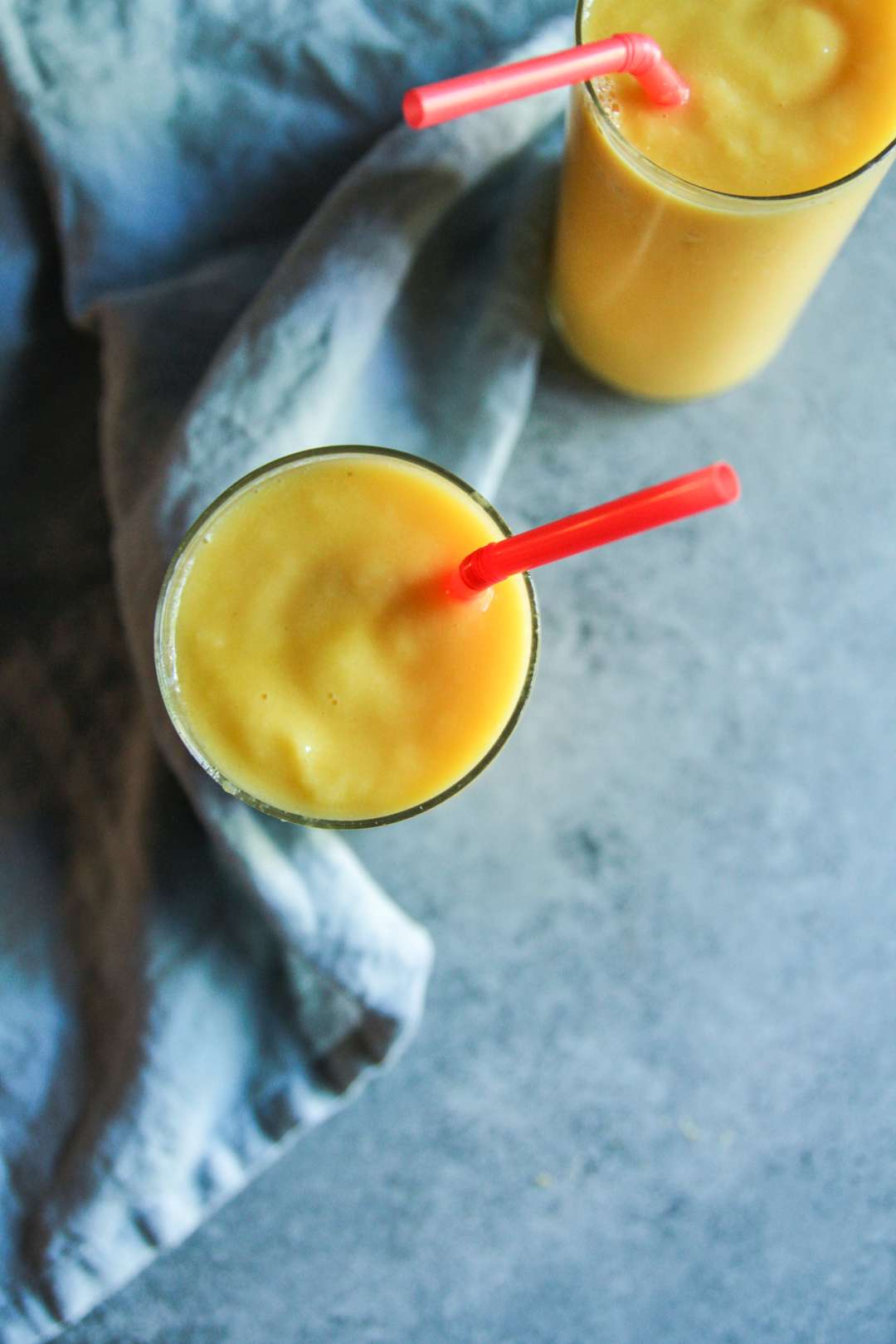 Smoothie Tips:
Use a good blender. I've heard good things about the Ninja blender ($89), years ago I got the Dash blender ($200) which I love and use (it's on sale from $549, I got mine on sale and covet it as one of my best kitchen buys), and I've also heard good things about the Vitamix blender ($350). I also use this single-serve blender ($17) when I'm making a smoothie for 1.
The ratio of fruit&vegetables/liquid for a thicker consistency, 2 smoothies is 2 1/2 cups fruit/veggies to 1 3/4 cup liquid
In terms of liquid, you can use water, milk, non-dairy milk (like almond milk) and/or a combination of the options mentioned. My favorite is a mixture of water and unsweetened almond milk – it gives it a creamy texture without too many extra calories.
I don't love coconut water by itself, but it totally makes smoothies. Also, Bai has a coconut drink that has far fewer calories if you're looking for a low calorie alternative
Buy frozen, pre cut fruit. It saves so much time.
Make smoothie 'bags' containing all the fruit/vegetables, then in the morning all you have to do is dump the bag into the blender and add liquid.
Pour in the liquid first, it helps get the smoothie blending.
Use ice if using fresh fruits and vegetables.
If you have leftover smoothie, pour it into an ice cube tray and then then add it as 'ice cubes' to your next smoothie.
Salad Tips
Invest in some containers you like. Personal favorites are this set, or this leak-proof set (the little containers are perfect for dressings, and they legit never leak!)
Always make sure your salad has enough protein (meat, nuts, eggs, quinoa). That makes all the difference for me.
You want the crunch factor in salads, so make sure not to forget toppings like nuts, tortilla chips, or raw vegetables like bell peppers to give the contrast in texture.
For things like nuts or seeds, check the bulk bins at the grocery store
Generally, it's 2 cups greens per salad
Notes about the recipes:
I made the meat ahead, grilling it. You can use rotisserie chicken in place of grilled chicken if you'd like. If you're vegetarian, not a problem, just substitute the meat with your protein of choice (I love using tofu.)
I make the smoothies ahead by putting all the fruit in a bag and putting the bag in the freezer, then in the morning I add the contents of the bag into a blender and add all the liquids.
I cut strawberries by taking the top off and then cutting them in half. So 1 container of strawberries yielded about 3 cups.
The recipes serve 2, and there are 5 recipes (Monday-Friday), we actually liked doing this so much we continued it into the weekends, but we'll go to WholeFoods and get a smoothie on the weekends.
Smoothie Menu Week 1 Recipes:
Smoothie 1: Strawberry watermelon- 1 cup watermelon, 1 cup strawberries, 1 banana, 1 cup milk of choice + 3/4 cup water
Smoothie 2: Strawberry banana mango – 1 cup strawberries, 1 banana, 1/2 cup mango, 1 cup milk of choice + 3/4 cup coconut water
Smoothie 3: Green smoothie – 1 cup spinach, 1 cup mango, 1 cup pineapple, 1/2 banana, 1 cup milk of choice + 3/4 cup water (I will say that if you're just getting started with green smoothies, I'd recommend only 1/2 a cup of spinach and a whole banana instead of 1/2 a banana).
Smoothie 4: Nectarine smoothie – 2 nectarines, 1 cup pineapple, 1/2 banana, 1 small container greek yogurt with mixed berries, water (nectarines are a little tart, so you can use peaches instead).
Smoothie 5: Strawberry banana mango – 1 cup strawberries, 1 banana, 1/2 cup mango, 1 cup milk of choice + 3/4 cup coconut water (this was our favorite one this week so we had it twice!)
Smoothie Menu Week 2 Recipes:
Smoothie 1: Tropical green- 1 cup pineapple, 1 cup ango, 1/2 cup spinach, 1/2 cup kale, 1/2 banana, 1 cup milk of choice + 3/4 cup coconut water
Smoothie 2: Razzle dazzle – 2 cups raspberries, 3/4 cup strawberries, 1/2 cup mango, 1 cup milk of choice + 3/4 cup water (this one is delicious but is a little seedy)
Smoothie 3: C boost smoothie (this one has become such a favorite you'll be seeing it a lot in the coming weeks lol).
Smoothie 4: Peach mango – 2 peaches, 2 bananas, 1 cup milk of choice + 3/4 cup coconut water
Smoothie 5: Berry banana – 1 cup strawberries,  3/4 cup raspberries, 1 banana, 1 cup milk of choice + 3/4 cup water
Salad Menu Menu Week 1 Recipes:
Salad 1: Asian ground turkey lettuce wrap salad (so good, can be enjoyed as a wrap or a chopped salad)
Salad 2: Repeat of above (if you don't like two days of the same thing in a row, you could meal prep and the alternate salads.)
Salad 3: Grilled chicken green goddess cobb (this one was definitely a favorite we've had many times)
Salad 4: Repeat of above
Salad 5: Grilled chicken Caesar. We just grilled chicken breasts brushed with a little olive oil and seasonings of choice and bought a Caesar salad kit, it was really nice to have a really easy salad with virtually no prep.
Salad Menu Menu Week 2 Recipes:
Salad 1: Grilled steak salad- each salad 4 oz grilled steak (grilled with salt/pepper/cumin/chili powder as seasonings and dabbed with olive oil), 2 cups spring mixed greens, 1/4 avocado, 5-10 tortilla chips, 1/2 oz shredded cheese, 1/4 cup store bought pico de gallo as salad dressing (next time I would add extra lime to the pico).
Salad 2:  grilled chicken breast marinated with green sauce then for the salad each had 1/2 an avocado, 2 slices bacon- crumbled, 2-3 tablespoons cooked quinoa, 1-2 cups greens, 1 lime + 1 teaspoon leftover green sauce and a dash of olive oil mixed for dressing (each dressing got 1 lime juice squeezed, it added a nice zest to it!)
Salad 3: repeat of above
Salad 4: Spinach salad with a soft boiled egg and a mustard vinaigrette (I made 4 eggs instead of 3, so 2 eggs per person)
Salad 5: Spinach salad with grilled chicken (chicken was marinated in a dash of olive oil, juice of 1 lemon, 2 garlic cloves, salt and pepper). I made 1/2 a batch of the salad recipe so we didn't have any leftovers and I only used 1 apple instead of an apple and a pear.
Shopping lists: To get the shopping lists, simply enter your name and email below the image on the week you'd like! You'll be redirected to the pdf of the shopping list, as well as it will be emailed to you.
I'll keep updating this post as we go along, so be sure to bookmark it! If you'd like to join me on this Summer of Smoothie and Salads challenge I'd LOVE to see what you're making. Just tag #sweetphiblog on Instagram!
Sign up for email updates and get a free eCookbook with our top 25 recipes!