Take some serious stress out of Thanksgiving this year by making a super simple and delicious turkey…with only 5 ingredients!!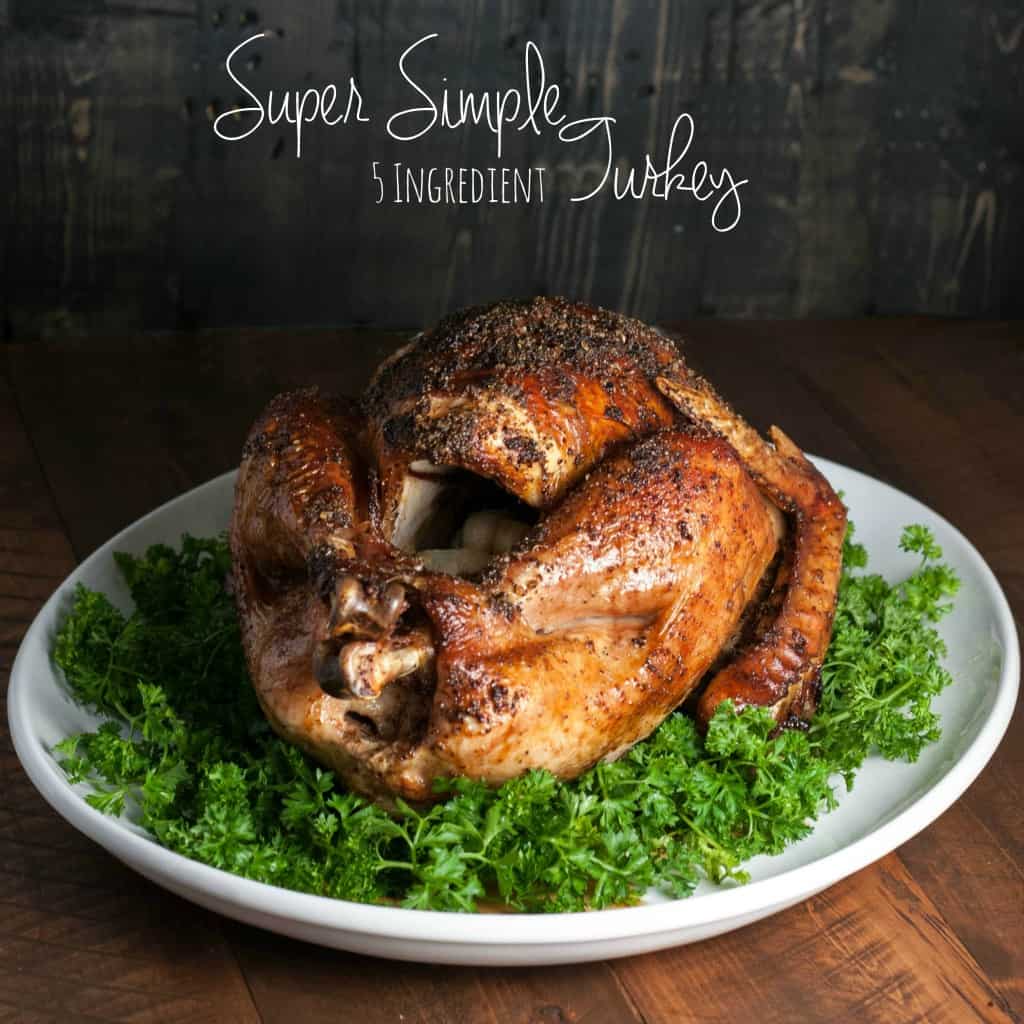 So I know the thought of making a whole turkey is daunting. I mean, it was for me! Is it going to turn out? Will it taste good? Will I ruin Thanksgiving? That's a lot of pressure!! But with these easy instructions and amazing ingredients, you'll make a turkey everyone will love, and I'm pretty sure they're going to be requesting you be on bird duty for years and years to come.
A few years ago, Thanksgiving morning rolls around and we (my three sisters, mom, and I ) go downstairs to start making the meal. My little sisters had gone grocery shopping the day before so we were all ready to start pitching in and making that evenings' dinner. I go to the fridge (my mom has a fridge in the garage … this is genius and I want a cool or fridge in our garage, but sadly our house is just too small) and I don't see a turkey. I ask my sisters "where's the turkey?" and they come and show me where it is…except…wait for it…IT'S TWO SMALL DUCKS! Lol…that's what you get when you send a vegetarian to the store (my little sister has been vegetarian since birth, but the rest of my family eats meat, clearly.)
With guests coming that evening expecting a turkey, not duck a l'orange, I headed to the nearest grocery store in search of a turkey.
My beacon of light? My saving grace? ALDI to the rescue (no joke though, ALDI is amazing and has turkeys at unbeatable prices!)
With my real turkey in hand (omg they're so heavy you guys!) I headed home.
Even with the turkey being frozen, I was able to prep it, remove the giblets (they need to just not put these things in turkeys, I'll tell you about my battle trying to get them out in a second), bake it and have it ready in time for guests.
So this year, volunteer to make the turkey!  I'm here to tell you have nothing to worry about, you CAN make an amazing tasting turkey with only 5 ingredients and there is nothing quite like the feeling of accomplishment you'll get when you see the end result!
Now let me walk you through how to make this bird (and can I just say, at every step of the process I was squealing with delight and announcing to my hubby what was happening, I'm sure he loved the constant updates). The process starts from the turkey being completely frozen (yes, I googled from the store if it was ok to cook a frozen turkey…the answer is yes you can! You will just need to make sure that you take out the giblets in the little bag so the plastic they're in doesn't melt) and the first thing you'll do is make sure one side of your sink is clean, then put the biggest bowl you own in the sink, then put the turkey in the bowl and cut the plastic off and run hot water over the turkey*. Do so for 30 minutes, then flip it, and run water on the other side for another 30 minutes.
The only reason you need to defrost it is because you need to get out the giblets (and I took out the neck too!) You may need a little longer or a little less time for removal (I was impatient and so I was sitting there with a butter knife trying to dislodge the sack of giblets (what a gross word btw lol), but once you have them out, you're good to go!
Now take your turkey and put him (I'm calling it a him, but it could very well be a her lol) in a baking dish. I like to use the aluminum ones you can throw away afterwards…who has room for a giant turkey roasting pan? Not I, I can tell you that much!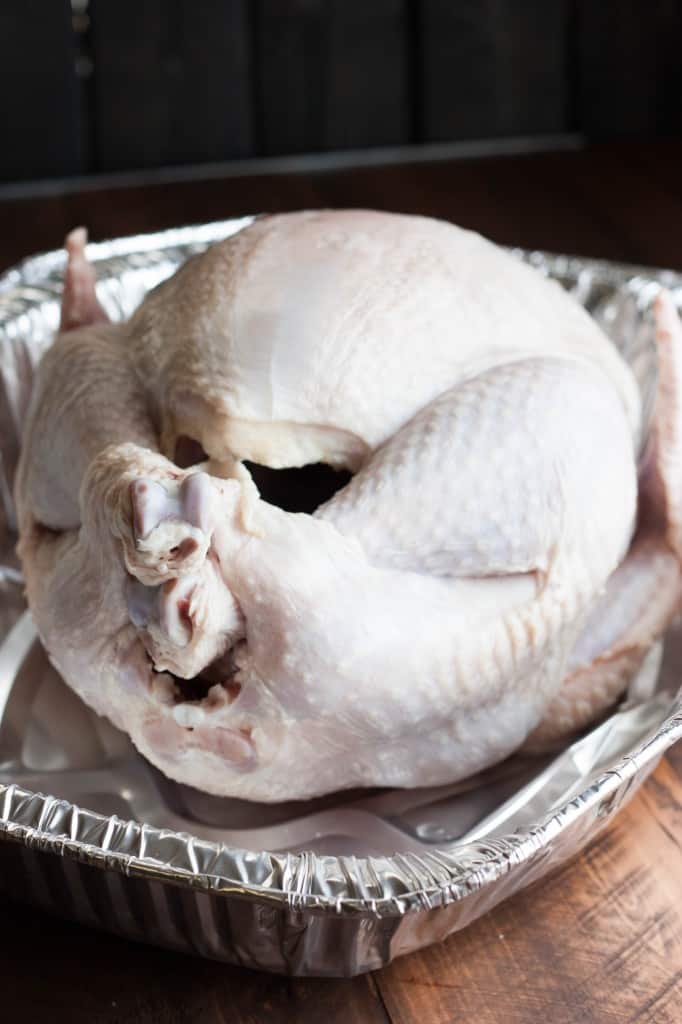 I'd like to tell you that while the turkey was defrosting I prepped the other ingredients, but I didn't, because they only take 2 seconds to do! In a measuring cup measure out 1 cup Extra Virgin Olive Oil, and ½ Cup Soy sauce.
You'll also need to chop one garlic clove in half, and then clean a few pieces of garlic from another clove and cut the remaining cloves in half. Now comes the fun part, stuff the garlic halves into the cavity of the turkey, and then slide cut up garlic clove slices under the skin.
Next you'll pour the olive oil and soy sauce mixture over the turkey, then you'll liberally season it with the seasoning, and then cover it with aluminum foil.
Then bake the turkey for an hour, remove the foil, baste the turkey, then keep taking the turkey out and basting it ever hour (mine took a total of 4 hours) and bake it until a thermometer reads 170-180 degrees.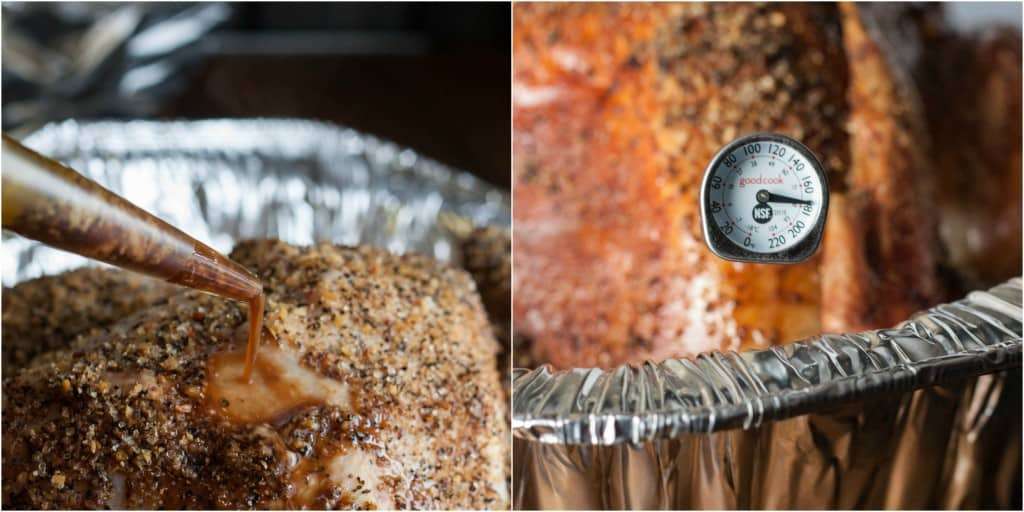 A little trick my mom taught me…cover the bottom of the serving plate in parsley before you put the turkey on it, it will hide all the juices on the plate! Genius, and it actually works!
And then, then you put the turkey on the plate, and you slice and enjoy!!! The turkey is super juicy on the inside, and has a crispy garlicy skin on the outside….so good!
In case the above was too many pictures to scroll over, I've put the instructions together for you visually so you know how to make a super simple 5 ingredient turkey:
After trying some of this turkey, my hubby said 'this is legit, like really really good!' So there you have it, a legit turkey lol! And of course, since it's only 5 ingredients, it's perfect for this weeks' Five Ingredient Friday (stay tuned next week as I share a bunch of amazing Thanksgiving recipes which will leave you super prepared for your upcoming Thanksgiving dinner!)
I'm dying to know…are you a dark or light meat person? Have you ever made a whole turkey?

Ingredients
1

Turkey

mine was 14.5 lbs

1

Cup

Extra Virgin Olive Oil

1/2

Cup

Soy Sauce

1/8

Cup

Steak Seasoning Sea Salt

Stonemill Essentials from Aldi brand

2

Heads of Garlic
Instructions
Start by making sure your sink is clean, then put the biggest bowl you have in the bottom of the sink. Unwrap frozen turkey and lay in the bowl. Run hot water over the turkey for 30 minutes, flip the turkey and run water over it for another 30 minutes, then remove the giblets and the neck and throw out.

Transfer turkey to roasting pan, preheat oven to 350.

Cut the garlic heads in half. Put 3 of the 4 halves of garlic heads into the cavity of the turkey. Unwrap remaining garlic cloves from remaining half, then shove the garlic cloves under the skin of the turkey.

In a bowl or in a measuring cup, pour 1 cup of extra virgin olive oil, then add half a cup of soy sauce and stir or whisk to combine. Pour over the turkey. Then liberally sprinkle the turkey with the steak seasoning sea salt. Cover with foil, and bake for an hour.

Remove from oven, uncover, baste the turkey and then bake for another hour. Remove from oven, baste, bake for another hour, baste, and do so at hour intervals (basting at each hour) until a meat thermometer reads 170-180 degrees. Remove turkey from oven, baste one more time, let sit for 15 minutes (so that the turkey retains its juices).

While the turkey is resting, line a serving plate with parsley (optional). Transfer turkey to serving platter, slice and serve!
Disclaimer: This deliciousness was sponsored by ALDI, as always all thoughts and opinions are 100% my own and thank you for supporting the brands that make the Sweetphi blog possible!
*hot water should be between 100-120 degrees. Click here for an article sharing information about the hot water bath method and study done by the Department of Agriculture. But if you're not comfortable with this method definitely thaw the turkey using a method you are most comfortable with (such as thawing it in the refrigerator.)