Now that we have kids of our own, Nick and I are trying to make family dinnertime a priority.  Don't get me wrong, this can definitely be difficult with three kids and different schedules.  So, if you're having a hard time, I am sharing my tips for having family dinner.
Growing up, family dinner was always an important time of day.  My parents made us all sit down, wash our hands and politely enjoy a meal together.  We would listen when they told us it was dinnertime, we would automatically wash our hands and head to the table, say a quick dinnertime prayer and enjoy our meal.  During dinner, we'd talk about our day – the good and bad – and then we would all help clean up.
I want to share a some helpful things about family dinner time so you can make this part of your daily routine!  In my tips for having family dinner, I'll be sharing:
Why family mealtime so important
Some ground rules
How do you get picky eaters to eat?
Recipes recommenced for easy family dinnertime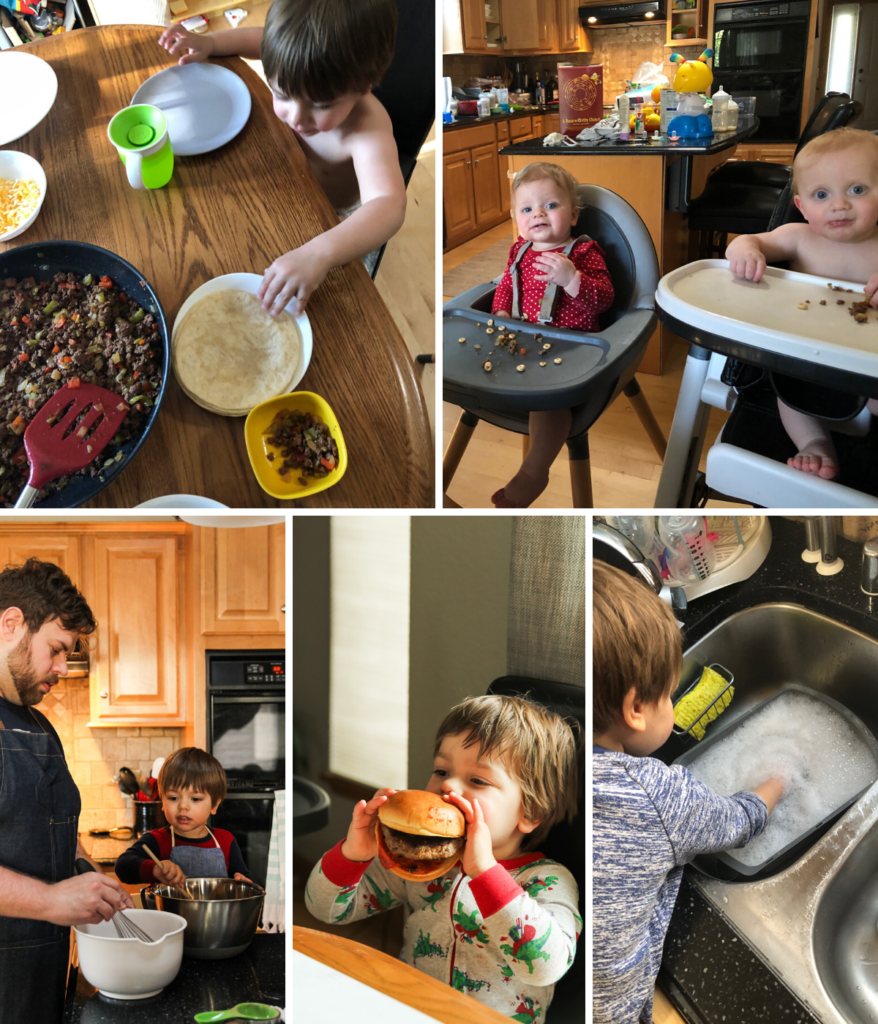 Why Family Dinner is Important
The general consensus is that kids who sit down at the dinner table to eat with their parents will make healthier eating decisions.  Kids are like sponges and absorb everything you do and that goes the same for what food you're eating.  You eat healthy and they'll eat healthy (well, healthier!)
In addition to eating better, kids often do better nutritionally, academically, socially and emotionally when they take time to sit down for a meal with their family.
If you have kids, you know how important routine is for kids to be on their best behavior.  Knowing that they need to sit down for dinner every night can just become part of their daily routine.  Once you do it consistently, kids will know exactly what to do; wash your hands, sit down, enjoy your meal!
At our dinner table, we always try to talk about our days and ask probing questions.  Obviously it makes kids feel like they can open up and talk to you as you allow that at the dinner table
Ground Rules
It's important to set some general rules for dinnertime.  This helps the whole family know what an important time of day this is and how seriously you take it.  Plus, it helps teach young kids especially about basic table manners that they will use the rest of their life.
The #1 rule is no technology.  I imagine this will be especially challenging for anyone with teenagers.  At this point in our life, it is not too much of a challenge, but I know it will get harder!  This is obviously important so children are not distracted and are present for any conversations. I found myself having my phone out too frequently, even if just to take pictures and it annoyed me, so now I leave my phone on the other side of the kitchen so that I'm not tempted/distracted.
Only eat the food on your plate.  You may have seen that Freddie loves to steal food from Frankie's tray when she's not looking.  It's obviously adorable at this age, but this is an important lesson to teach as you get into the toddler and youth ages.
Don't reach across the table, but rather, ask for something to be passed.  I imagine this rule goes all the way back to the days of Emily Post.  But it's still great to teach and emulate as adults.
Napkins go in the lap.  I have found that young kids think this is really fun!  We have Ben do it at the table and it makes him feel like an adult and he seems to be so proud of himself when he remembers to put his napkin on his lap.
If you're raising boys (or even silly Dads!) especially, no burping or farting at the table!  Ok, I know girls can do it too!  In our house, we remind Ben that it's fun to be goofy, but we don't do that at the dinner table.
It's ok if dinner is a little messy (especially with little kids). When dinner is over, your kids can absolutely help clear the table and help do the dishes or load the dish washer.  Heck, they may even think it's a fun task, depending on their age. We are working on this with Ben, he takes plates and throws them in the sink, good thing they're plastic, but we're working on it.
Tips for Picky Eaters
Eat family style.  We have found great success with this!  If Ben helps "assemble" his food, he seems more likely to eat it.  Which brings me to my next point…
Have kids help prepare the meal.  Every time Ben helps me make a meal, he eats more of it.  I know he feels proud to have been a part of it, so we always make a big deal about thanking him for helping cook.
If you are struggling with picky eaters, I did a whole post with even more tips and tricks that you can find here.
Recipes Recommended for Stress-free family dinnertime
The best thing to do is to go into dinner as stress-free as possible.  So that means, simple meals that come together with minimal prep and cook time!   A few of our favorite go-to options are below:
These are some of my favorite easy dinner ideas, but you can always just type "easy dinner ideas" into the search bar and find plenty of great options!  Leave a comment below and let me know if any of these tips for having family dinner worked for you and your family.