This tri-colored pizza recipe was so fun to make with the kids!  It was inspired by a trending photo of a New York tri-colored pizza.  Ours didn't quite turn out the same way, but it was still delicious!
The image below is where the inspiration came from.  Looks beautiful right!?  Nick and I thought it would be so great to re-create and it all sounded simple…
To start, I just used my sheet pan pizza recipe.  It's a delicious recipe, so I knew at the very least it would be a tasty pizza base.  Plus this recipe is made on a sheet pan and great to feed a group; family dinners, pizza party etc.
Now it was time to make it look the same as that picture right?
Enter the toppings.  Using the inspiration photo, it was time to add pesto, marinara and Alfredo.  How hard could it be?  Well I quickly learned that this was unrealistic to make a beautiful pizza with kids, but it could still have great flavors.
Regardless of what it looked like, the kids had so much fun spreading the various sauces on the dough.  I think you could also get creative and have fun with toppings instead of just sauces – think pepperoni, green peppers and mushrooms maybe.  Get creative because, after all, food can be fun!
How do you make a tri-colored pizza?
Make a dough, similar to the one used in this recipe.  (In case you're curious, I love to use Red Star Yeast when making recipes where yeast is required).
Spread pesto, alfredo, marinara sauces in any way you'd like.  Ideally, beautiful diagonal lines or let the kids have fun!
Sprinkle mozzarella cheese on top.
Bake!
If you end up making this recipe, I'd love to see your pictures.  Send them in and we'll be sure to include them on our reader recreations page.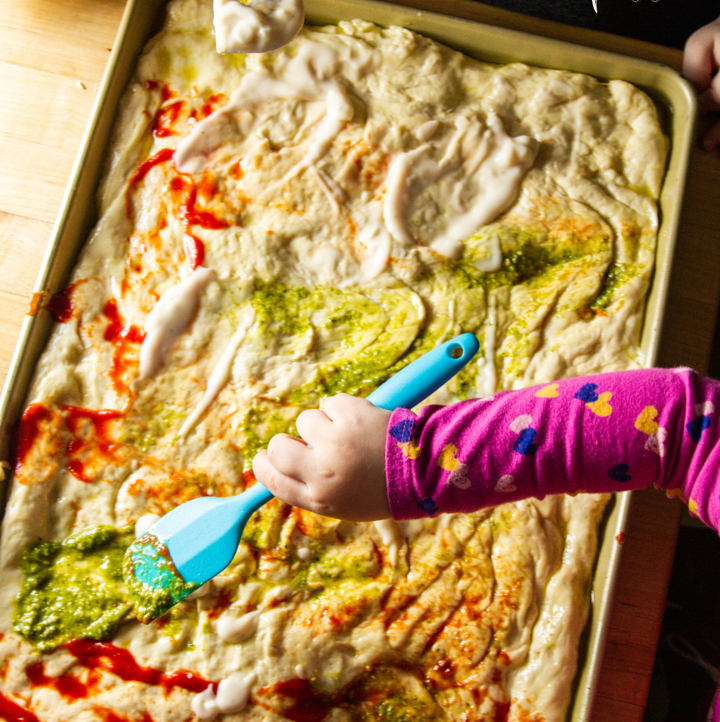 Tri-colored pizza
This tri-colored pizza might not look as beautiful as the inspiration photo, but it's great to make with kids and tastes delicious regardless.
Print
Rate
Ingredients
For the dough
1 1/4

cup

warm water

about 90-110 degrees

2 1/4

teaspoons

quick rise active yeast

1 envelope, I like to use Red Star Yeast

1/4

teaspoon

sugar

3

Tablespoons

olive oil

plus 1/4 cup for the pan

3 1/2

cups

all-purpose flour

unbleached, you may need an extra 1/2 cup

1 1/2

teaspoons

Kosher salt
Toppings/Sauces
Marinara sauce

about 1 cup

Pesto

about 1/2 cup

Alfredo sauce

about 1/2 cup

Mozzarella cheese

about 3-4 cups
Instructions
To make the dough
Warm the water (I do this by microwaving it for 30 seconds).

Dissolve the yeast and sugar in the water in a small mixing bowl or measuring cup. Proof the yeast until it is foamy, about 3-5 minutes.

In the bowl of a stand mixer with the dough attachment on, pour in the yeast mixture, salt, 3 tablespoons olive oil and 3 ½ cups of flour. Turn mixer on medium and mix until combined and no flour streaks remain (about 4 minutes). Slowly add in the additional ½ cup flour and mix for (about another 2 minutes). Remove the dough from the mixing bowl and transfer to a well-floured surface.

Knead by hand until smooth and elastic and form into a shape resembling a rectangle.

Coat a 13 x 18 inch sheet pan (or jelly roll pan) with ¼ cup olive oil.

Transfer dough into the oiled pan and cover with loosely with plastic wrap. Let rest until it has doubled in size (1 hour for the quick rise yeast, 2 hours for regular yeast).

After it has risen, punch down the dough and form it to fit the entire pan, edge-to-edge. Dimple the crust with your fingertips as you form into the pan and carefully prick carefully with a fork. (The fork pricking is to prevent the crust from bubbling up, only gently prick it, don't poke all the way through the dough – I made a total of 12 pricks.) If the dough is resistant to reach the corner, allow it to rest a few minutes and try again. Cover pan with the plastic wrap and allow it to rest another hour.

Preheat the oven to 475 degrees

Remove plastic wrap from the pizza dough and spread sauces. Ideally, a beautiful diagonal line of each sauce, but whatever works for you is fine! Sprinkle mozzarella cheese on top.

Place the baking sheet on the lowest rack in the oven and bake for about 15-20 minutes, until the crust is crispy and lightly browned and the cheese is all melted.

Optional, I like to sprinkle grated Parmesan cheese on the pizza right when it comes out of the oven.
Video
Notes
The nutrition information presented on this site should be considered an estimate as the calculations will change based on the exact products you use in your own kitchen.