Lately I feel like there have been an abundance of commercials for home meal delivery services. Services that deliver a box of fresh, pre-portioned food and recipes right to your doorstep. I wanted to try them out, so…I tried 6 home meal delivery services, and I'm sharing what I thought and a comparison of the different services. Since posting this meal delivery services comparison review, I've added several services I tried and loved, I think up to date I've tried 12 services. I'll keep updating this article as I try more (and I updated the post as a few companies have closed.)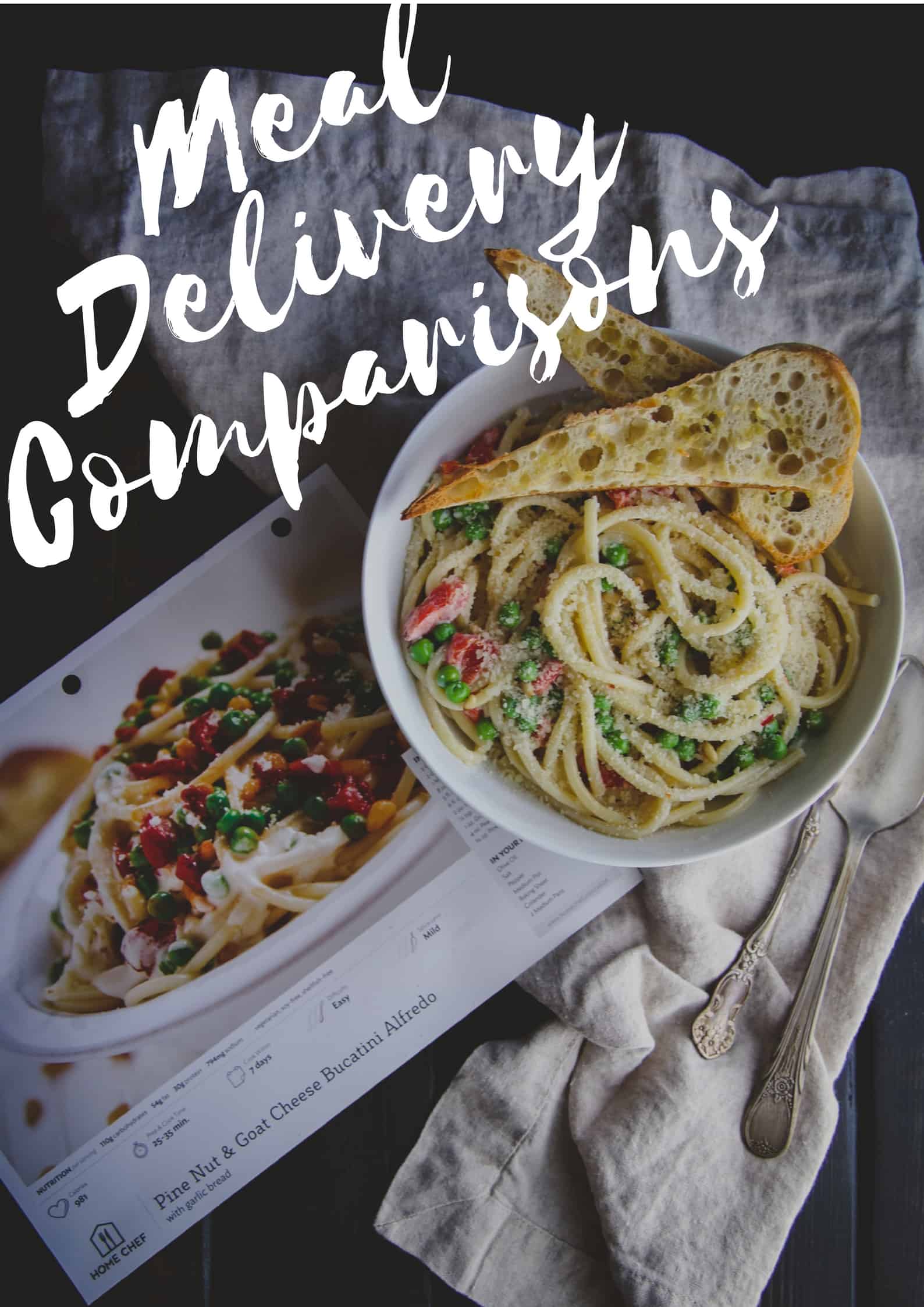 With life being so busy – between work, being a new mom and just life in general, I was starting to really feel like I was in a cooking rut. I didn't even want to think about what to make for dinner, I had zero inspiration, zero time to go to the grocery store, and zero motivation. When I kept hearing all the commercials for meal delivery services, I thought I'd look into them and give them a try. There are so many different companies out there! I made a list of all the different ones I wanted to try out, and each week tried a different service.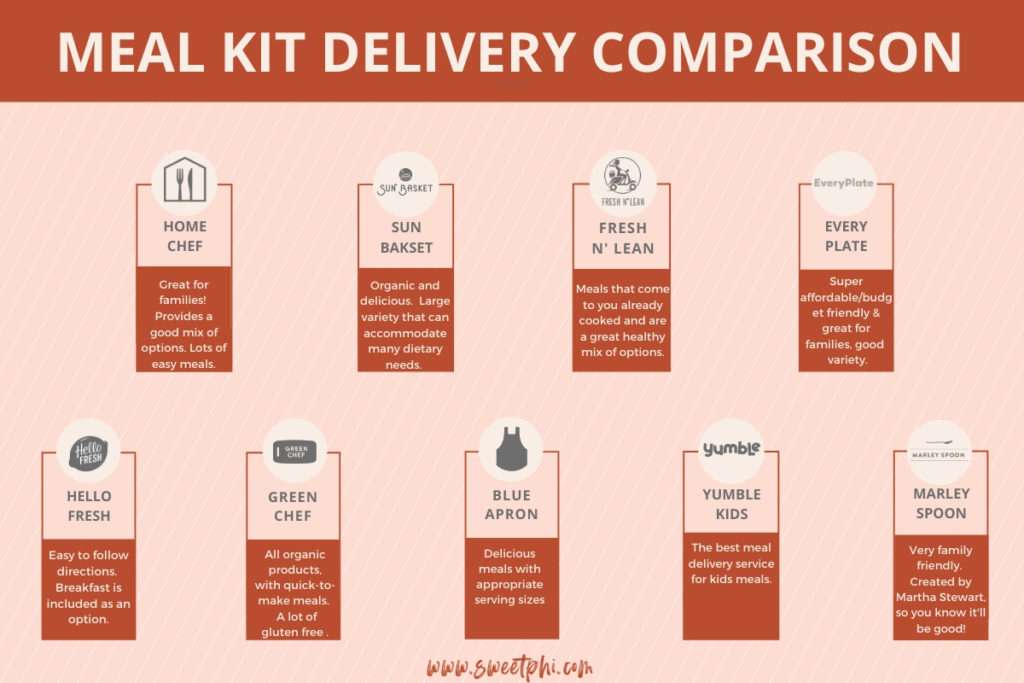 Here are some of the pros and cons, and at the bottom of the post I share a comparison chart to give an overview.
Home Chef (use code 40SWEETPHI to get $40 off your first two boxes if you're a new customer!!)
Pros:
Loved that there were lots of meals to choose from
Lots of delivery day options which is always nice
Absolutely LOVE that besides the designated meal plans you can add additional meals (so if the plan is 3 meals for a family of 4, if that week you want 4 or 5 of the meals, you can add them on and not change your plan!)
One can add on breakfast/fruit/smoothie/premium meals which is nice
Food is really tasty – their flatbreads or meatball options, whenever I see them on the menu I order them because they're so good. Honestly, their food tastes SO GOOD!
A binder came with the first order so that one could put all the recipes in the binder
Definitely most flexibility if you're a family of 2, 4 or 6 or if there are vegetarians, you don't have to completely change plans, you can choose vegetarian options. This is great for families
All the ingredients for a recipe were in a bag, meat was in a separate, sealed bag!
The food is so good, I got my sister hooked on this service after she tried two other services. They have the most 'family-friendly' meals too (meaning menu items that I think the whole family would enjoy!)
I wrote another post about Home Chef and meal delivery for special occasions (like for example for Valentines Day!) and I wrote a Home Chef meal kit delivery review post!
I worked with Home Chef to get SweetPhi readers an exclusive discount! Use code 40SWEETPHI to get $40 off!!
Home Chef also has 'oven ready' options where they send you everything (even the oven dish) to make a super quick meal and they have no cooking required salads! Also they just added slow cooker meals!
The food is SO GOOD!
 Cons:
Their website was a little difficult to figure out at first (I had to email them to ask about how to 'skip/pause' weeks)
I was a little late to the game trying Sun Basket, but they have easily become my favorite (I should have listened to friends who had tried it sooner!) If you want to read a review of the best healthy meal delivery service I wrote about them, click here.
Pros:
Healthy meals (that don't taste 'healthy'). I like that I don't have to look at the calories per meal, because they're generally all under 500-700 calories per meals (other meal delivery services per serving sometimes are 1200+ calories!)
Lots of options
They let you preview the meals before you become a member
Lots of options for different diet-friendly meals (like vegan, vegetarian, gluten-free, etc.)
Organic ingredients
They include eggs! A lot of meal delivery services don't include eggs for recipes that call for eggs, so I was very pleasantly surprised that they did.
Their weekly box comes with a magazine which includes the recipes and also other helpful articles and recipes, it read like a magazine!
Cons:
The meals are very healthy and delicious, but if you're looking for something a little more on the indulgent side, this service is probably not for you. They have a lot of unique healthy recipes, so you don't miss any of the unhealthy stuff. But if you're a 'steak & potatoes' type of person, I'd try one of the other services.
The magazine (which was listed in the pro section) is nice, but it's a little hard to find the recipes that are in your meal kit – I wish they would list the page numbers on the ingredients to make it easier to put the ingredients together with the recipe.
Pros:
Fresh n' Lean offers already cooked healthy meals where all you need to do is heat the food up!
Loved that they offer breakfast/lunch/dinner and snacks
Especially loved their Protein + plan, the meals really filled me up!
The food was really good, and again, really filling and it made me feel good if that makes sense (like my body loved how it felt after eating the food)
The meals had a pretty long fridge shelf life – these are not frozen meals, so I liked that I didn't have to eat it within a day or so of receiving it
Major pro was not having to 'prep' or cook anything
Really enjoyed that the food could be microwaved or cooked via stovetop or oven
Loved that you could order a la carte meals or a whole plan/weeks worth
Cons
If you order breakfast/lunch/dinner/snacks for a weeks worth, the box is really big and the meals take up a lot of fridge space (but it's not so much a con because you then have meals for the whole week)
They are single serving meals so if you're feeding a family you would need to order multiples.
I  tried Martha & Marley Spoon after writing this review but had to add it in. It is Martha Stewart's meal delivery program. The food is good, very family friendly. I liked that some of the recipes are from Martha's cookbooks.
Pros:
Very family friendly.
Love that some of the recipes are from Martha's cookbooks, and that there are adaptations and time saving tricks. For example if a recipe is made in a pressure cooker/Instant Pot, it will give directions for the pressure cooker and how to make it if you don't have one.
The food is super good, recipes the whole family would love. I've kept several of the recipes to make again.
There are plenty of options.
I felt like the portions were perfect.
Cons:
I did feel like some of the recipes used a lot of dishes to make them, but I've come to find that a lot of meal delivery kits recipes do use quite a few dishes and kitchen utensils.
Pros:
The meals are so affordable, the Every Plate slogan is "America's Best Value Meal"
Meals start at $4.99 per serving
The food is good, pretty standard and same as other services
I like that one could see the menu without being signed up to their plans
The recipes were really similar to other services so that was great
Cons:
All the ingredients came in one box. I know it probably really saved on costs, but having to sort for the ingredients to make a recipe is not great.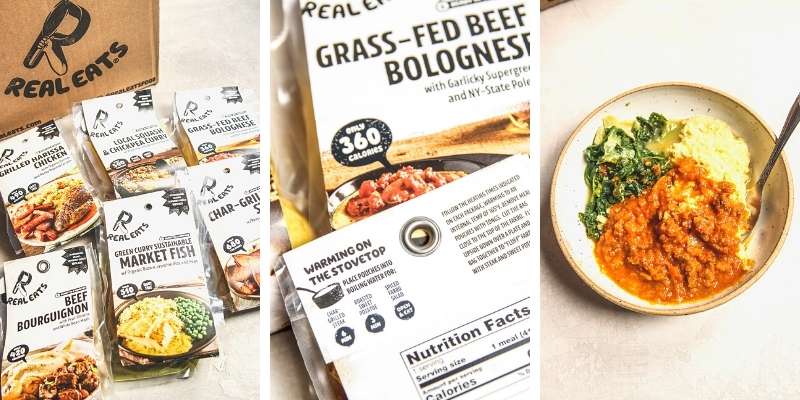 Pros:
Healthy chef-cooked meals (already cooked)
Loved that the calories per serving were listed big right on the front!
All you do is boil and serve
The food was very flavorful
Would be good for one person
Cons:
The bags are not that easy to open and are hot, obviously after being cooked, so it's kind of hard to plate (I burned my fingers trying to squeeze the sauce out of a pouch)
The meals were all kind of 'saucy'
Not ideal for a family (if you are more than 1 person or making more than 1 serving, the different bags get confusing in a pot, they're not labeled), but the food itself is good and my kids did eat the food.
Pros:
All organic (the other organic meal service I LOVE is Sun Basket, I've gotten so many comments about them and they're allergy/diet friendly!)
Meals came with sauces that were already made and were really tasty
Minimal prep, only had to chop 1 or 2 things per recipe
Loved the way the food/recipe cards were labeled and color coded, it made it very easy to know which items to use
Meals were done (start to finish including prep) in 30 minutes
Cons:
Didn't like that one couldn't swap out meals/recipes. You choose a plan and then are just sent the designated meals
Online system doesn't show more than two weeks in advance upcoming meals
This could be a pro or con – the portion sizes were huge. Each meal for 2 we ended up having leftovers for a 3rd meal.
We waited 4 days to make one of the recipes – veggie burgers- the arugula and kale were rotten. Contacted customer service and they immediately apologized and gave a credit on our account.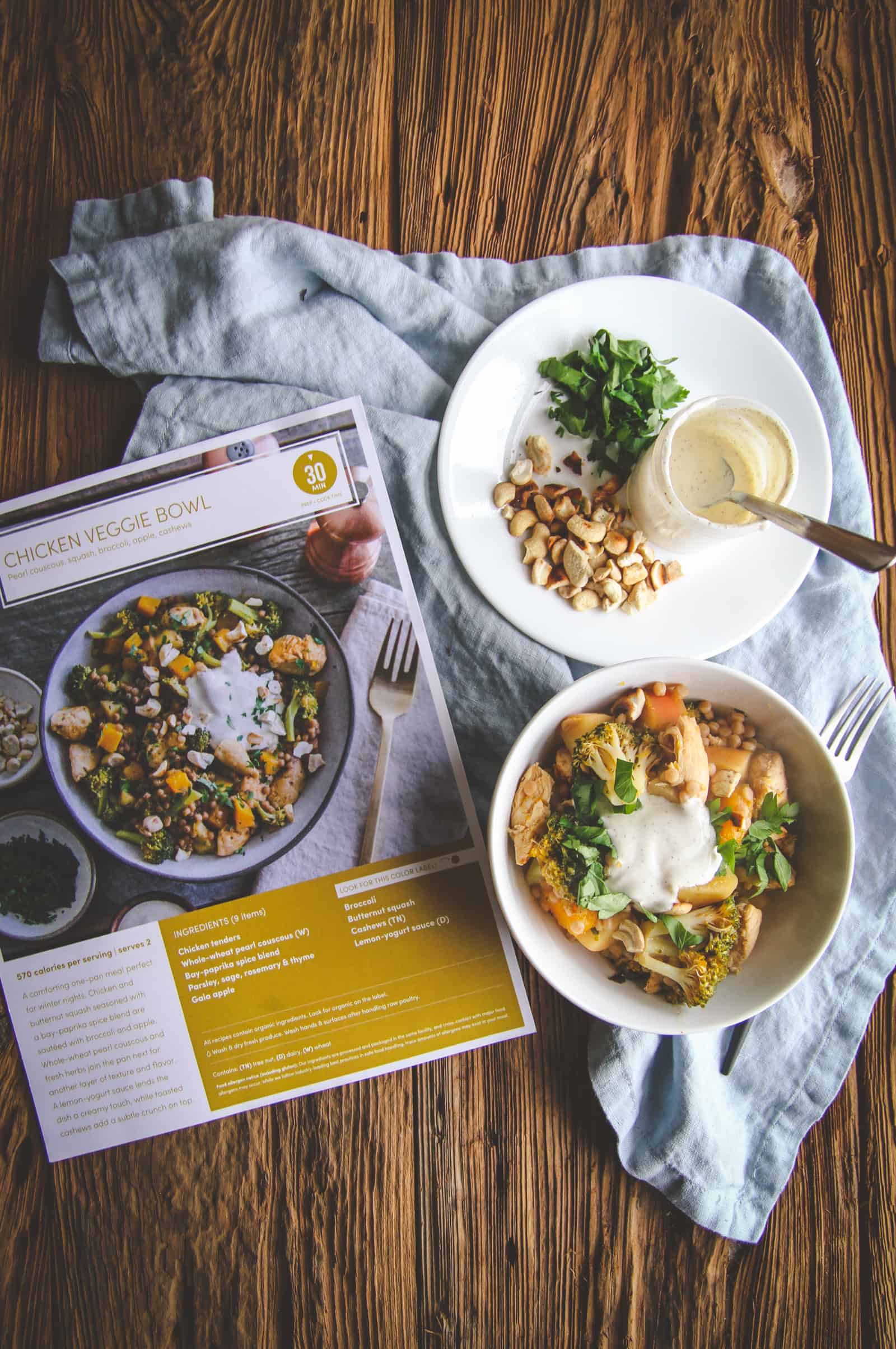 Pros:
The food tasted really good
Appropriate serving sizes, no extra portions
Liked that one could choose between a few meals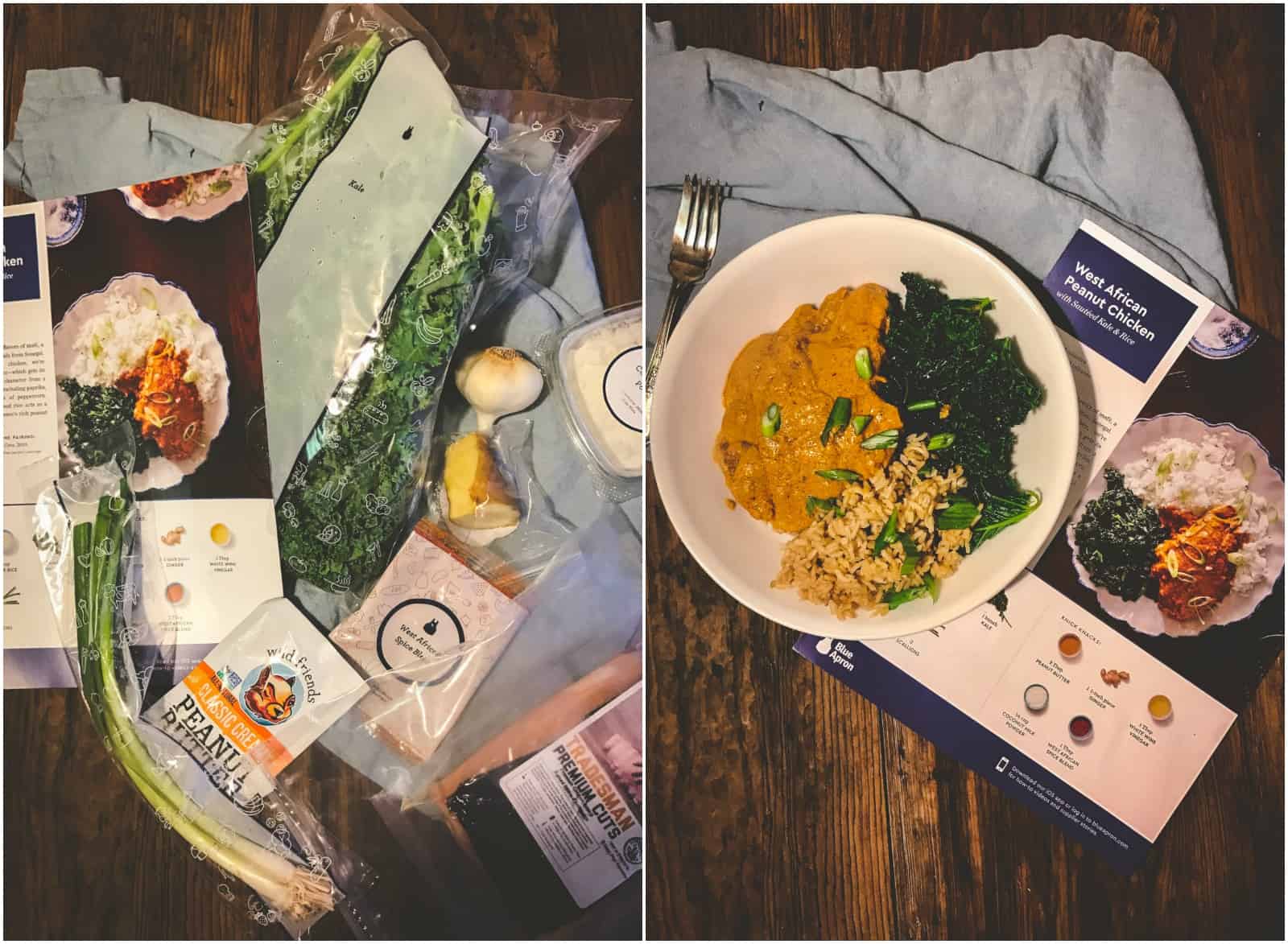 Cons:
Lots of chopping/prep work
Lots of dishes/utensils required
Lots of making sauces/different components of the dish
Missing key ingredients (emailed their customer service and they immediately apologized and gave me a credit on our account.)
Cooking instructions/times were wrong on 2 of the 3 recipes (example 6 minutes to cook an entire chicken breast – it was still raw on the inside)
Cooking times varied and the dishes took a lot longer than expected to make, one 30 minute expected time ended up taking close to 50 minutes from start to finish.
A lot of leftover ingredients (example: sent whole head of garlic when all one needs is 1 clove)
Pros:
Really liked that all the ingredients for a particular recipe came in a box with all the ingredients for that recipe
Unique flavor combinations
One can choose different meal options, but there's not a lot of flexibility between plans (if you want a family plan, there are only a few options, same with the vegetarian plan, there are only three options, and one can't get a vegetarian meal with other meat meals)
Liked that the meal options include a breakfast one
All the food was tasty
Easy directions to follow
Cons:
The website is as not as easy to use as other ones, but once one knows where everything is it gets easier
There are not a lot of options on some of the plans (for example, if you want a family plan and have 3 meals, there's only 5 to choose from) versus if you're on a 2 person plan, there's like 6+ meals to choose from.
They have the same meals very frequently so it gets difficult to find options you haven't tried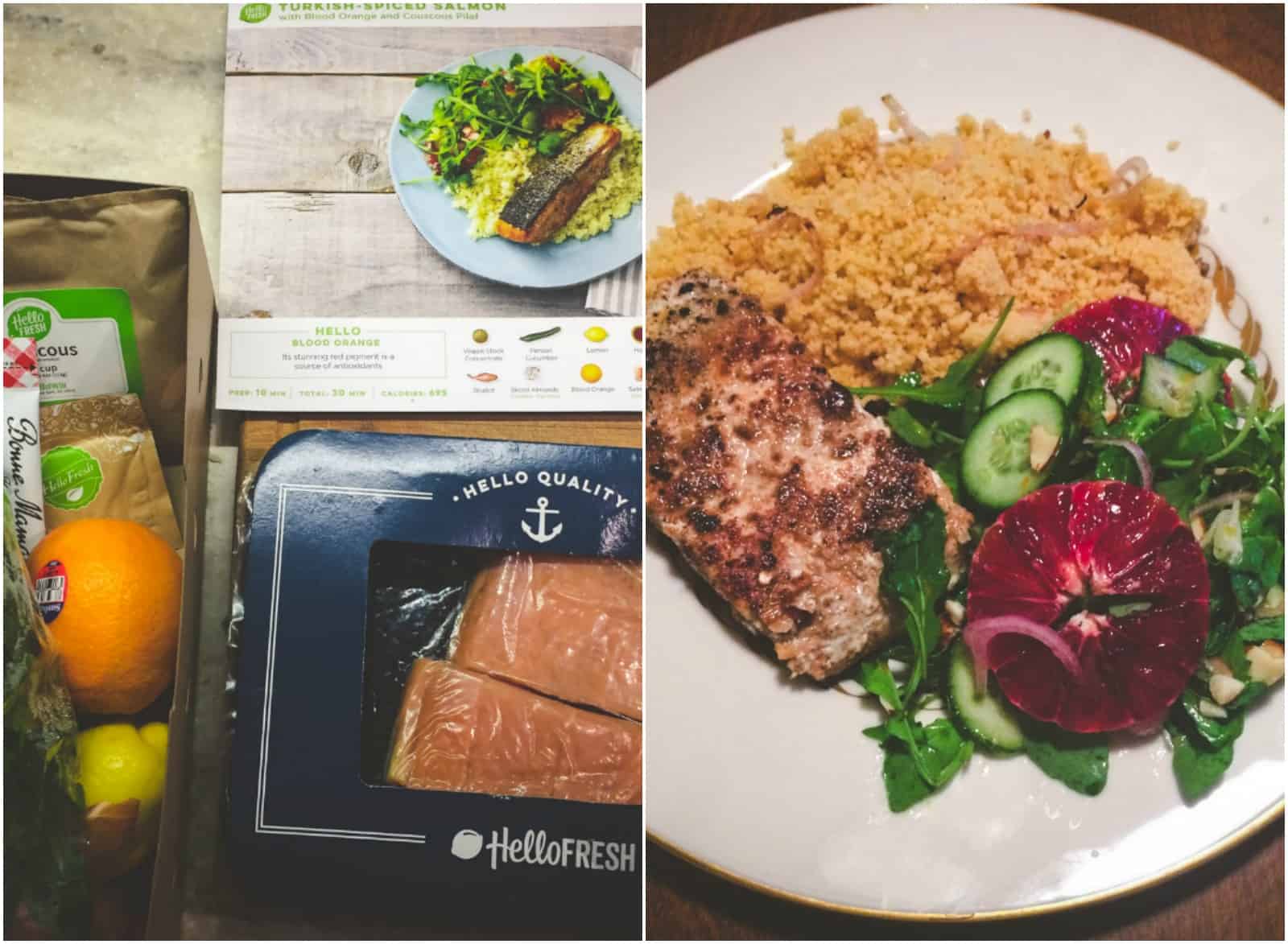 If you're looking for healthy and delicious meals for your kids, I would definitely recommend Yumble. Their food is nutritionist approved and is food your kids will actually want to eat. I had my son Ben try it out, and a few year later my toddler twins as well. I personally loved having a fully cooked meal all ready to go in the fridge ready for them if I'm at work or just need a quick meal. I tried a few bites and was super impressed, all the food tasted super good! Yumble Kids is definitely made for busy moms who want good meals for their kids. My kids also love their snack energy balls!
Comparison:
After writing this post, several companies went out of business (Plated & Terra's Kitchen) I got a lot of questions about meals that are already made (cooked) or servings for one – my recommendation for that would be Fresh 'n Lean. Also, after writing this post and reading the comments, Sun Basket is really loved by a lot of people. It's all organic and the meals look super tasty-I have tried their meals and understand the love, they're amazing!
Summary:
If you're interested in home meal delivery services, the right one is out there for you!
I was pleasantly surprised that each and every one of the services I tried offered a 'first time customer' discount of some kind. I do need to mention -this post is not sponsored by any of the companies I mentioned in any way. I paid for all the services myself (some have referral programs where if you order using my code or special link, you'll get a discount and I'll get some kind of credit for future orders or a small amount from your first order.) All opinions are mine alone and based on my experience.
Funny thing is, without even looking at the graph, my favorite service was Home Chef  (use code 40SweetPhi for $40 off) they have the best options and the least amount of dishes! I have been ordering from them personally for a few years at this point!
For healthy, organic and very dietary needs accommodating (if you're gluten-free/etc.) my favorite was Sun Basket, a service I tried after putting together the chart, I get them frequently now because we're always trying to eat a little healthier.
If you're looking for smoothies and soups, try Daily Harvest (super convenient for on-the-go and quick breakfasts/lunches)
The cheapest option is Every Plate. Their food is pretty similar to others too which is nice.
If you're looking for healthy already cooked meals, Fresh n' Lean is the one I'd recommend!
If you're looking for meal delivery for your kids where their meals are already made, I'd recommend Yumble Kids.
Have you ever tried home meal delivery services? What did you think? Let me know in the comments below!