This delicious vegetable chicken salad sandwich and leek soup are paired perfectly with Lipton Iced Tea making them not only  #TEArifficPairs but also the perfect way to celebrate summer and are part of a shop compensated by the social shopper amplification company Collective Bias® and its advertiser because I am a member of the Collective Bias®  Social Fabric® Community. #CollectiveBias

There is something that makes me very happy about a simple soup and sandwich, paired with a delicious glass of Lipton Iced Tea. It could have something to do with the fact that my mom always made us a quick and easy Leek soup from the Knorr packets she'd pick up at the specialty grocery store on the weekends (it was like a special treat for us!) Or, it could have something to do with the fact that I lived in North Carolina for a few years where every meal was served with a mandatory glass of iced tea. Whatever the reason, the combination of vegetable chicken salad sandwich and leek soup with a glass of iced tea is just the most perfect of #TEArifficPairs!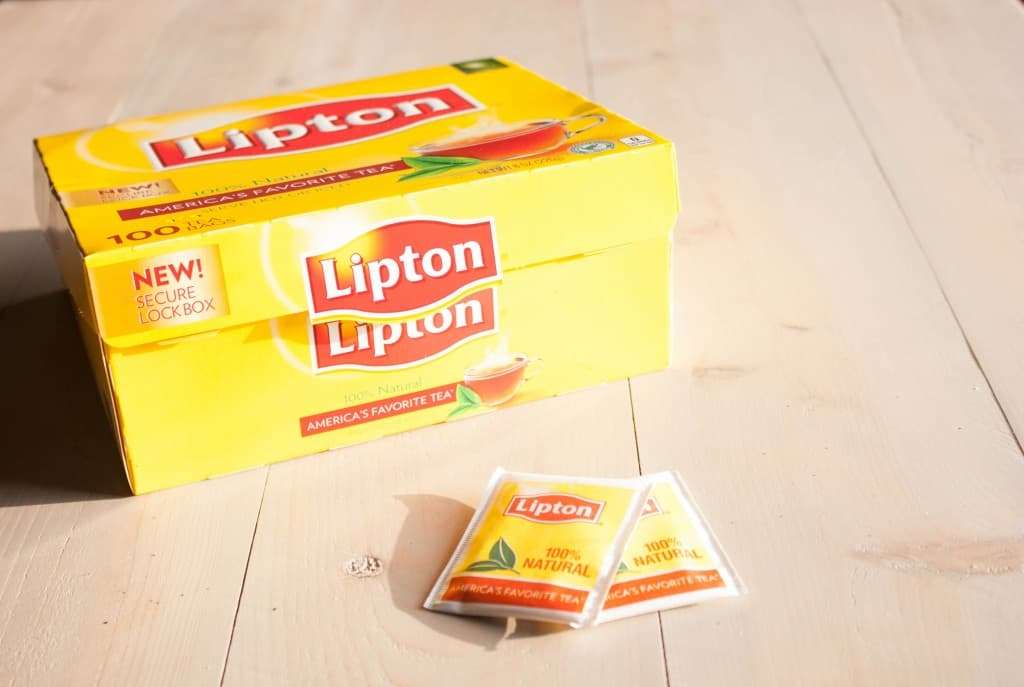 This meal came about when I was at Walmart buying my monthly giant box of Lipton Tea (see picture of my in-store excitement lol) and came across Knorr packets of soup mix. Let me repeat that….Knorr packets of soup mix that I had had as a child that were only ever found at a specialty store and made by my mom, now on the shelves at Walmart!
Knowing that I had a super busy week (can anyone tell me why summer has just flown by this year?) and that I didn't want to spend hours in the kitchen, I decided I wanted to make a quick soup and sandwich to go with my iced tea. The whole meal took less than 30 minutes to whip up!
To make the vegetable chicken salad sandwich you'll cook up some chicken, and while the chicken is cooking you'll mix together Knorr Vegetable mix, Hellmann's Light Mayo, some light sour cream and chopped spinach, then when the chicken is done cooking (you can certainly use rotisserie chicken for this to make it even quicker prep) you will chop it up, and mix it in the bowl with the other ingredients. I like to eat chicken salad on toasted bread, the contrast of the crunch from the toast and the creamy chicken salad goes so well together!
My mom always liked to add fresh vegetables to soup mixes, and I have always done the same. So to make the leek potato soup you'll finely cut up some small red potatoes, and add them right at the beginning when you make your leek soup, that way it boils together the flavors all combine.
My husband can attest to the fact that whenever I'm asked what I want for dinner and don't know exactly what I want, I'll say 'just a good soup and a sandwich' ….and this combo, this fulfills that perfectly!
If you'd like to see some more Lipton #TeaRifficPairs, check out this Pinterest board!

Ingredients
-For the Vegetable Chicken Salad Sandwich-

1

Lb

chicken breast tenderloins

or chicken breasts, or cooked rotisserie chicken if you don't want to cook chicken

1/2

Package Knorr Vegetable Recipe Mix

1.4oz

1/2

Cup

Hellmann's Light Mayonnaise

1/2

Cup

Light Sour Cream

1

Cup

Spinach

chopped

8

slices

multigrain bread of choice

toasted

-For the Leek-Potato Soup-

1 1/2

Cups

Skim Milk

1 1/2

Cups

Water

2-3

Small Red Potatoes

skin on, finely chopped

1

tsp

salt
Instructions
-To make the vegetable chicken salad sandwich-

Start by cooking the chicken in a nonstick pan with a little cooking spray, sprinkle with a little salt and pepper. While the chicken is cooking stir 1/2 package of Knorr Vegetable Recipe Mix with 1/2 cup Hellmann's Light Mayonnaise, light sour cream and chopped spinach. When chicken is done being cooked, add in with the mixture in the bowl and stir a few times to combine everything. Spoon vegetable chicken salad onto toasted bread and serve. Store leftover chicken salad in the refrigerator (it is good warm or cold 🙂 ).

-To make the Leek-Potato Soup-

Finely chop the potatoes. In a medium pot add potatoes, skim milk, water, salt, and package of Knorr Leek Soup Mix. Stir with a whisk, bring to a boil (about 4-5 minutes) then reduce heat to medium low and cook until the soup thickens (about another 15 minutes.) Ladle into soup bowls for serving.

Serve one chicken salad sandwich with a small bowl of soup and a glass of Lipton iced tea. Makes 4 sandwiches/soup combos.