This whole wheat banana bread (and/or) muffins recipe is the only banana bread recipe you'll ever need. It's perfect. It's the best banana bread made with whole wheat flour I have ever had and is so so so delicious, you'll keep bananas on hand just to make this recipe.
I had been looking for a banana bread recipe that I could keep and make forever.
You know the kind of recipe where you mark the page of a cookbook and you come back to it so many times, it ends up getting a little dirty from use?
That kind of recipe.
In the past, I had come across recipes that either had too many ingredients, or that just weren't quite right, something was just slightly off.
That all changed when I was flipping through my friend Mary's (of Bare Feet In The Kitchen blog – you may remember her from when I posted this cheesy chicken and rice enchilada casserole from her first cookbook) new cookbook The Weekday Lunches & Breakfasts Cookbook: Easy & Delicious Home-Cooked Meals for Busy Families. Mary has a big family and is always so supportive and kind and giving of amazing parenting advice.
I knew the second I saw her recipe for banana bread with chocolate and toffee chips I had to try it out, I just so happened to have a few bananas that were very ripe begging to be used.
I didn't have any toffee chips or all purpose flour, so I thought what they hey, let me try this with whole wheat flour (I love making recipes into whole wheat recipes – like this fail proof whole wheat pizza crust that people love!)
You guys! This banana bread is absolutely spectacular and perfect.
It has the perfect crumb texture, the perfect sweetness level, the perfect spice ratios the perfect everything!
When I was sharing some behind the scenes of me making this recipe on Instagram stories, I shared how I couldn't stop eating this whole wheat banana bread and muffins. I think I had like 4 1/2 muffins and 2 pieces of banana bread, and I wasn't mad about it lol. When I shared that, I got a response from another blogger who said she had helped Mary test this recipe, and that her husband still requests it to this day.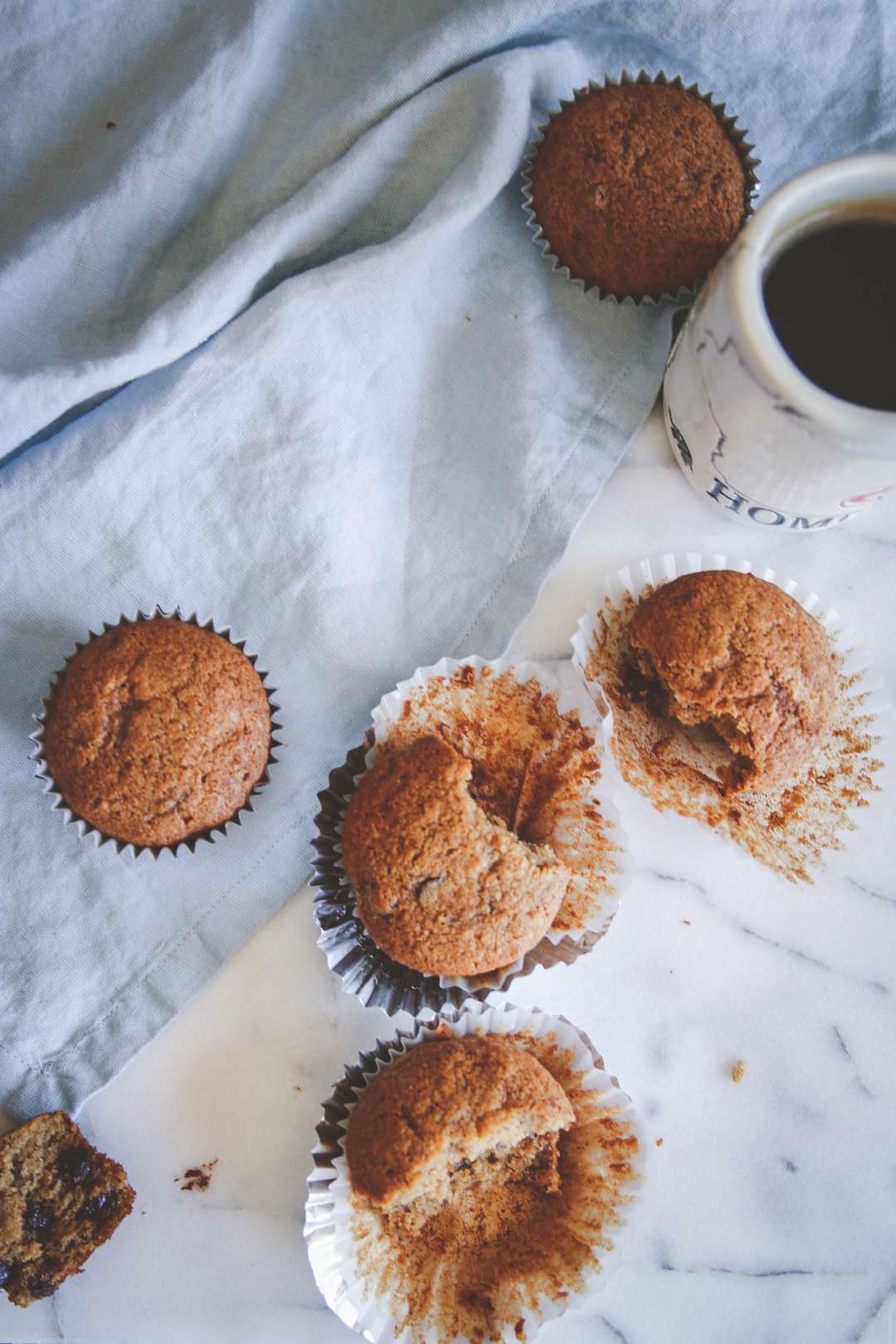 Also, my son Ben loves these. If I put a little piece of this banana bread on his high chair tray and there's other food on it, he will go straight for this whole wheat banana bread!
Another thing that I love is that this bread/muffins will keep nicely in the freezer for 2-3 months, so for those days I'm trying to rush out the door (aka always) I can just grab a muffin or piece of bread out of the freezer and by the time I get to work it's thawed and I can have a delicious breakfast.
Next time you're making banana bread, I'd highly suggest making this whole wheat banana bread (I made it with chocolate chips, but you could omit them, or add more!)


Yield: 1 loaf + 8 muffins or 24 muffins
Whole Wheat Banana Bread + Muffins Recipe
Prep Time 10 minutes

Cook Time 55 minutes

Total Time 15 minutes
Ingredients
1/2 cup butter, softened
1 cup light brown sugar
1 tsp vanilla extract
2 eggs
1 1/4 cups whole wheat flour*
1 tsp baking soda
1 tsp kosher salt
1/2 tsp cinnamon
1/4 tsp ground nutmeg
4 medium bananas, very ripe, about 1 1/2 cups mashed
1/2 cup sour cream
1 cup chocolate chips (optional)**
Instructions
Preheat oven to 350 degrees. Line a loaf pan with parchment paper or grease pan, and line a muffin pan with 6-8 liners. Alternatively, line 24 muffin cups with liners or 2 small loaf pans.
In a mixing bowl, combine the butter and sugar, and beat with a mixer until smooth. Add the vanilla and eggs, and beat until smooth. In a separate bowl, whisk together the flour, baking soda, salt, cinnamon, and nutmeg. Slowly add the dry ingredients to the wet ingredients, beating just until they're combined.
Add the bananas and sour cream, and stir just until they're combined. Stir in the chocolate chips (if using toffee chips add them in too). Pour the mixture into the prepared pans or muffin tins. Bake the full-size loaf pans for 55 to 60 minutes and the muffins for 20 to 22 minutes, until an inserted toothpick comes out with moist crumbs. Let the loaves cool completely before sliding a knife around the edges of the pan to loosen and then remove to a plate or a wire rack
Notes
* or in place of whole wheat flour use 1 1/2 cups all purpose flour.
To make it gluten free, use 1 1/4 cups brown rice flour, 1/3 cup tapioca starch, 1/4 cup potato starch
** also optional is to add 3/4 cup toffee chips


Recipe from  The Weekday Lunches & Breakfasts Cookbook: Easy & Delicious Home-Cooked Meals for Busy Families cookbook