This yogurt coconut red curry is a dish full of big bright beautiful curry flavors. The chicken is marinated in yogurt and red curry paste, and then cooked with the vegetables and more curry in lite coconut milk, served over brown rice…all around yum!
As I sit here writing this post, loving all the bright colors of this dish, I look out the window and realize Mr. Winter did not get my breakup message that I was over him…because…IT IS SNOWING! That's right folks, it is snowing…mid April! Uggg, go away snow!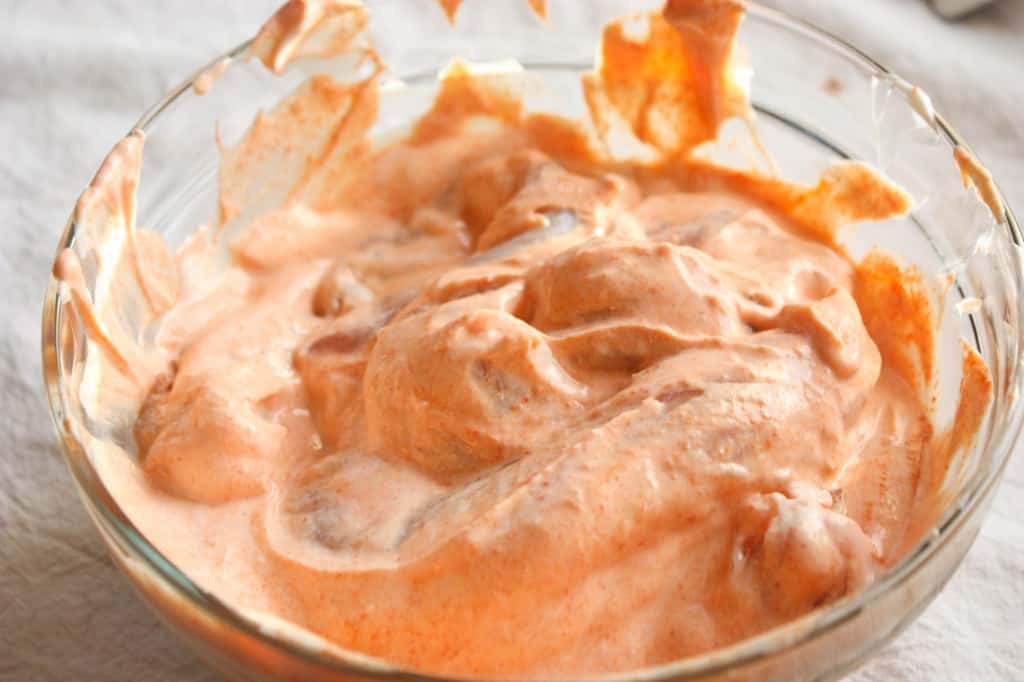 To make this dish you start out by marinating the chicken strips (or cut up chicken breasts) in a combination of Greek Yogurt and Red Curry paste, and while the chicken is marinating, you prep and chop your veggies.
As for the Yogurt … I used Stonyfield organic yogurt.  Their Greek yogurt has become a favorite of mine, I used the Plain Greek Yogurt in cooking this recipe.
This dish is all about bold flavors, and since I like a little zing from ginger and garlic in my curry, instead of shredded it (or zesting it like you would an orange peel) I like to chop it up finely so I can taste it throughout the dish (you can even see little bits of the ginger and garlic in the close up below).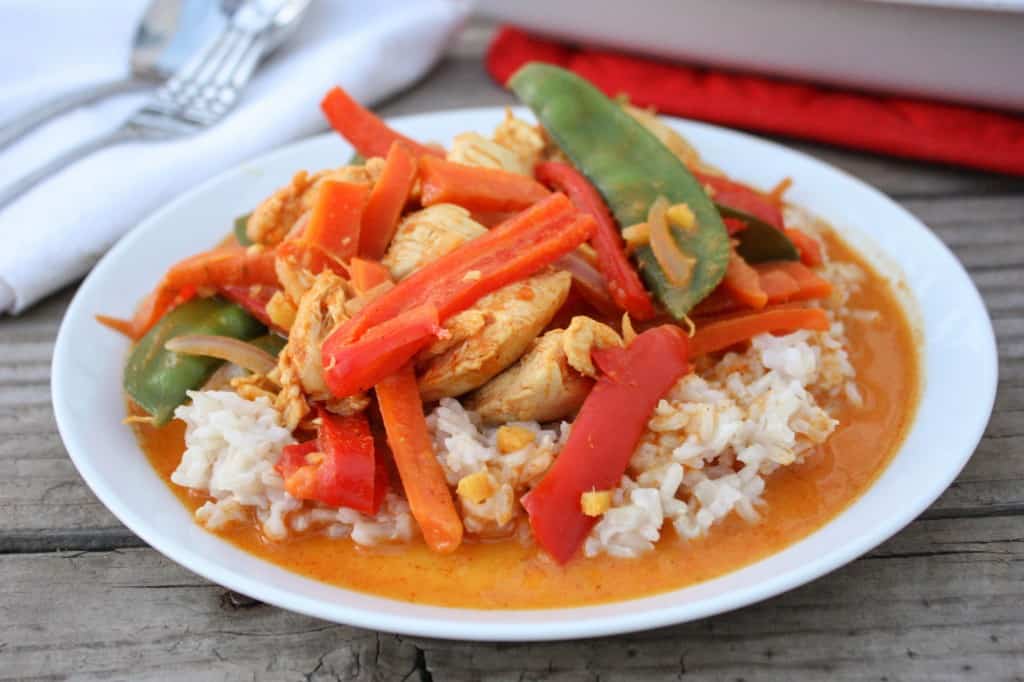 A trick when making curry is to really let the onions, ginger and garlic 'sweat' with the curry powder, it builds the flavor! Here is the recipe for this wonderfully bright dish, and here's to hoping for warmer weather.
Quick note on spiciness – because of the smoothing of the creamy Greek Yogurt and Coconut Milk, this dish, made with a little under 3 Tbs of Red Curry Paste was MILD. If you like more heat, definitely add more Red Curry Paste!

Ingredients
1

lb

Chicken Breast tenderloins

or 1 lb of chicken cut into strips

1

Cup

Greek Yogurt

Stonyfield is the brand I used

2.5

Tbs

Red Curry Paste

Thai Kitchen is the brand I used

1

Tbs

Canola Oil

1

Inch

Ginger

finely chopped

2

Garlic Cloves

finely chopped

1

Red Pepper

cut into strips

2

Carrots

cut into strips (make carrots and red peppers roughly same size)

1/2

Red Onion

cut into strips

1

Cup

Snow Peas

1

Tbs

Curry Powder

1

tsp

each garlic salt

salt, pepper

1

Can

13.66oz Lite Coconut Milk

2

cups

cooked brown rice
Instructions
Cook rice according to package directions.

In a bowl mix the Greek Yogurt and 1 Tbs of the Red Curry Paste. When it is combined, add the chicken breast tenderloins and stir so that all the chicken is coated.

In a pan on high heat - add the canola and let warm up for 30 seconds, then add the red onion, garlic, ginger, curry paste and curry powder, stir until everything starts to cook, then sprinkle with garlic salt, salt and pepper. 'Sweat' the onions by cooking for 5 minutes on medium high heat.

Next, add the chicken that has been marinating (it's ok to have some of the yogurt in the pan, discard the remnants of the bowl). Cook for 2 minutes, then add the carrot and red pepper strips and the snow peas. Cook for 8-10 minutes, stirring occasionally until the chicken is cooked through, you can cut the chicken tenderloin into two or threes at this point. Now add the can of coconut milk and cook until the coconut milk comes to a boil (about 3-5 minutes). Reduce heat to low and cook for another 5 minutes.

To serve place a scoop of brown rice on a plate or in a bowl and spoon the yogurt coconut red curry chicken and vegetables and ladle full of sauce on top of the rice.