I think we can all agree healthcare workers are miracle workers. This fact is really brought to the forefront of your mind if there's an intense situation where you're helped and/or your life or the life of a loved one is saved. Illnesses/health concerns/babies being born…those things don't fall conveniently during 'business hours' so you're dealing with things at odd hours. And I don't know about you, but it makes me eternally grateful that there is someone there, a care team, a hospital team, nurses and doctors to help you through, 24 hours a day. I'm going to share how to say thank you to nurses and doctors at the hospital before leaving!
When I had my first son, I was overcome with the feeling of appreciation and gratitude for the nurses and doctors and care team. Nurses help you through the delivery and hours and hours (through the night!) of labor. And they help you go to the bathroom and shower for the first time after giving birth. It's a vulnerable time and they are angels. It was a whirlwind, but when it was happening, I knew I wanted to say thank you to them. I tried to jot down the names of the nurses/doctors/residents/etc. My son ended up in the NICU for a week and my list expanded, but I was just so incredibly thankful, I wanted to say a quick thank you.
I sent my husband to get thank you cards and a stack of Starbucks gift cards ($5 ones), and wrote them each a quick thank you note with "thank you for being on Benedikt's care team. The next cup of coffee is on us" written in it.
I was in the cafeteria with ice packs on my swollen feet while I wrote the thank you notes for my first sons care team (over 30 notes because he was in the NICU – so regular hospital labor delivery + NICU + support staff).
2 years later to the day, I was in the hospital and had boy/girl twins. My older 3 kids share a birthday! This time I had notes packed and wrote them in the room with the twins in bassinets in front of me.
2.5 years later, I delivered our final child, a baby boy. This time my husband knew the drill and would text me the name and department of the caregiver. I wrote the notes in bed, holding my baby boy.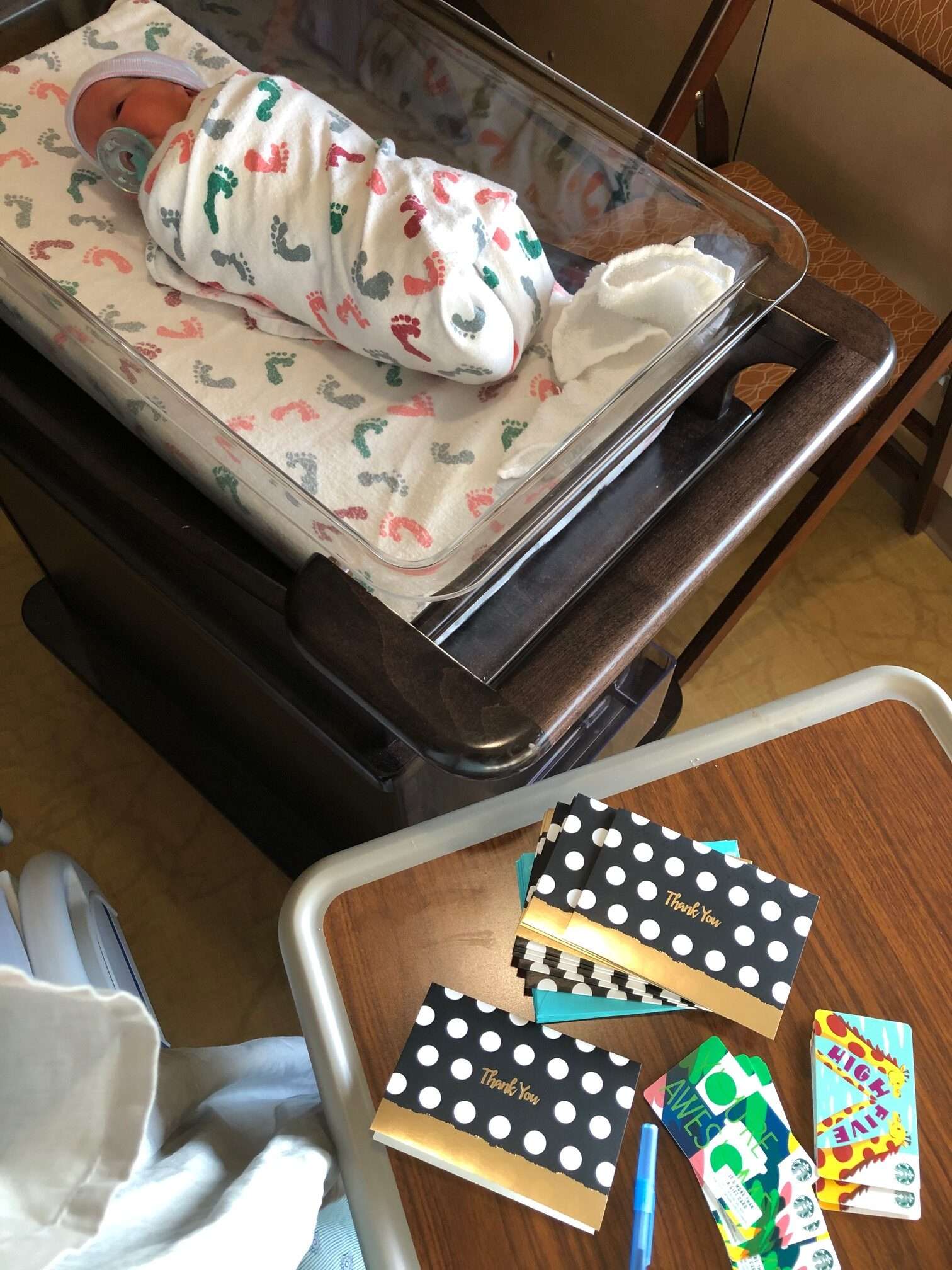 At discharge, I handed the stack of letters to the nurse and asked her if she could drop them off at the front desk, she teared up and so did I.
I shared this story with Jodi and Jenny of
This Is Like Magic
. "Like Magic is on a mission to find and share emotional stories that show how people connect to their children, to their parents, to their grandparents, to their histories, to their communities, to something spiritual and mysterious that make them feel something a little deeper than what they feel when they're scrolling through their Twitter feeds". Every time I read one of their stories I cry (also, I'm 100% going to do
this
for my kids when they go to college, chocolate chip cookies are totally a universal love language). It's beautiful, and I'm so happy I got to share my story with them. Here is a link to the original
Instagram Post
.
Here's how to say thank you to doctors and nurses before leaving the hospital:
Before leaving the house, put a package of thank you notes in your bag. I like these blank ones from Target ($5 for 10 cards).
Buy a few $5 Starbucks gift cards. They also have these at Target or at Starbucks.
When someone helps you that you want to say thank you to, write down their name and department. Example Dr. Smith, Labor and Delivery or Dr. Smith, Anesthesiology).
When you have a moment, write a short note. Script I used "thank you for being on [insert name's] care team. The next cup of coffee is on me! [insert signature]" (you could also include a short note if they did something specific that you remember that really helped).
Add gift card to letter, seal it, write on the front the name of who you want it to go to.
At discharge, ask the nurse to give the notes to the front desk (or you could give them to the information desk when you leave!)