We love reading in our house and have so many books!  Every night, we let Ben pick one and we read before bedtime and it's always a big to do while he is choosing.  If you have a hard time picking your favorite books too, I'm sharing our favorite children's books so you can add to your collection (or buy as gifts!)
If you have kids or have friends who are having kids, books make a great gift.  I always say that we read so many books that you can never have enough.  Kids books are easy to get sick of, so it's nice to have the variety.  If you're not sure which to pick, you might find this list useful.
I posted a picture on Insta stories of me reading with Ben and the book I was reading him was in the picture. I have never received so much engagement with an Insta story, ever! It was amazing. People I didn't even know were engaging with me, telling me their children's favorite books.
Some of the stories in children's books are surprisingly bad, some are surprisingly good, some are just gorgeous to look at. Every time I spot a book or hear a recommendation, I buy it lol, so our children's book library is really growing.
Here is a list of our favorite children's books we've enjoyed so far.  It was hard to even narrow the list down to this, but some of our favorite children's books are below!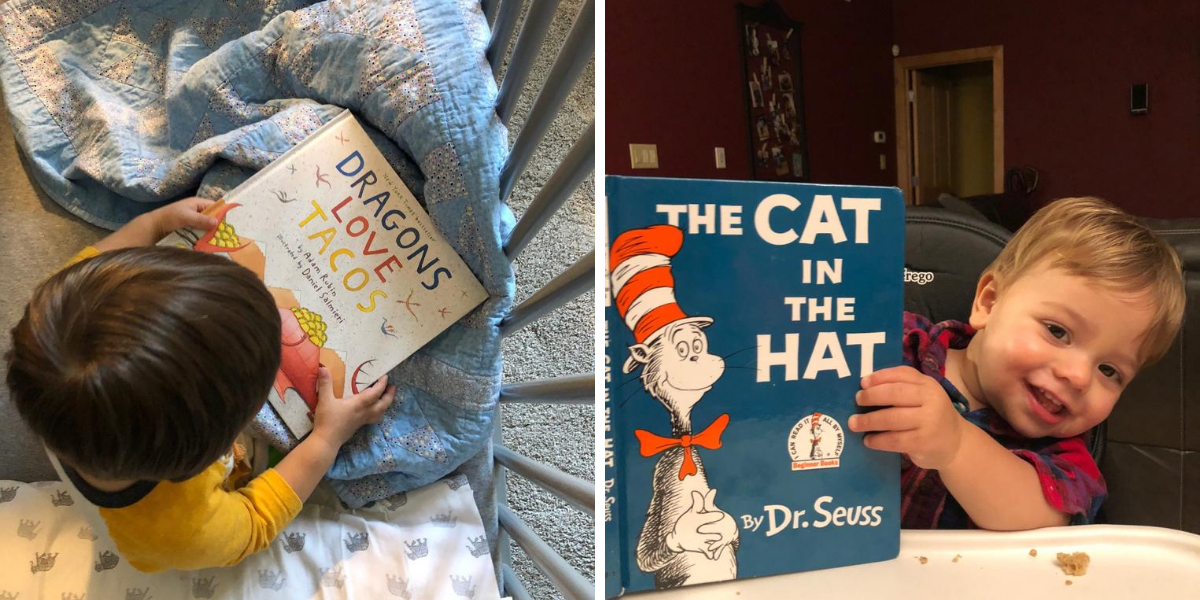 I'm not going to lie, I do not understand this story.  I think it's so dumb, but I just heard that there was a Dragons Love Tacos 2 and my friend told me that it's an even more ridiculous story. Ben chooses this one every night.
And, let's be honest, really any Dr. Seuss book is a favorite for our kids.  They are fun to read and timeless classics!
This has been a favorite book of Ben's for quite awhile.  We still read it every single night before bed to the twins.  It's part of his routine so I have it 100% memorized by now.
Come on, what a funny book title, right?  This book is adorable and teaches kids about adventure and friendship….all while a penguin tries to find where his butt is, haha.
Oh this one is so fun because of the ending!  At the end the book basically gives the parent full reign to "smooch" all over the kiddo.  I read this repeatedly to Ben as a baby, and now to the twins!
What little kids don't love this book, especially little boys?   My friends with kids all have this one in their house too.  We love the classic version, but we also own quite a few of the other versions too.
We love this one in our house because it is all about meal time, food and picking eating.  Plus, the author is from Chicago, which is where I grew up as well.
A classic book that we all know and it continues on to be a favorite of my kids.
Mo Willems is so great and his book series featuring pigeon's as the main character is no exception.  The one we read most at our house is about our pigeon friend needing a bath and he sure does not want to!  Luckily my kids love bath time, but if you have trouble getting yours to bathe, give this one a try. When a fly tells the pigeon he smells, Ben always says "take a bath dude!" like the fly, it's too cute.
Yes, we have tons of kids books and yes I am constantly buying more!  Reading time can get messy, but I'm ok with any messy play that also involves books! I also talk about books I'm reading in my Catching Up With The Kelnhofers series.
Did your favorites make the list? I'd love to hear from you in the comments section.
Shop my favorite kids books below: