When I was a kid, I loved a good Easy Bake Oven, but nowadays there are so many amazing toys for kids who love to cook.  I'm sharing the best cooking toys that every kid is sure to love.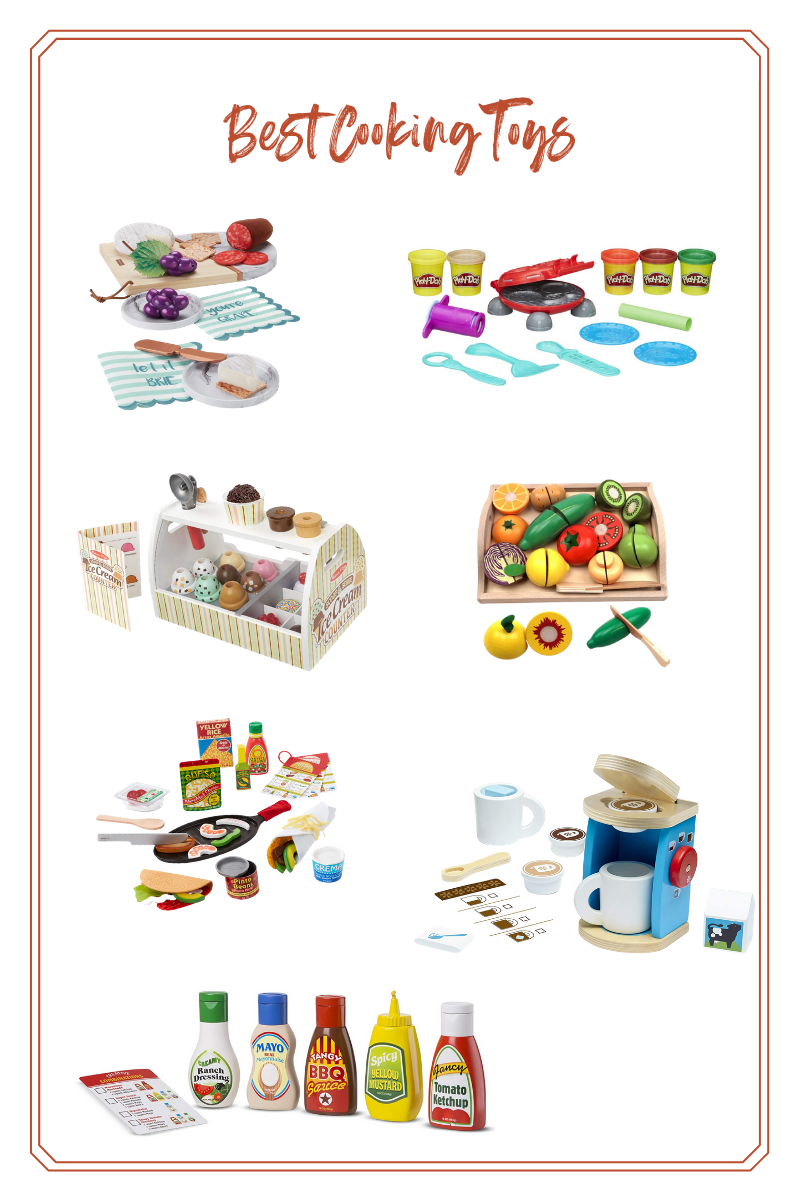 This is one of Ben's absolute favorites!  His grandma got him this and it's a huge hit! And we love it because we grilled all summer long, so Ben thought it was fun to build his own food while we were cooking ours.  Getting Freddie and Frankie to not eat the Play-doh is a whole other challenge….
A friend got this for us as a gift and it's so dang adorable.  Honestly, I think it's nicer than any charcuterie boards I put together. Haha.  Again, a fun one for the kids to emulate what the parents are doing, so they feel like grown ups!
I am always thrilled with toys that are also educational and this sliceable food set is great for teaching fine motor skills.  Plus, you all know how much Ben loves to use his kid safe knives with me in the kitchen.  This set allows for Freddie and Frankie to start learning in a safe way.
I've talked to a couple of Mom-friends of mine and it turns out that we all have this set for our kids.  It's so much fun to let the kids play with all of the different flavor combinations or just chew on the wooden pieces if they're teething, haha.
Ok, I just cannot stand how cute this kids coffee set is.  I mean, come on?  While I am a devout iced coffee drinker, this one was just too cute to pass up.
This was another set that was gifted to us and who doesn't love all things taco!?  This set has a menu the kids can order from, so as they get older (and can read), this will still be a favorite I'm sure.  Again, Freddie and Frankie play around and chew on the pieces, while Ben loves to make different taco creations!
Do you have any other cooking toys you love for kids? We also have a kids play kitchen, and that Ben and the twins love, which houses all sorts of other sets (like a pizza set and cookie set, but the pieces get everywhere so I didn't include that in the main list!)