Sometimes one is pleasantly surprised when one visits a new city, and that is exactly what happened when I spent 24 hours in Bentonville, AR and found that it was an unexpected art destination.
This past week  I went on a little trip to Arkansas, it was the second trip as part of the TASTE15: Unearthing the Art and Science of Food with Best Food Facts, so this post is also the part 2 of the experience (see my TASTE15 part 1 recap post here.) I say it was a 'little trip' because I flew into Northwest Arkansas on a Wednesday and then back out on Thursday. Although the trip was short, it was fantastic, Arkansas was unexpectedly beautiful and I am definitely going to visit the state again to do more exploring.
Everything was gorgeous and filled with beautiful contemporary art and small town charm. To start with, if ever in the vicinity to Bentonville, one must make a stop and stay at the 21c Museum Hotel
The rooms were spacious and absolutely beautiful with simple, yet elegant decor. I especially loved the corner couch and seating area with its dog print pillow (I totally want to make a pillow with my dog Clovers face on it now!) The little corner nook was perfect for sitting at and putting ones' feet up.
[Tweet "24 hours in Bentonville, AR – an unexpected art destination – overview from @sweetphi"]
Everything about the hotel was just plain 'cool', the lobby (pictured below) and throughout the hotel had 21st century art exhibits. 
The hotel is located a block away from the town square, around which adorable little shops and restaurants.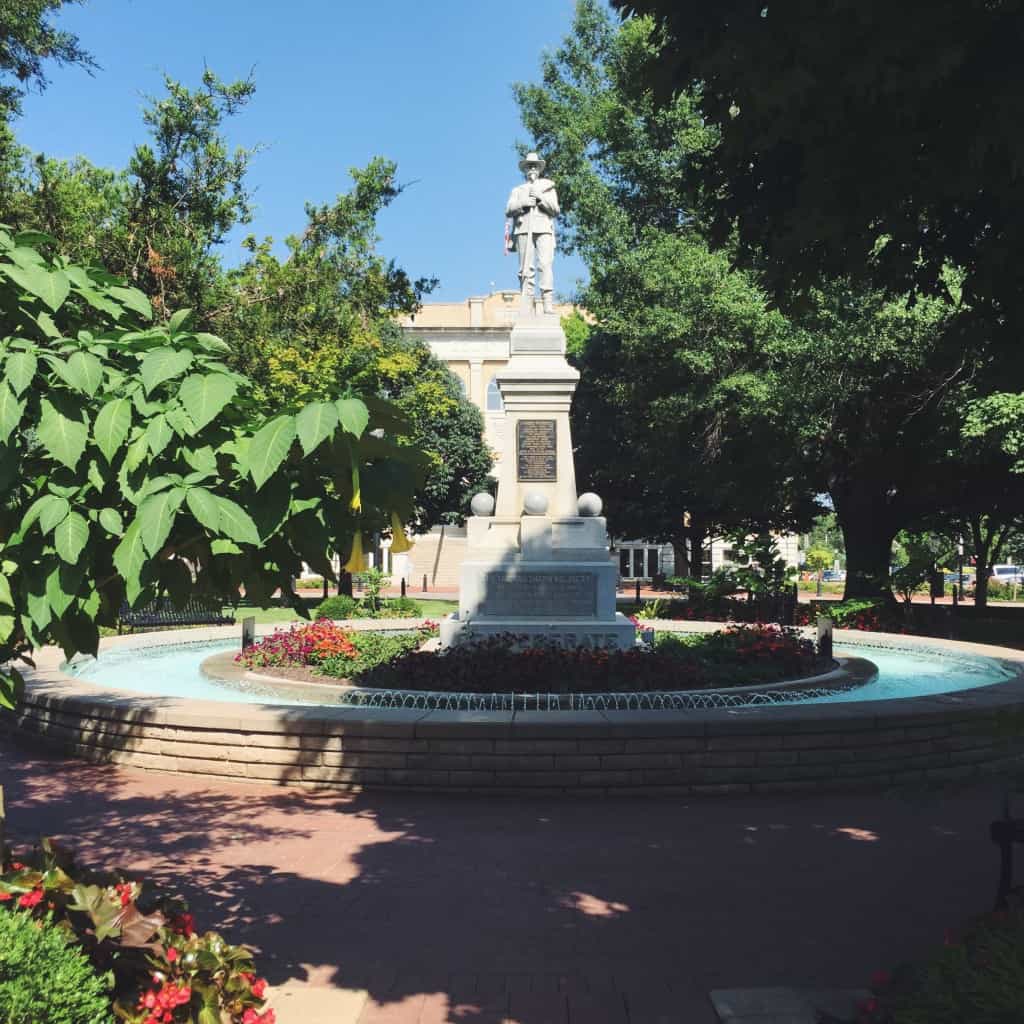 Also in the town square is the Walton's museum, because – fun fact – Bentonville is home to Walmart headquarters.
The museum has free entrance and it was really fascinating to learn about Walmart's history. At the end of the museum there is an ice cream shop that served some of the most delicious ice cream I've had – I tried a salted caramel and lemonade icebox cake flavors (I totally need to make that flavor at home) and ended up liking them both so much that I got one scoop with 1/2 of each flavor – I'm super cool like that.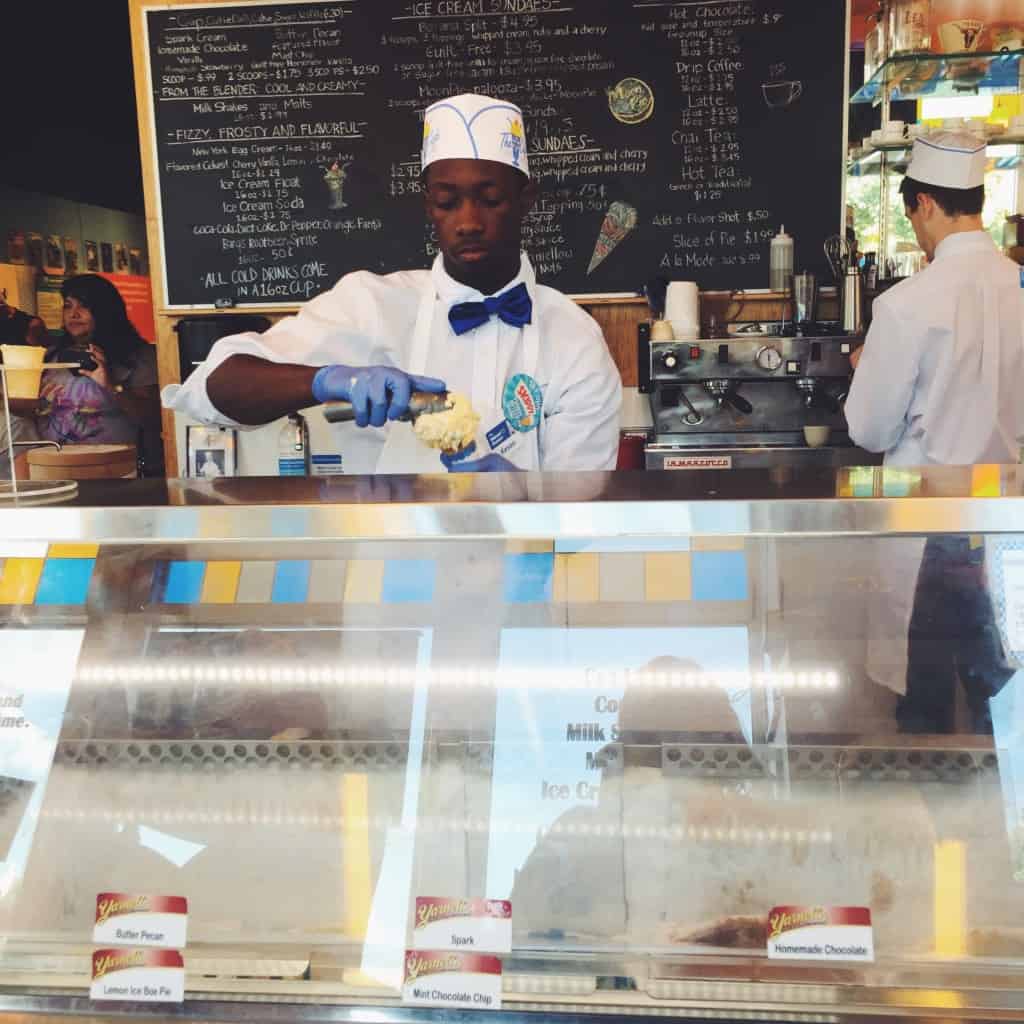 Did I mention that I on this trip I was with my bestie Lynn? As we got to the cash register at the ice cream parlor and the total was under a dollar, we both laughed, and I just had to ask why it was so cheap, and the cashier said 'because it's every day low prices' ! HA – clever, right?
5 minutes outside of the town square is the Crystal Bridges Museum of American Art. I have rarely been so enamored by a museum. We walked through intriguing exhibit after exhibit.
I even stopped to help Pinocchio out hahaha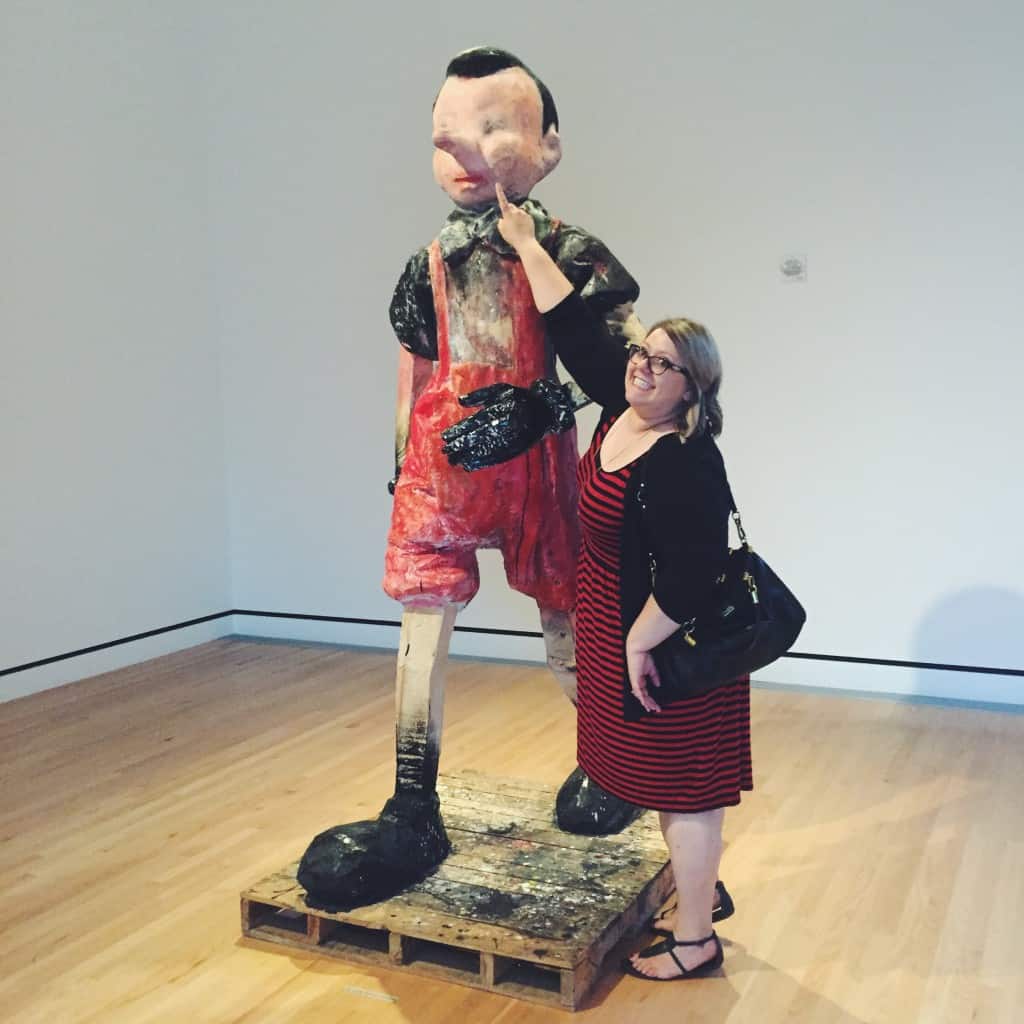 My favorite part of the museum was the Warhol exhibit, it was called 'Warhol's Nature' and from the museum's description is "drawn primarily from the extensive collections of The Andy Warhol Museum in Pittsburgh, this exhibition will explore the artist's surprising lifelong engagement with nature as subject matter. Although well known for his responsiveness to popular culture and advertising, Warhol simultaneously explored the natural world through his work, depicting landscapes, flora, and fauna in innovative and surprising ways."
Everywhere I seemed to turn in Bentonville there was beautiful artwork and landscapes – rolling hills with bales of hay.
After the whir wind trip, I got another unexpected surprise on one of my flights home, I was sat in first class! It was my first time in first class and it was everything I imagined and more! The flight started with the flight attendant taking my drink order, and was followed by a hot towel, warm mixed nuts and a warm chocolate chip cookie! And the seats were so spacious and roomy, why can't every flight experience be like that? I got to drink wine and watch a movie on my tablet (I watched St. Vincent which turned out to be a really cute movie – I cried #allthetears)
All in all, I'd have to say I was more than pleasantly surprised with Arkansas, I can't wait to go back! Have you ever been?
Disclaimer: my time in Arkansas was hosted by Best Food Facts, as always, all opinions are mine alone. Thank you for supporting the brands that make the SweetPhi blog possible.