I blinked, and just like that we are already at the 3 month baby Ben update! When I was pregnant, people would ask me if I'd be sharing updates about Ben on the blog. I didn't quite know the answer, but then I shared a little update when he was a week old, and got asked to share more updates, and then I shared another update when he was 1 month old, and since I've gotten emails asking when the next update is, so here goes!
First off, thank you so much for liking these more personal posts. I never really know what to expect when I hit 'publish', but it truly makes my day reading your comments and emails and connecting on a personal level. So thank you!! Now let's talk about this little cuteness that is baby Ben!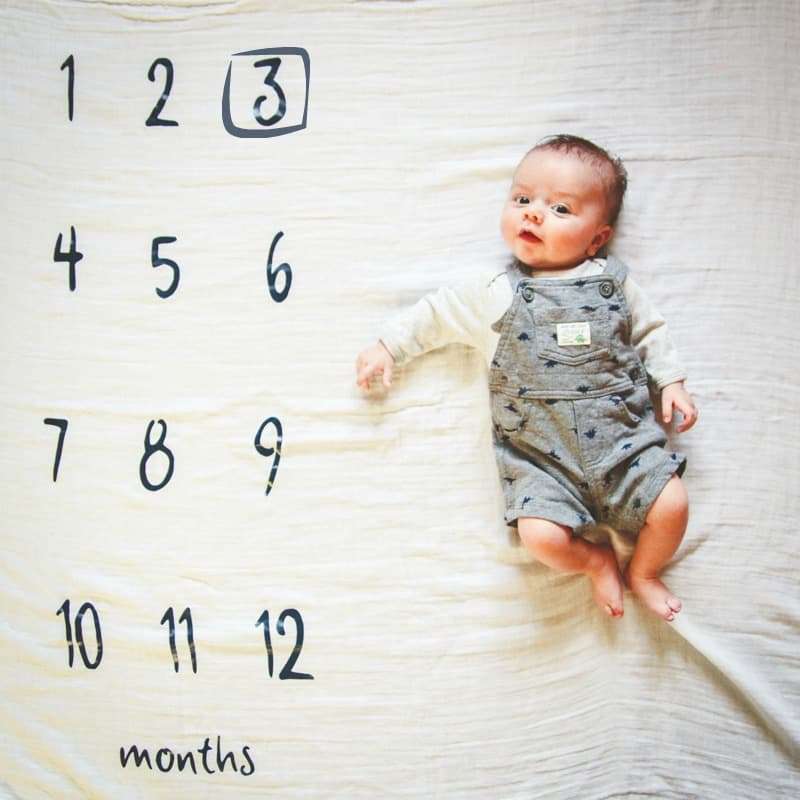 He's growing so fast! Every other day I'm putting away clothes that don't fit him anymore! I swear from one day to the next he outgrew the clothes he was wearing! He's now 3 months old. Every month I take a little photo of him on this beautiful blanket that my sisters-in-law made me. It's really fun to do the picture with Nick – and Clover is of course involved. Here is a behind the scenes and past photos (check out Nick, Clover, and my feet at the edge of the blanket while I snap the photos lol):
Ben loves this thing called a DockATot. We put him in it in the day for naps, and I think it really makes him feel snug and secure. It's a little pricey, so I hadn't purchased it until I saw a few friends with babies use them. I asked them, and everyone gave it rave reviews, so I got one, and boy am I glad I did. Money well spent!
Just look at him sleeping in the DockATot!
He also loves laying on his changing pad and squawking. I got this awesome one on Amazon. It has grips on the bottom, which I love, because when he's being a little squiggle bug and kicking his feet around, the changing pad isn't moving with him lol. He'll lay on his mat and sit there and make the funniest sounds.
We got this crazy tent teepee/pay thing at Target. We have very few baby things, things like mats/toys or whatever, we actually had zero play things, so Nick said he needed something, and this had a bunch of features combined – a mat and a mobile. He loves it, he loves looking at himself in the mirror lol, and it is a pretty cool thing.
What does Ben detest? Tummy time…or as it's jokingly called "tummy torture" lol – just look at this sad face. We try playing with toys to distract him, but really he hates it, pure and simple.
But we all forget about horrible tummy time or crying when I catch smiles or scenes like this:
There's nothing like when you catch a smile, it brightens my day.
It's really hard to leave him at daycare on daycare days. It's funny to see fathers come in, drop their kids off and just leave, all the while I'm still sitting there saying goodbye and snuggling.
Other posts you might enjoy:
I hope you loved reading this 3 month baby Ben update! Over labor day weekend we went on a little trip up north to visit Nicks grandparents (I talked about it in
this post
), it was really nice, and Ben did awesome on his first road trip. I'm thinking for the next few years, road trips will be the way to go. I asked on
Insta
, but I'd love to ask here on the blog too – what are some of your road trip recommendations?