We're talking three kids in one bedroom: twins and a toddler shared room! I'll share how we decorated and why we have all three kids in one room. I'm also sharing about/doing a review of an online interior design service (Havenly) I used to help for the layout. If you're interested in seeing a grey neutral shared nursery room design, this post is for you!
Two years ago we were so excited when we bought our current house. It was so much more space than our first house, we loved the location and thought it would be just perfect (and I was 8.5 months pregnant and we needed somewhere to live lol).
Our house has three bedrooms: two bedrooms upstairs and the master bedroom on the main floor of the house. When our son Ben was born, he slept in a bassinet with us in the master on the first floor, and then when he was sleeping through the night, we moved him into his own room/nursery upstairs and moved into the bedroom across the hall, because I wanted us to be close to him and didn't want to be running up and down the stairs in the middle of the night.
We had really wanted and hoped to have two kids, and the "plan" was that the kids would share a room upstairs until they got a little older, then we'd move back downstairs to the master bedroom and they'd each have their own room.
Wellllll…then we had twins!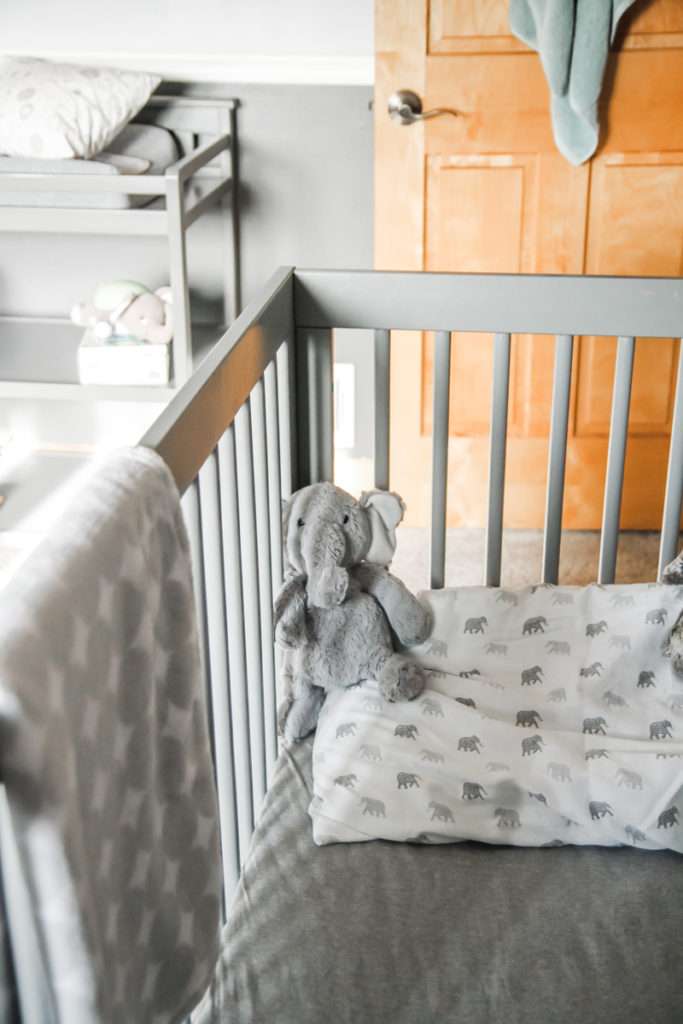 So, our room set up plan went out the window. We didn't want to have Nick and I in the master, with the twins and Ben upstairs all on his own. We also didn't want to have the twins upstairs with Ben alone – although I'm sure that would have been an adventure haha! We wanted to be close to them!
We ultimately decided to have the twins sleep downstairs in bassinets with one of us and then the other one upstairs in the bedroom across from Ben, until the twins slept through the night, then we'd move the twins upstairs and have all three kids share a room with Nick and I in the room right across from them so we're all nice and close.
When we made the decision to have all three kids share a room, I had absolutely no idea how to lay out the space to function for baby twins and a toddler! It's hard enough making one room functional for a toddler or for even one baby, let along THREE!
I was pregnant with the twins and just could not wrap my mind around how to set up a room, because our space isn't that big!!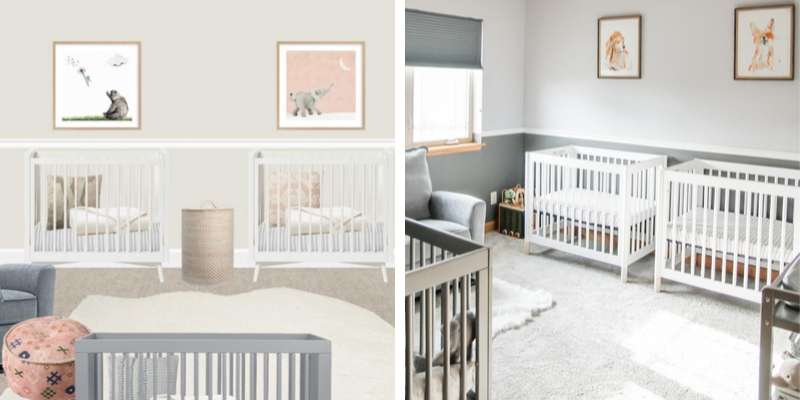 Luckily, at just the right time, I learned about Havenly. Havenly is an interior design service where you work with designers, all online. What attracted me to Havenly, above other similar services, is that they incorporate pieces you already have to their designs for you and will just suggest new items to possibly buy. They also seemed to provide the most value for your dollar.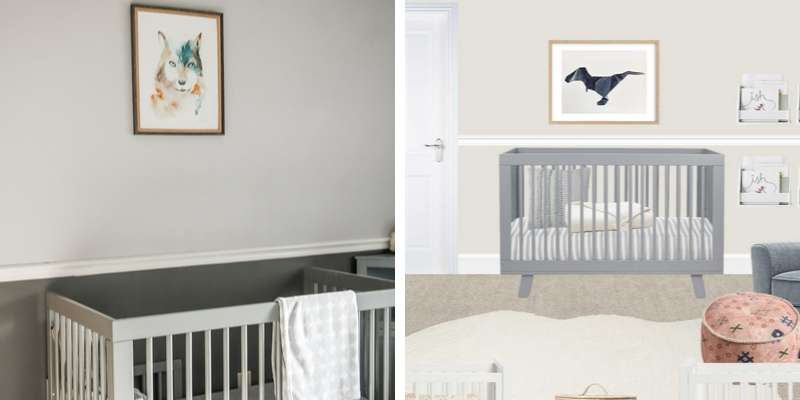 I loved my experience using Havenly (<- use that referral link to get $50 off a full design package or $20 off a mini package). When using Havenly, you give them measurements of the room and items you already have and fill out an extensive checklist. Then they give you a final design for the room and a whole shopping list.
The plans were so beautiful (see above pictures showing the final design and what we actually used. We kept the layout which was so perfect, but made a few tweaks.
In reality, there was a lot less space than it looks like in the designs. And we were going to paint and put up new curtains, but I got put on bed rest at the end of pregnancy so we never got around to painting it, and I think it looks totally fine!
We ultimately got different prints because the ones from the design (like this one) was a little more than I wanted to spend, so I ended up finding this shop on Etsy and got 3 prints (one for above each of the beds), and they were $50 (vs. $300!)
All in all, we're very happy with how the room turned out and just this past weekend moved all three kids in together!
I'm adding a 'shop the room' below- click on the images to go to the item. A few items I'd like to highlight in particular:
Other posts you might enjoy:
I'd love to answer any questions you may have about the room in the comments below!
Shop the room:


This post is not sponsored, I spent my own money on all the services and things shown in this post, all opinions are as always mine alone. Some of the above links are affiliate links, and if you purchase through the links (at no additional cost to you) I will receive a small commission. Thank you for supporting the brands and services that make the SweetPhi blog possible.