The first week at home with a newborn, it's crazy what all I've learned! First off, I love being a mom. I love it and am enjoying it, tenfold, and like a million times more than I thought I was going to #momlife over here. It feels like I am finally myself, or like the self that I was always meant to be, and I love our little family unit.
Today I'm going to share with you the things I've found I really needed (and didn't have) in terms of baby clothing and things, and other fun tips and tricks I've learned in the last week at home with a newborn.
A little back story for you: right after I posted the birth announcement, things got a little crazy and Ben was rushed to the nicu (neonatal intensive care unit) in the middle of the night. He was having issues regulating his blood sugar and they didn't know why. I had been ruled out as having gestational diabetes by testing several times throughout my pregnancy, he wasn't a big baby (only 6 lbs 14 oz), and he was showing no other signs of issues and he was a term baby. The nicu is the best place to be to receive care for your newborn when there's an issue, but no parent wants to be there. I was there a full week and was lucky enough to meet some of the most incredible care professionals and nurses. I was too scared and too busy to do anything besides be with Ben 24/7 in the hospital. All the while I'm supposed to be recuperating from labor. I have nothing but amazing things to say about the entire nursing staff at Children's Hospital of Wisconsin, and if it wouldn't have been for them, our amazing pediatrician (more on this amazing miracle worker Dr. Kamsler to come, but if you live in WI and are looking for a pediatrician, there's seriously no one else I would recommend more) and our friends and families support, there's no way I would have made it through. A special special over the top amazing shout out to my husband, without whom I would not have made it, period. He is an incredible man and I love him so much, Ben is one lucky kid to have him as his father.
Ok, so it's really funny the things you think you'll need and get as presents, and then the things your baby actually needs and likes! The day we got back from the hospital I had to leave Nick to watch Ben so that I could go to Target and buy a million things we didn't have….and then the next day I had to go to the baby store and purchase the remaining million and one things lol, so I'll break it down into a few different categories.
Clothes/Swaddles:
Babies need warmth! Lots of warmth. They're supposed to be dressed in one more layer than you are. Everyone gets cute little onesies or outfits for baby showers (I used to get those things for new moms too). Well, my baby gets cold and needs his arms/head/legs covered up! On a whim the day before I went into the hospital I picked up this little onesie outfit that had arms and legs and had a little hat (pictured above, it's this set). It's the only outfit we had that works! So I had to go buy more. Let me tell you how hard it is to find onesies with arms and legs, for boys, especially in the summer, I found a clearance rack and I'm pretty sure I bought every outfit that was his size that had arms and legs!
While baby pants and "outfits" are cute, it's so impractical and hard to change a diaper with them. I love snaps- or better yet – zippers on the onesies. My favorite brand so far has been Burts Bees. Their clothes, blankets and everything are SO soft and work really well (not an advertisement, but the above photo has him on a changing pad cover, in a onesie, with a hat and burp cloth, all by Burt's Bees!!)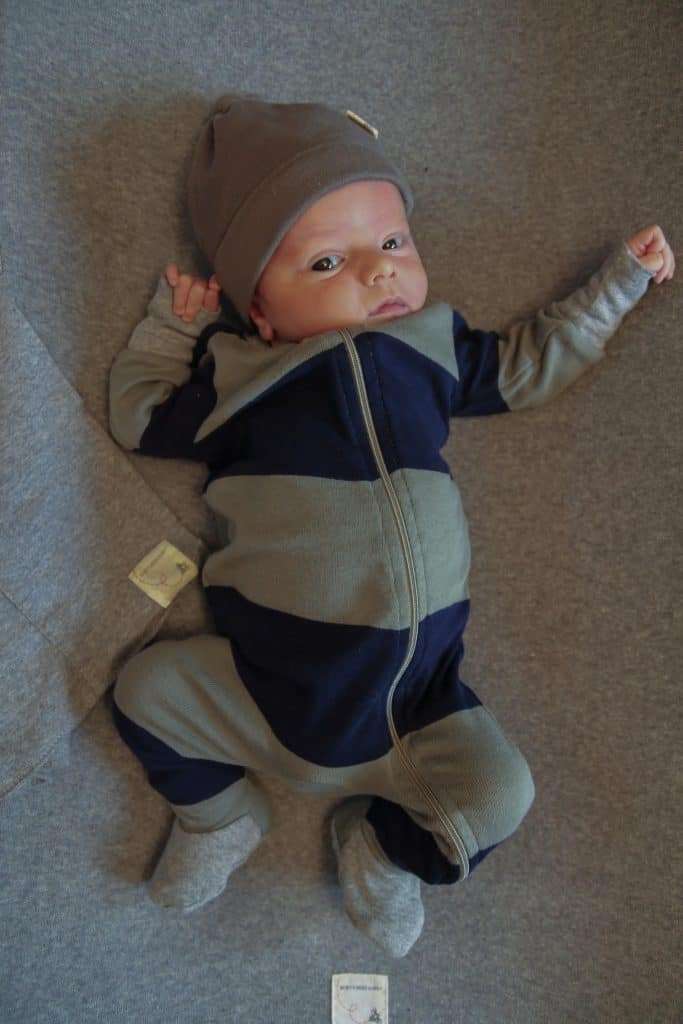 The night we got home we were getting Ben ready for bed and Nick said "ok bring me his jammies" and I went and looked in the dresser and had not one thing. Then I remembered my friend Lisa had given me these two sleep gowns/sacks (these ones) that I had in the closet. They were life savers! At 3am when you need to change a diaper, it's super easy with no snaps!! I also love this one I got.
Also, the color white is not your friend when it comes to baby clothes. Spit up is a yellow/beige color and leaves stains on whites, so opt for darker colors (this is a tip one of my coworkers told me that I now completely live by.)
In terms of swaddles, Ben does not like the airy fashion swaddles that people give you. He likes the sturdy cotton ones, more like 'receiving blankets' like these ones.
Diapers/Diaper Bag:
So…diapers…a few things. At first when I got pregnant I was set on doing cloth diapers. Nick told me to research it, so I did. And ummmm yeah, not going to happen, it's just too much work and my mom told me she ruined something like 2 washers when she did them with us. So I said fine, I'll just do super eco friendly diapers. I bought one pack of fancy diapers and got a few packs of random brands of diapers from my sister -in-law whose baby outgrew the newborn size.
At the hospital they used Pampers, and they sent me home with a package. Even though we took a baby class, I didn't really comprehend how many diapers babies go through. I got home and baby Ben goes through something like 8-10 diapers in a day. At $12 a pack for the fancy ones…um, not sustainable. So I went to the store and bought Pampers and Huggies.
(I gave baby a little foot massage because his footsies were dry – I used the cream I got from this set, I went and bought the full size cream after loving it).
Pampers and Huggies are SO much cheaper than the diapers I was going to use, we're talking Pampers and Huggies at 0.16-0.20 cents per diaper vs. .60 cents per diaper on what I was going to use! You go through SO many of them, so yeah that's happening. Plus, Pampers/Huggies have this little line on the front that is yellow when it's dry and then turns blue when it's wet. Really takes the guess work out of it and you're not checking every two seconds if it's a wet diaper or not. They're good enough for the hospital to use, they're good enough for me.
In terms of wipes, my favorite are the Huggies Natural ones. I went through something like 4 different brands – some are too dry, some are too wet, Huggies are perfect! Big bonus for me? Huggies brand are sold at Costco, so it's even cheaper!
I thought I'd hate changing diapers, but I think it's the funniest thing ever when he takes a big dump and makes funny little faces while diaper changing.
I got this diaper pail after doing a lot of research and it's great. So easy to put dirty diapers in, and I love that it's stainless steel so the smells won't leak (I've legit had friends tell me their plastic diaper pails seep smell out and they had to get a new one, and this is the one they got). It's really pretty too!
In terms of diaper bags, I always see/hear people rummaging around in their diaper bags looking for things. I came across this one that had 'pods' and it looked like my style so I got it. I've used it out in public multiple times now, and it's amazing! I can always find everything I'm looking for and it's super easy to change Ben on the go! HIGHLY recommend this PacaPod diaper bag.
Photos/Social Media
Photos on my phone – this is funny. Before Ben it was all food photos and I was kind of getting bored with them. Same with social media. I used to love Instagram when I was posting whatever – like photos of Clover (our dog) or random things, then it became more of a business tool and I was only posting when I had a new blog post up and it lost its appeal. As soon as I had Ben I posted and I immediately loved Instagram again! Going forward I'm going to be posting a mix again and just love interacting with people, so I hope we're friends on Instagram.
Feeding a baby: Fed is best
People with strong opinions about how to feed your baby or the best way (aka "mommy shamers") are bad, they need to just go away. Keep your opinions to yourself. Whether you're breastfeeding, pumping and feeding, giving formula or any combination whatsoever/ go you, you have a baby and a as one of the nurses said "fed is best!" Amen! Listen to whatever your doctor says and feel empowered that you have a baby! I got this nursing cover thing at my shower and love how soft it is, I have yet to use it, but I love that it covers the car seat too!
Entertainment:
Someone told me about this book: Bringing Up Bebe. I started reading it before I had the baby, but have been reading it again now. It's incredible. I cannot recommend it highly enough.
Ben gets a little fussy sometimes: he's not hungry, he doesn't need a diaper change, he doesn't need to be swaddled or need a pacifier or want to be walked around or held…how to entertain a newborn? I read that they like the sound of your voice, and since I didn't really know lullabies by heart, I remembered that Jewel had a lullabies CD she made for her son. OMG it's beautiful. I put Lullaby on and sing along with the songs I know, and guess what? It does the trick, Ben is instantly quiet. I also play this while driving in the car. It's so relaxing and beautiful!
Food for mom and dad:
Food- I'm back to cooking! I didn't really make a lot of freezer meals-I made 3 different things: two recipes from my cookbook and a cheesy chicken enchilada casserole which I will share with you soon because it was so yummy and easy to reheat.

I've been making things that are quick and easy, like things from my cookbook, honestly, never before have I used the book this much lol! I have it sitting on my counter and when I'm low on ideas I just open it up- I made shrimp and grits the other day and just added bell peppers.
My bestie Lynn sent me the most gorgeous flowers and goodies (some of it shown in the first picture in this post) and there were snacks and a even a little apple pie which my hubby and I enjoyed. My other bff Jodie also sent me a big box of snacks right before I went into labor, and seriously, I've been snacking on all that stuff. And the sweet folks over at my ad network provider, Mediavine, sent me sweet treats which was so thoughtful. So send snacks to new parents!!
Other posts you might enjoy:
Hope you've enjoyed reading about my first week at home with a newborn, I'll be back to posting recipes soon, I just have so been enjoying this time, it seemed the perfect time to share what's going on in my life.