Today I'm going to share how to make sweet potato puree. This can be a wonderful baby food, and can also be enjoyed in other dishes (like sweet potato pancakes or in sweet potato cornbread muffins).
This recipe is fantastic for baby's first food! Sweet potatoes are a powerhouse of nutrition: high in vitamins A and C, which promote healthy, eyes, skin, and immune system, as well as high in fiber and other beneficial vitamins and minerals. Sweet potatoes take on a gentle sweetness and are easy for baby to digest. And they're a great first food because they combine very well with other foods and spices.
We recently started feeding the twins solids, and their first food was sweet potato!
Did you know that I have a baby food cookbook? It's all about making baby food from first bites and transitioning into solids and how to make baby food in a baby food maker (I did a baby food makers review here). Baby food makers steam and puree food all in one device, I love them because they make making baby food so easy-but my book shows how to make each recipe in a baby food maker or via stovetop!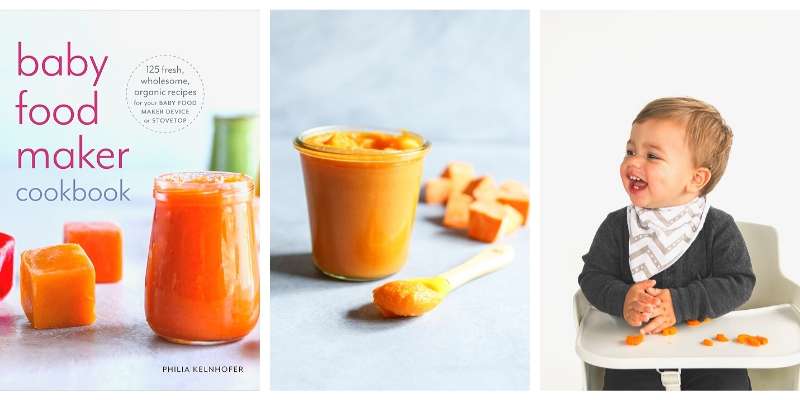 Sweet potato is a good first food, because it's a single ingredient puree, which is a building block for all other ingredients to come (for example you can do sweet potato and a more bitter ingredient they might not like on their own, like spinach, so then you can add other ingredients to sweet potato). There's nothing more exciting than feeding your baby his or her first bites of wholesome ingredients.
How to make sweet potato puree:
If steaming on the stovetop, boil water in a small pot until a vigorous boil, then turn the heat down to medium-low to continue steaming once the sweet potato has been added. Boil until a fork gently pierces the skin.
Drain water, then puree
If making sweet potato puree in a baby food maker follow the directions in the card below depending on what kind of machine you have.
How long is sweet potato puree good for?
Purees keep refrigerated in air tight containers for 3 days, or frozen up to 2 months.
How much sweet potato puree do babies eat?
This one really depend on the individual baby, but generally when babies are just starting out, they have 1 teaspoon to 2 tablespoons per feeding, 1 feeding per day starting out.
I hope you've enjoyed learning how to make this recipe, in the directions I share how to make sweet potato puree in a baby food maker or via stovetop.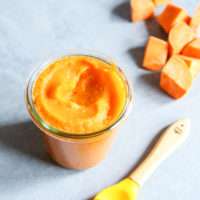 How to make sweet potato puree
This recipe for sweet potato puree is great for either a baby food or for any recipe using a sweet potato puree like sweet potato pancakes.
Print
Rate
Servings:
1
large cup of sweet potato puree
Ingredients
1

sweet potato

peeled and cut into 1 inch cubes
Instructions
How to make sweet potato in a water level baby food maker:
Pour water into the tank to the highest level (mine is level 3 which equals about 1 cup water)

Put the sweet potatoes in the steamer basket.

Start the cooking process.

When the cooking process is done, pour the sweet potatoes in the blending bowl with the cooking liquid. Blend.
How to make sweet potato puree in a fillable tank baby food maker:
Fill water tank with water.

Place sweet potato cubes into the blending bowl.

Set the steam timer for 25 minutes.

When the timer goes off, blend the sweet potatoes with cooking liquid.
How to make sweet potato puree via stovetop:
Bring 1 cup (about 1 inch) of water to boil in a small 2 quart saucepan (about 3 minutes). Add in sweet potato cubes and place a lid on the saucepan. Steam for 10-12 minutes, or until sweet potatoes are easily poked with a fork.

Transfer the sweet potatoes to a blender (or food processor) with remaining water (or add ¼ cup of water) and process until smooth.
Notes
If the purée is too thick, add a little bit of liquid to reach desired consistency (can add breast milk, formula, or water.)
If making puree for a baby, the consistency should be thin and watery, and you can reach the desired consistency by adding more liquid and stirring.
Nutrition information disclaimer: the nutrition information presented on this site should be considered an estimate as the calculations will change based on the exact products you use in your own kitchen.  
Nutrition
Serving:
1
g
|
Calories:
103
kcal
|
Carbohydrates:
24
g
|
Protein:
2
g
|
Sodium:
41
mg
|
Fiber:
4
g
|
Sugar:
7
g