Today, I'm sharing how to make pizza with kids.  You know how much I love cooking with my kids; right now it's mainly with my 3 year toddler, but I have the 1 year olds (twins) underfoot in the kitchen with me too.  Some recipes are better than others to make with kids and pizza is one of the easiest things to do with kids in the kitchen. And there's a video with this post for how to make pizza with kids!
A few weeks back, I shared some of the best recipes to make with kids and I wanted to dive a bit deeper to talk through the pizza process, how to make pizza with kids.

We've been making all sorts of pizza at home; the topping options are endless.  Some of my favorite pizza recipes are these:
Cooking with kids can be stressful, but with a few easy tips, it can be so fun!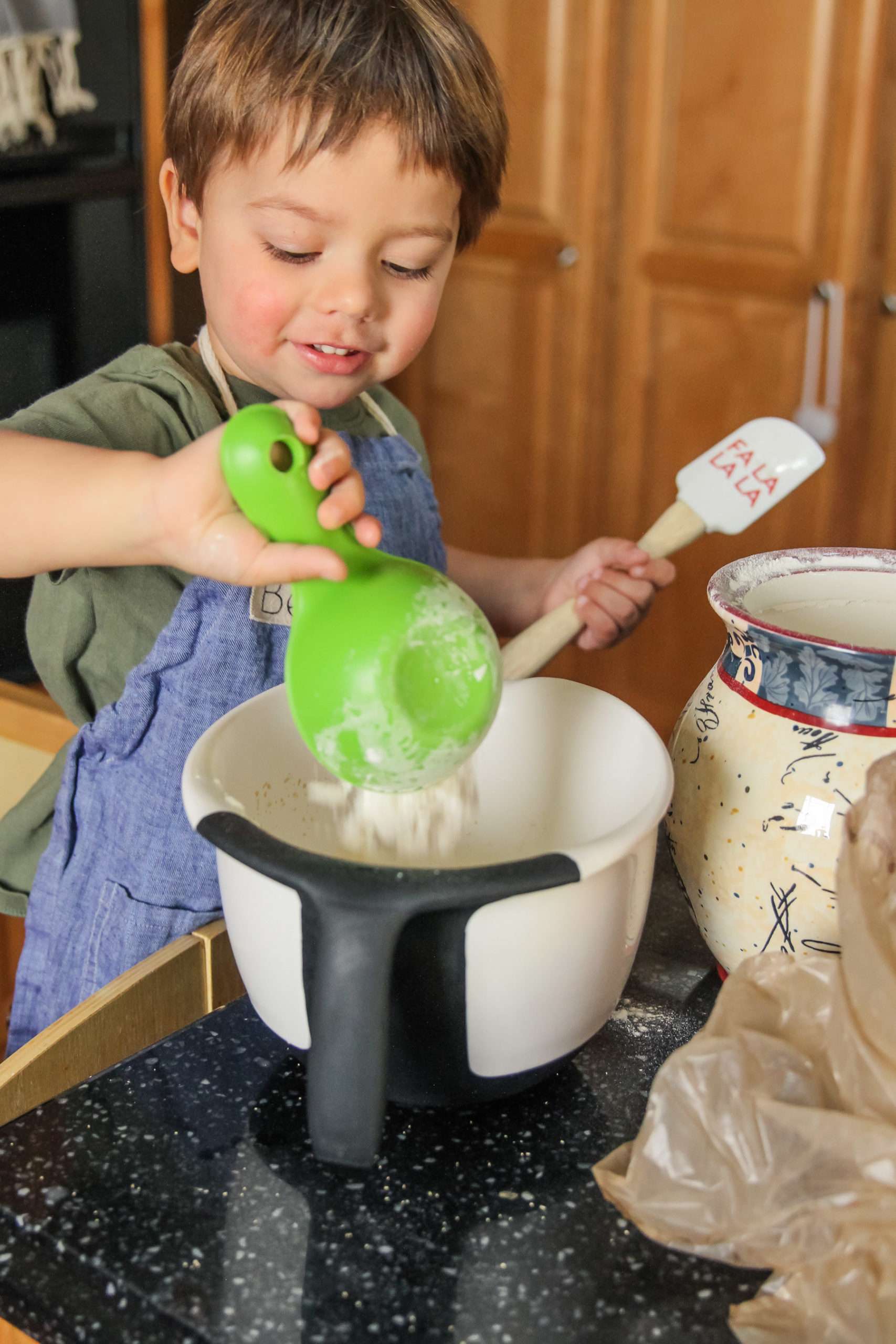 My very first tip is to use a forgiving recipe.  For example, don't choose a recipe that will fail if measurements aren't 100% precise.  Think of it this way; a 3 year old is measuring flour a little differently than an adult.  I  have a recipe at the bottom of this post that's perfect for making pizza with kids.
Next, talk them through the steps. For example, as the yeast mixes, watch for the bubbles.  I find that Ben really loves this part, plus it's a great opportunity to teach him about yeast and the process it plays in cooking.  Get your kids involved with the process.
Allow them to get their hands involved/dirty. Showing them and allowing them to touch and feel keeps them interested. Also to the above point of talking them through the steps, I'll ask him "is everything mixed?" or "is the dough sticky?"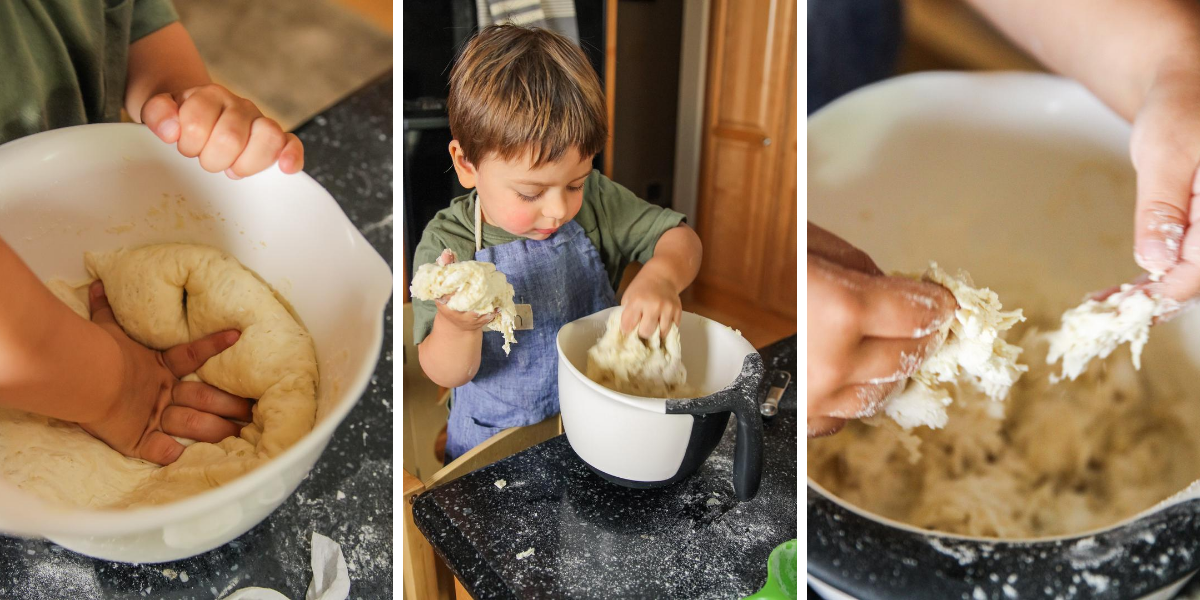 Allowing kids to touch and feel the dough leads me to my next tip.  Mess is ok!  This isn't going to be a clean and tidy process, so if you know that going into it, you'll be much less stressed throughout.
Any time I am cooking with Ben, I always catching him snacking on the ingredients.  This is, of course, part of the fun!  Stealing a few bites of cheese is fun.
When it comes time to roll out the dough balls into crust, perfectionists out there, take a deep breath…be prepared for a bunch of different shapes of dough for your final pizzas.  Small, big, round, oval etc.  Take your patience pill and let your kids have fun shaping their own pizza.
And my final, maybe seemingly obvious, tip is to have some fun!  Don't take this all too seriously.  The attention span of kids can be short, so it's ok if they want to take a break.  Ben loves to roll up the dough balls and turn it into a snowman!
What else do you love to cook with kids in the kitchen?  And what about pizza toppings?  We've been having so much fun eating all different kinds of pizza – I'd love to hear what you put on top of yours! Let me know in the comments below.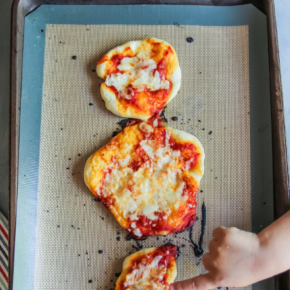 How To Make Pizza with Kids
Cooking with kids in the kitchen can be so fun and pizza is a great place to start!
Print
Rate
Ingredients
1 1/4

cup

warm water, about 90-110 degrees

2 1/4

tsp

active dry yeast

1/4

tsp

sugar

1 1/2

tsp

kosher salt

3

Tbs

olive oil

3 1/2 - 4

cups

unbleached all-purpose flour

2/3

cup

pizza sauce

3-4

cups

mozzarella cheese

shredded

1/2-1 cup

cup

toppings (pepperoni, chopped veggies)

divided
Instructions
Warm the water (I do this by microwaving it for 30 seconds). Dissolve the yeast and sugar in the water in a small mixing bowl or measuring cup. Proof the yeast until it is foamy, about 3-5 minutes.

In a large bowl, pour in the yeast mixture, salt, 3 tablespoons olive oil and 3 ½ cups of flour. Slowly mix with a wooden spoon until combined (about 3 minutes). If your dough is too sticky add an additional ¼-1/2 cup of flour. 

Remove the dough from the mixing bowl and transfer to a well-floured surface.

Knead by hand until smooth and elastic. Put into a slightly greased bowl with a piece of plastic wrap or kitchen towel over it.

Let rest until it has about doubled in size (1/2 hour for quick rise yeast, 1 hour for regular active yeast).

After it has risen, press the dough down in the bowl (kind of 'punch it down') and then transfer to a floured surface and divide the dough into balls for crusts. This recipe makes either 2 large pizzas or 1 large and 3 smaller ones, or 4 medium, or 6 smaller ones. So make however many dough balls as you want crusts.

Roll the dough out and put on a parchment paper lined or silicone baking mat lined baking sheet or pizza pan.

Spread pizza sauce over crust and sprinkle with cheese and toppings.

Bake for 15-18 minutes, until starting to brown on the outsides and cheese has melted. 
Notes
This recipe makes 2 large pizza crusts or 1 large and 3 smaller ones, or 6 smaller ones.