When we start up the grill, we cook a whole lot of things!  It's so easy to  prepare grill meal prep recipes in no time at all.  In this post, I'm going to share what we grill and what meals we make with all of that delicious food.  I'm even including a grocery shopping list! My favorite thing this entire summer has been to grill once, eat all week!
What we grill:
Burgers or chicken breasts

When we choose to grill burgers, I always buy 1 box of BUBBA burgers and use my burger seasoning. You could buy any pre-formed burgers or create them from ground beef/turkey/chicken.
For chicken, I use my yogurt marinated chicken recipe from my 5-ingredient cookbook. If you don't have the book you can buy it here or find the chicken recipe in this post.

Chicken Italian sausages

We make 1 package of 4 sausages

4 ears of corn
Balsamic grilled vegetables

I like to use a mixture of mushrooms, bell peppers, onions or really whatever combination of vegetables you have on hand!
Find the recipe here.

2 sweet potatoes for grilled sweet potatoes.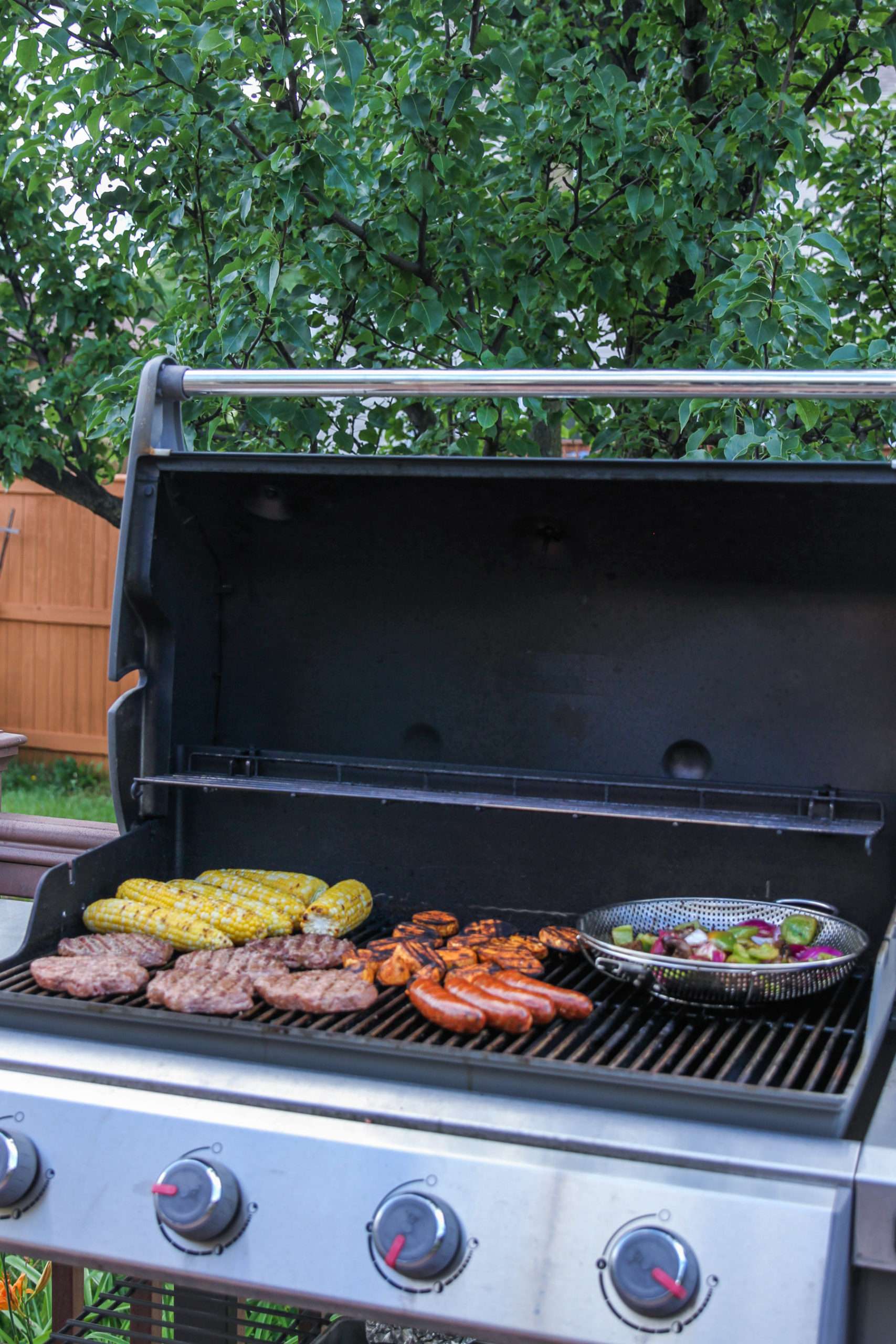 All of the above foods make a total of 10 servings, or 5 meals for 2 adults.  Along with the 2 main proteins (we do either 6 chicken breasts or burgers and chicken sausages, total of 10 pieces of meat), we always enjoy two vegetable side dishes, 2 of the following:
And, if you aren't looking to eat the delicious balsamic vegetables, all you need are these basic things to grill up any side vegetable dish:
a few glugs of EVOO
2 garlic cloves, pressed
salt, pepper and oregano
Instead of just cooking plain burgers or plain chicken, I love using my latest seasoning mixes on either of the proteins!
On the side, or on top, we love to use these sauces:
And lastly, here are a few other things we buy to round out the meals:
Buns for burgers and chicken sausages
Cheese for burger topping and/or for sausage rolls
Marinara sauce
Bag of greens
Here are the complete meals we make all week with everything we've grilled:
Meal 1: Burger, cheese, bun, remoulade sauce, sweet potato fries, grilled vegetables
Meal 2: Chicken sausage, cheese, marinara sauce, vegetable side
Meal 3: 1/2 burger, 1/2 chicken sausage, sweet potato, 2 vegetable sides
Meal 4: Chicken sausage and vegetables over greens with remoulade sauce or green sauce
Meal 5: 'Tapas' grilled edition: we use whatever leftovers we have and call it 'tapas'.  We use our dipping sauces on the side.
We have had so much fun eating this way all summer long.  I get so sad when it gets a bit too cold in Wisconsin to keep grilling.  This is the easiest way to meal prep!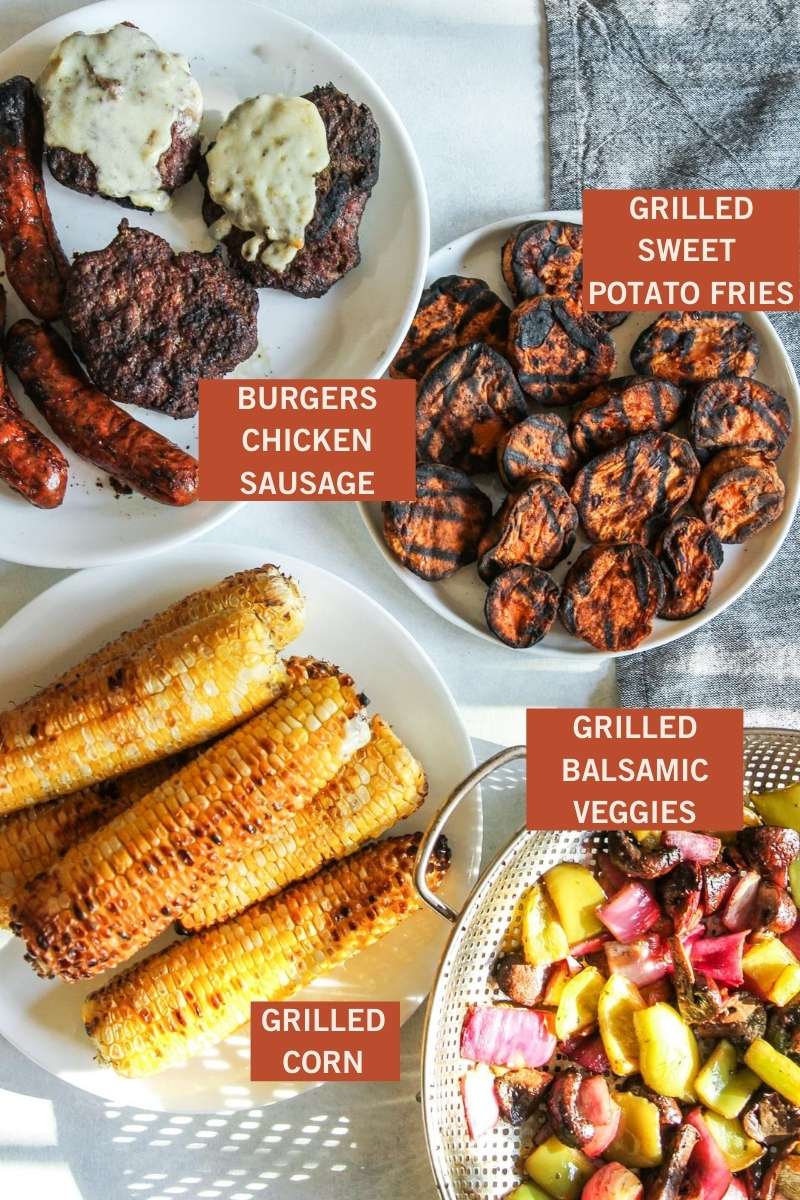 And, of course if there weren't enough ideas above, you can take these last few tidbits too:
We use our grilled chicken on salads or in various 'bowl' recipes with rice and vegetables.
Another great side option is polenta
To make your meal prep even easier, feel free to download and print this grocery list with everything mentioned in the above post! PDF -> Grilling meal prep recipes grocery list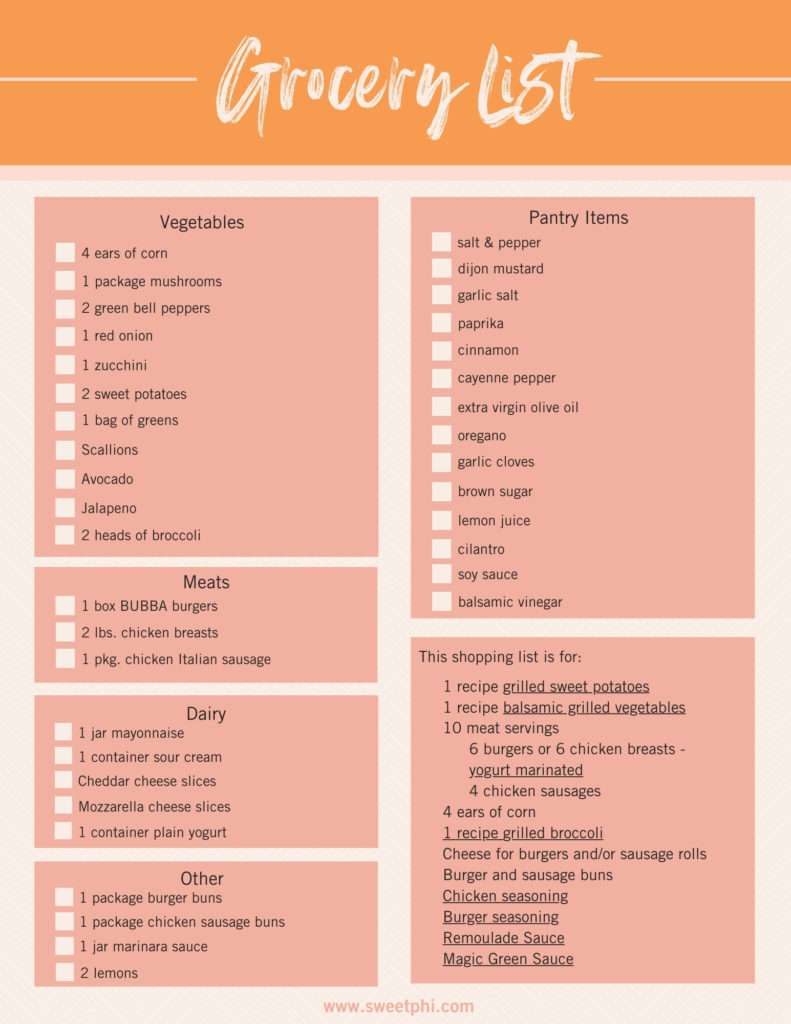 And, if you'd like to do some grilling, these are the best products to use!