Have you ever wondered what it's like to have twins and a toddler? I'm going to share some fun observations about life with 3 under 3!
The fact that I not only have boy/girl twins and a toddler, but that they ALL SHARE THE SAME BIRTHDAY is still so crazy. What are the odds? (I did some googling but the closest I could come is that there's a 1 in 365 chance that siblings share a birthday). It doesn't escape me how crazy that sounds. Time has absolutely flown by, and as I look back over this first year (the twins (Freddie/Frankie) will be turning 1 and the toddler (Ben) will be turning 3) I jotted down some things I wanted to remember. My husband (Nick) also shared a few things, so I've added to the list. In no particular order, here are thoughts about what it's like having twins and a toddler:
The love you feel is so big and powerful, your heart will hurt.
All the babies, all the armfuls of kids and snuggles. When I'm at home, I feel like I'm always holding one (or more) kids in my arms.
People are fascinated by twins (I still am) and you get stopped everywhere "are they twins?" Um yes, I'm not just walking around with two newborns that are the same age lol. Followed up with "do twins run in the family?" Yes on my husbands side but also how much personal medical history do I want to share with a stranger, and also "Are they identical?" No, they're a boy and a girl so they can't be identical.
There are different types of twins. I'll admit, I didn't know there were different kinds of twins before I found out I was pregnant with twins. We have fraternal twins- dizygotic twins- meaning two fertilized eggs. They're the result of the mother releasing two eggs at the same time with each egg being fertilized by a different sperm. Because they come from different eggs and sperm, they only share about 50 percent of their chromosomes like any other siblings. This means they can be the same or different sexes and aren't identical. Whereas with identical twins (monozygotic) it's one fertilized egg. They occur when one egg is fertilized by one sperm as usual, but the egg splits in two shortly afterward. Each half then grows into a baby. Because they originally came from the same egg and sperm, 100 percent of their chromosomes are identical. This means they're the same sex and have the same genetic characteristics, like hair and eye color. (Source: Healthline types of twins).
Nick comment: First you get in a high pitched eager voice "are those twins?" "are they identical?" are they a boy and girl?" "You certainly got your hands full!"
You go through so many diapers. So many, that we have to go to the dump in addition to our recycling bin just to dispose of the boxes. We're still working on potty training Ben, it's been a year, but he's still in diapers. So all three kids are in diapers.

Sibling sweet moments are so cute. Ben definitely loves his siblings. Every once in a while we have to remind him that they're babies and to be gentle, but honestly, he's so sweet with the twins, it's incredible. You'll also never forget the first time the twins notice each other. The babies (twins) now steal each others' pacifiers.
Nick comment: Ben calls the twins "his babies" and he is protective of them- other times he's not too interested in them

With the twins – they are twins (obviously), but so different (food – Freddie wanted nothing to do with purees, he wants large pieces of things to hold (like bread or banana pieces) and he's a, messy eater. Frankie on the other hand, she's a little princess and wants things cut nicely into little pieces and at the end of a meal will have a clean tray.
Nick comment: With twins it's hard not to compare everything they do to each other – when one has diarrhea and the other is constipated but they ate the same thing that day and day before "that is the moment I realized I was over thinking it" and realized they're just different people.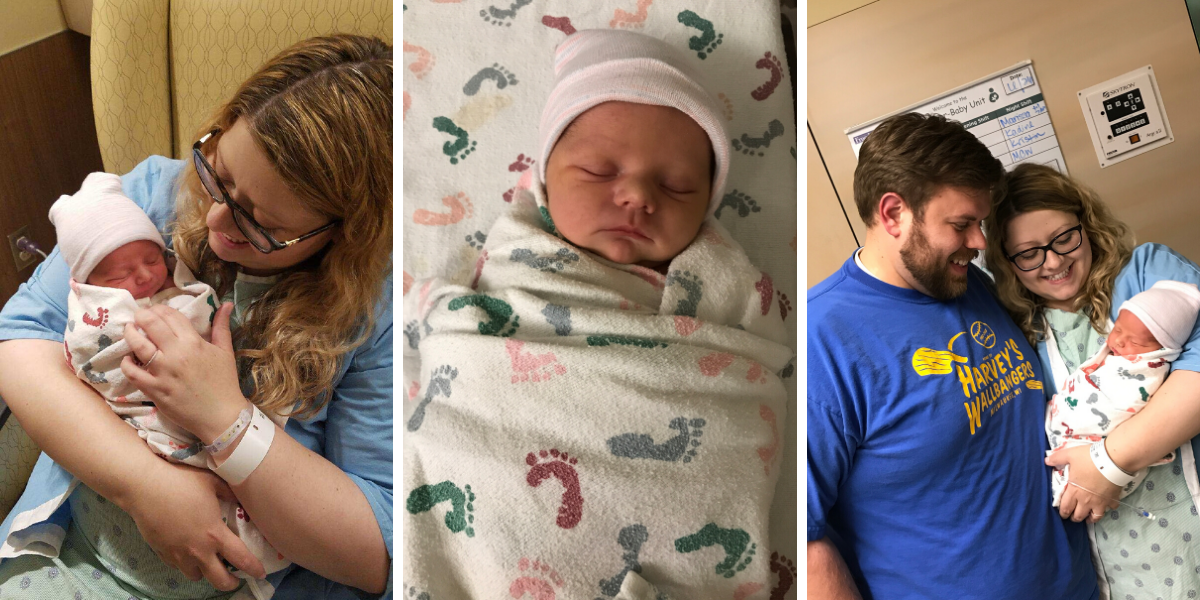 Three crying crabby babies can get to you. Sometimes you'll get so frustrated you'll feel like you could scream and cry at the same time, when they're all crying or being crabby, it can get to you. But I always remember what my pediatrician once said, it was essentially that if they're in a safe environment, give them a book or toy and walk out of the room for a few minutes, breath, and then come back.
"I love you mama" unprompted out of the blue said by a toddler- there's really nothing like it

Comparison – it happens, especially because they all have the same birthday, so we'll look over Ben's milestones photo albums and compare them to the twins!

It's so beautiful to see the toddler helping with the twins. Ben has always been helpful, since the birth of his siblings. He gave them bottles, brought them pacifiers, and now he'll stand on his tippy toes and give them little pieces of his food. But watching the twins play with his toys, sometimes it's a little too much and he wants HIS XYZ (toy, cup, random book he's never showed interest in)
THREE is a lot to transport! I had visions of buying a fancy $700 stroller for the twins, it had 21 different configurations. I got the $120 one and let me tell you, that thing is amazing. Ben dove into the bottom lol.
You'll find your zen. For some reason Ben was harder than the twins. From the birth to everything, it just felt calmer when we brought them home from the hospital. It gets crazy at times, and people would always ask "how are you doing" and we'd mumble something, but then we'd look at each other with knowing looks because it really wasn't THAT bad at home. And we were talking one night after it has been a hard day and both said yup, you just gotta find your zen.

Try to get outside every day – it helps and I don't know why, but try to get outside every day, even if it's just moving the high chairs outside!
Nick comment – I've learned how to handle them. Actually gratefully for the pandemic because I was overwhelmed with them before, but with you here and me here I learned how to handle them (for three hours tops)
Mealtime is a mess – there's no way around it. Mealtime with three kids is messy, just get a good broom and keep it in the kitchen.
Sometime's you'll sleepwalk – I remember when we first brought the twins home from the hospital and it would be the middle of the night, you'd give one a bottle, and then you'd have to you'd think you're done but no no no you'd have to do the whole thing over- with Ben you could kind of sleepwalk through it, there are nights when I know I fed them both but don't remember it.

You'll learn how to wear your hair up– they pull it, it hurts! All three of my kids have pulled my hair, I  like a side braid called a 'dutch braid'
They each have their own sounds/screams – it's so crazy that they each have their own sounds they make, we will know whose cry it is.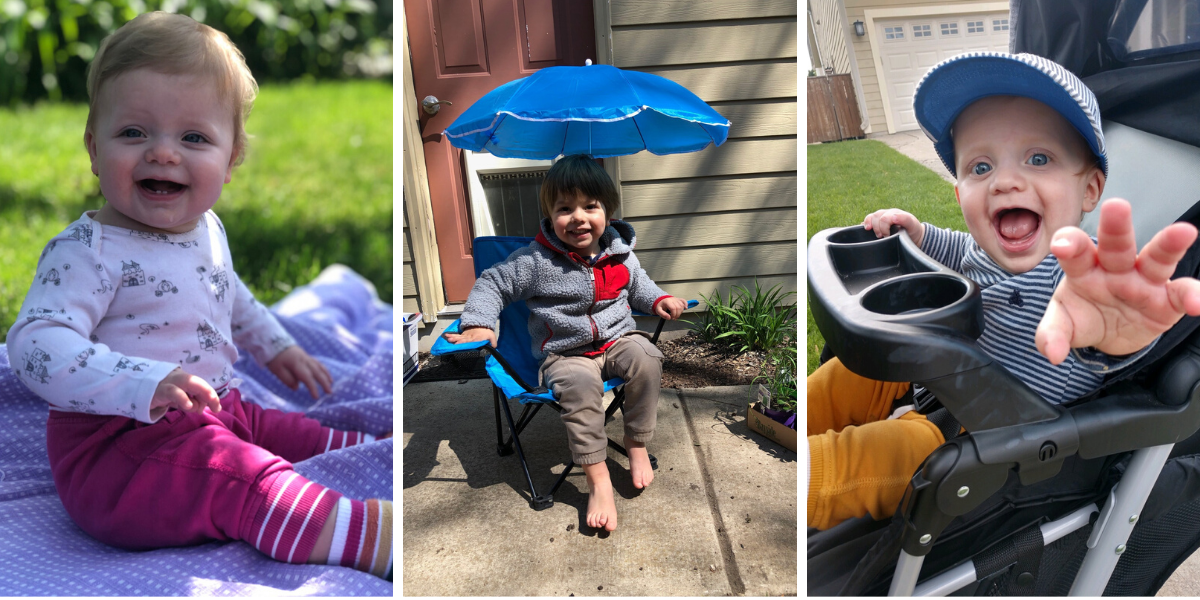 Baby giggles are the best – they'll laugh and it's the most beautiful sound in the world.

What works for one parent doesn't always work for the other – what works for me sometimes does not work for Nick in terms of parenting or soothing or whatever, but know there's no right way!
Accept help. Listen, I'm not going to lie, no one has voluntarily asked to watch all three, but if they would I'd say great what time lol. But no, on a more serious note, I had a friend drop off freezer meals and others who came and took Ben places and it was so so so amazing! And we had a babysitter help with Ben when the twins were born which was another huge help. I'd just say, accept help. Even now, on the twins' birthdays, even with social distancing, our families have been so amazing – my sisters in law, one made decorations and these beautiful milestone boards,  and the other one made a cake.

Take pictures – I currently have over 23,000 pictures and 3,000 videos on my phone. It's a little much, but I wouldn't change it for anything. I love looking back at pictures.
Family pictures are HARD – family pictures or staged pictures are just so hard. Every photoshoot we've done, one or more of the kids has had a meltdown or just wasn't in to it and wouldn't smile. Just go with the flow. We also did monthly photos of the twins and we are both so glad those are done because the kids were moving so much.
Newborns sleep a lot so it wasn't unmanageable – with Ben I would roll the bassinet in to the bathroom and jump out of the shower if he made a peep. I don't think I took a single uninterrupted shower. But where are newborn babies going? They can't even roll over as newborns lol. So I did shower more with the twins and was always surprised at how much newborns sleep (but when it's your first you don't realize.)
Hope you've enjoyed reading a little bit about what it's like having twins and a toddler. Anything to add? I always love hearing from you in the comments!