These delicious ooey gooey Blueberry Cream Cheese Cinnamon Rolls are part of a shop compensated by the social shopper amplification company Collective Bias® and its advertiser because I am a member of the Social Fabric® Community. #CollectiveBias
I love breakfast foods, and while most days I'm left rushing out the door with a toasted onion bagel with Garden Vegetable Soft Cream Cheese Spread (#SpreadtheFlavor) in one hand and a coffee (that I usually manage to spill on myself) in the other, I do love to plan ahead and make delicious breakfast dishes like these Blueberry Philadelphia Cream Cheese Cinnamon Rolls. What really makes these Blueberry Cream Cheese Cinnamon Rolls come together is using Philadelphia Blueberry Cream Cheese in both the filling AND for the glaze. Because cream cheese is used to coat the blueberries in the filling, you're left with a delicious creamy blueberry cinnamon ribbon on the insides, and the glazed golden outsides…and an added bonus is that your house will smell AMAZING after baking this dish!
Let's take a quick poll…hands up if you love warm cinnamon rolls? Ah, I can sense that everyone's hands are raised (including mine). You want to know what makes the classic breakfast dish even yummier? Adding fresh fruit and using blueberry cream cheese to really elevate the flavor.
To pick up the ingredients I headed over to my local Walmart and found the Philadelphia Blueberry Cream Cheese in the Cream Cheese Spread Isle.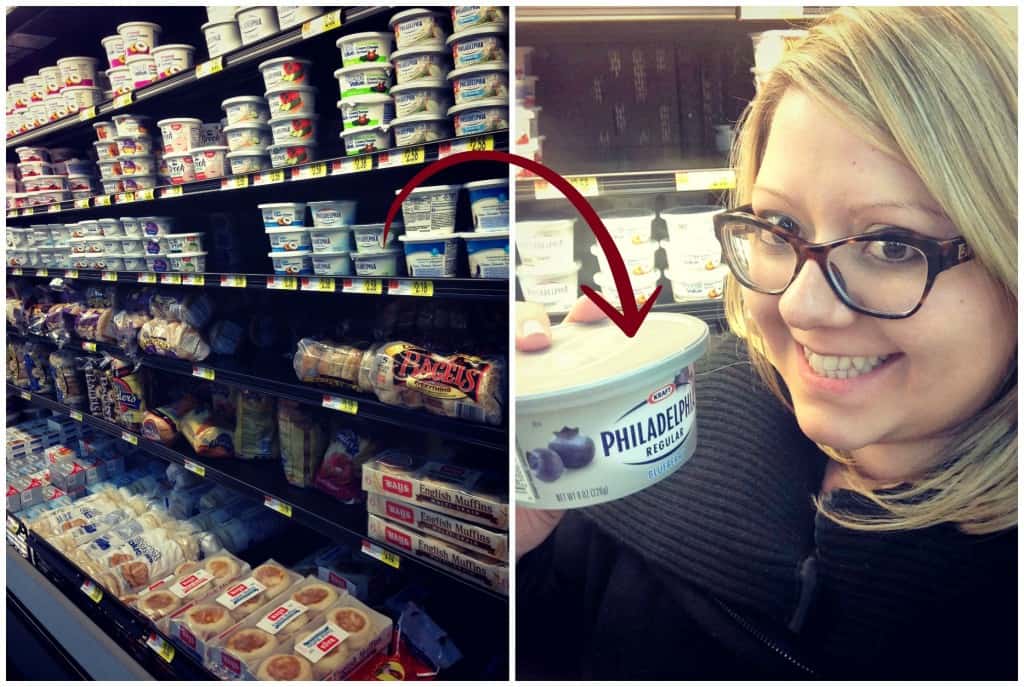 When I set out all my ingredients to make these Blueberry Cinnamon Rolls I kept looking back at my notebook where I had written down my test recipe not believing I had everything. That's one of the many things I love about working with Philadelphia Cream Cheese in recipes, one can create amazing tasting dishes using fewer ingredients because the flavored cream cheeses do all the work (see below the recipe for meal ideas using other flavored cream cheese spreads!)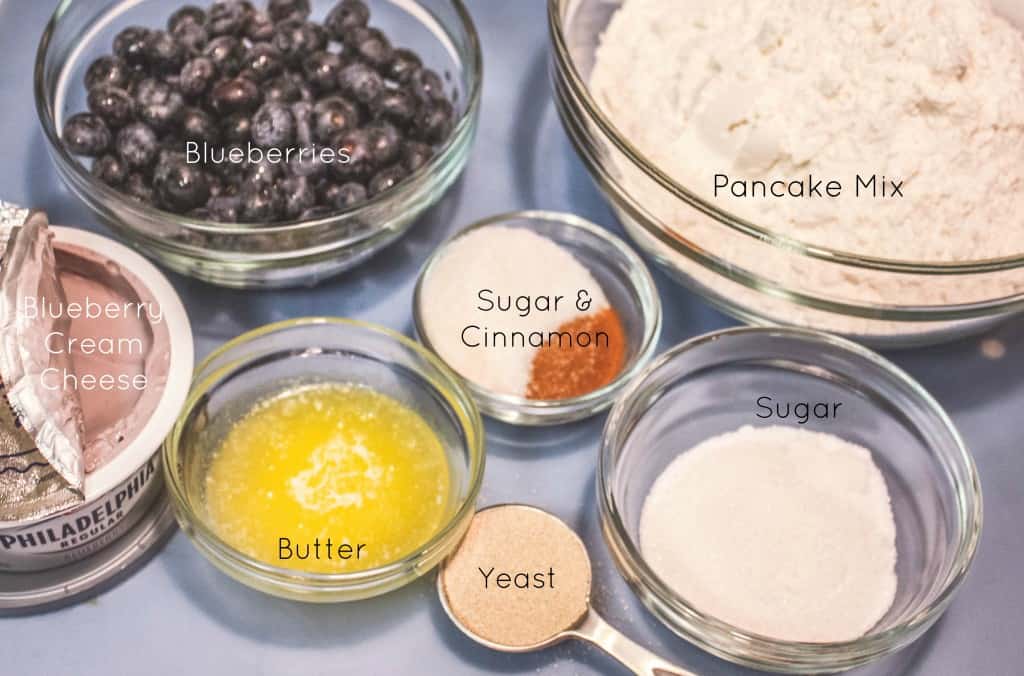 Ok, back to making the Blueberry Cinnamon Rolls…start by making the dough. I like to make cinnamon roll dough by using pancake mix and a little bit of yeast to make them plump right up. While the yeast is proofing, make the blueberry cream cheese filling with fresh blueberries.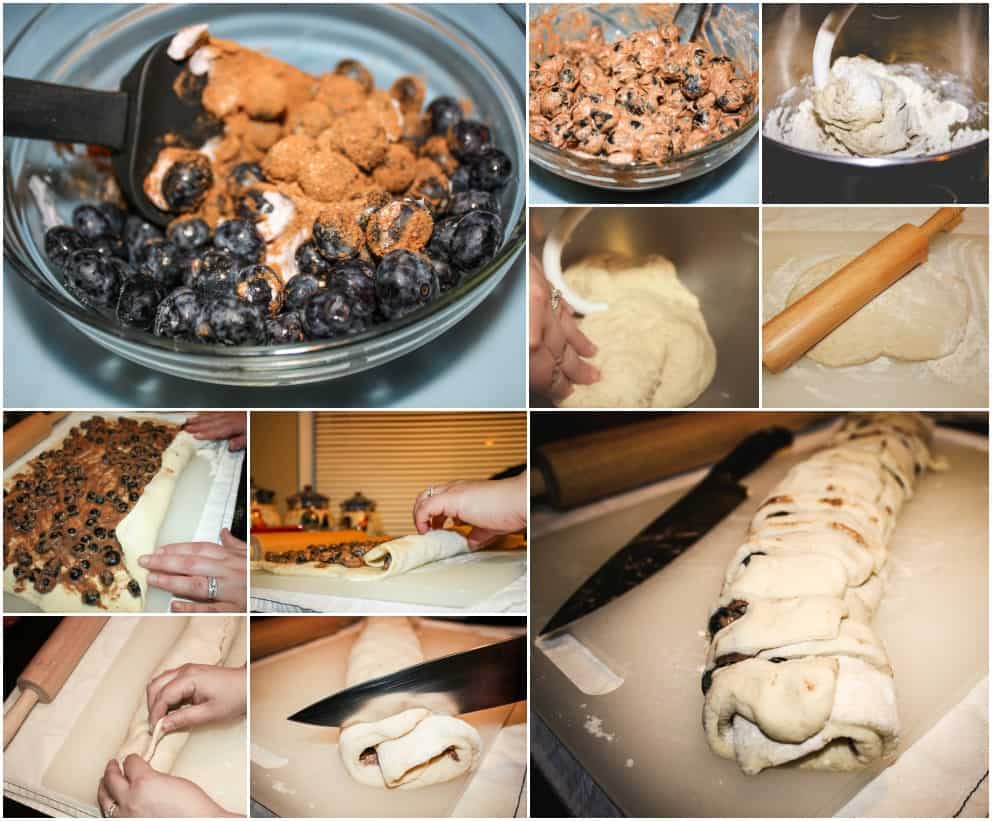 Then, after the dough is made and rolled out, spread the filling on the dough, roll it up, cut it, and place it in a pan. Then preheat the oven and bake the cinnamon rolls to perfection and glaze when they come out of the oven and serve warm (or re-heat in microwave for 30 seconds if cold) and enjoy!
Ok, here is the recipe for these amazingly delicious Blueberry Cream Cheese Cinnamon Rolls!

Ingredients
-For the Dough-

4

Cups

Pancake & Waffle Mix

3.75 Cups for dough, .25-or-1/4 cup- for rolling out

1/4

Cup

Sugar

2

Tbs

Butter

melted

1

Tbs

Active Dry Yeast

1

Cup

plus 1 Tbs warm Water

-For the filling-

2

Pints

Blueberries

cleaned

4

oz

Blueberry Cream Cheese

4

Tbs

Sugar

2

Tbs

Cinnamon

-For the glaze-

4

oz

blueberry cream cheese

2

Tbs

Butter

softened

1/2

tsp

vanilla

1 1/2

powdered sugar

1/4

cup

skim milk
Instructions
To make the dough, start by setting hot water in a bowl, pour 1 Tbs of active dry yeast over the water, give it one gentle stir and let sit for 5 minutes until the yeast froths at the top.

In the bowl of a stand mixer pour 3 3/4 cups pancake mix and 1/4 cup sugar. After yeast has proofed, pour yeast mixture and melted butter in, and with dough attachment turn speed to 1 and let dough knead for 5 minutes, until it forms dough that, when touched, is a little elastic but not too sticky (if it is too sticky you can add another tablespoon of pancake mix, if it is too dry you can add another table spoon of water.)

While dough is mixing, make the blueberry filling. In a bowl combine fresh blueberries, Sugar, Cinnamon and Blueberry cream cheese. With a spatula carefully fold over until all ingredients are combined.

When dough is done being kneaded, use 1/4 cup of the left over pancake mix to coat a board and roll out dough to a big rectangle. Spread dough with blueberry-cream cheese cinnamon filling and roll up carefully (along the long side).

Cut into 12 slices (these will be the rolls). Coat a 9 x 13 baking dish with cooking spray and then lay the rolls into the baking dish. Let sit on top of the oven while you preheat it to 350 (this will allow them to plump up a little).

Once the oven is preheated bake the cinnamon rolls for half an hour until golden brown.

While the cinnamon rolls are baking make the frosting. To do so, cream 4 oz blueberry cream cheese and 2 tbs butter for 2 minutes until creamy. Scrape down the sides, add powdered sugar, vanilla extract and skim milk. Beat for 2 minutes or until everything is incorporated. It's ok if there are some clumps because it will melt over the cinnamon rolls.

When rolls are removed from oven, pour the glaze over them. Then take a spatula and cut around each roll-this will allow the glaze to go into all the crevices. Allow to cool for 5 minutes, then serve warm.

If reheating, just microwave one blueberry cream cheese cinnamon roll for 30 seconds.
Here are other recipes using Philadelphia Flavored Cream Cheeses