This vibrantly colored chilled soup will have you falling in love with beets in a whole new way. Although usually associated with dark and heavy dishes, when made into this soup that is served cold, you will be surprised at how airy the flavors are.
And the colors! Just look at how pink and pretty the beets make the chilled soup, wouldn't this be perfect to serve at all those wedding and baby showers one has in the summer months?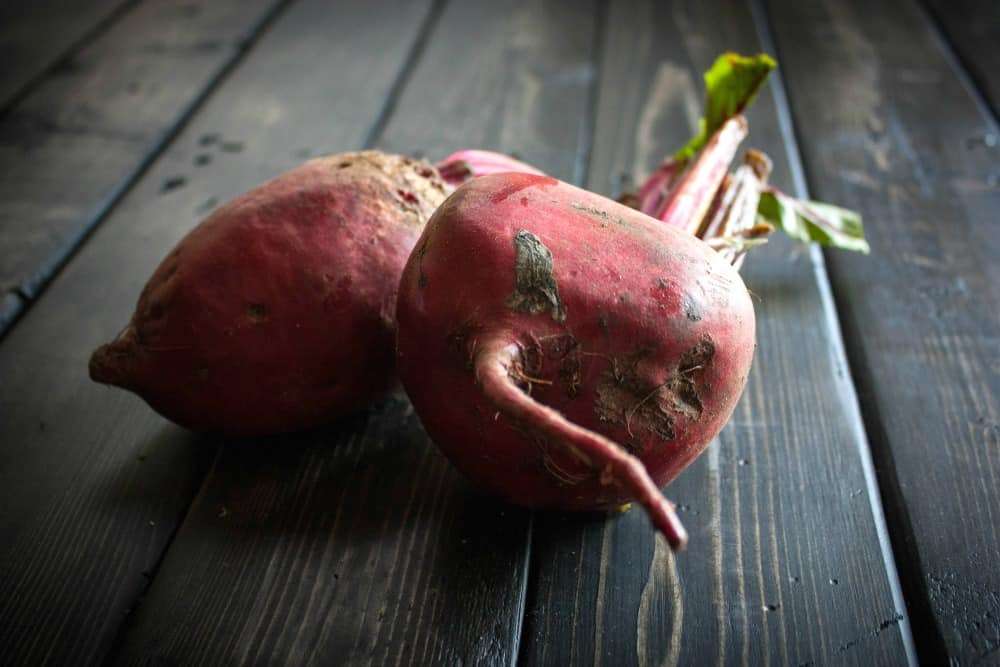 Inadvertently, I think I've started a summer tradition in my house….that tradition is turning out to be that once a summer I cook up a recipe with beets I get at the farmers market. Two years ago I made Beet Green Mac n Cheese Cups (so good, but please excuse the awful pictures lol) and then last year I made Beet Burgers (again, excuse the photos) when looking at that post, it still cracks me up, because this is what my husband said as I was making them:
You're making beet burgers? I don't know if I'll them because I don't like beets, do we have anything else in the house for dinner in case I don't like them?
They're really pink
Can I have the model one (one from the photo) it looks really pretty
Ok here goes…(after a bite) they're really good!
I wouldn't change a thing!
Now when I make dishes with beets, he doesn't question me lol, AND, he even defended the beet burgers when someone was making fun of them. The conversation went 'you made your husband eat beet burgers?' he chimed in 'dude, don't knock 'em until you try them, they're really good!'
I also noticed that every time I talk about beets I use the word 'vibrant'…but in all honesty, is there any other word you would use to describe them?!? They're hot pink, and I just love the color!
The ingredients for this soup are all so fresh, and really compliment each other when combined!
Then to make the soup you boil the veggies in some vegetable stock, then blenderize in either a food processor or a blender with some Stonyfield Greek yogurt  and lemon juice (gives it a wonderful zip!) and then chill it.
And then when you're ready to serve it add a dollop of Greek yogurt on top and then sprinkle some chopped lemon basil, and enjoy!
Ingredients
3

Medium beets

or 2 large beets, peeled and cut into large chunks

3

carrots

cleaned and chopped into large chunks

1

large zucchini

cut into 4s

1

32 oz container vegetable stock

3

cups

water

1

Tbs

salt

1

tsp

garlic salt

1

5.3 oz container Stonyfield Greek Yogurt

1

lemon

juice of 1 lemon

1

handful

about 1/2 a cup chopped Lemon Basil (or regular basil)
Instructions
Clean and chop all your veggies and put them into a large sauce pan. Pour vegetable stock and water over the veggies and add salt and garlic salt. Bring vegetables and liquid to a boil, reduce heat to medium and allow to cook for 45 minutes, until veggies are soft when poked with a fork.

Allow to cool for 15 minutes, then put contents of the pot into a food processor and squeeze juice of lemon into the food processor and about 3/4 of the Greek Yogurt. Blend until totally smooth (about 2 full minutes). Pour into a bowl, and cover with plastic wrap. Put in the refrigerator for 4 hours, or up to overnight!

To serve spoon a ladle fun into small bowl, top with a dollop of Greek Yogurt and sprinkle a little bit of lemon bail on top and then serve!
I am honored to be a member of the Stonyfield Clean Plate Club. I received product or coupons for writing this post, but as always, all opinions are 100% my own.