When we moved in to our home, there was floral wallpaper and some small things that seemed dated and not our style in the bathroom. I didn't want to spend a ton of money, but I wanted to update it a little. We love the antique brass-oak look (our house has a lot of oak in it), but slightly more modern. I had purchased a beautiful deep navy paint from Clare (self priming paint which they mail to you- it was the height of the pandemic so this was incredible and convenient and the quality is so amazing) which I had painted my office in and had a little leftover, so I just went for it. I created a mood board for the bathroom and still cannot believe how amazing it turned out. It is my favorite room in the house design wise. Here is the navy and antique brass bathroom/powder room update reveal!
I started with a mood board to put some ideas down to act as a road map (also, so that I could share with Nick and see if he liked things – like the time I bought 4 different kinds of cabinet pulls for him to install to see which one I liked best lol)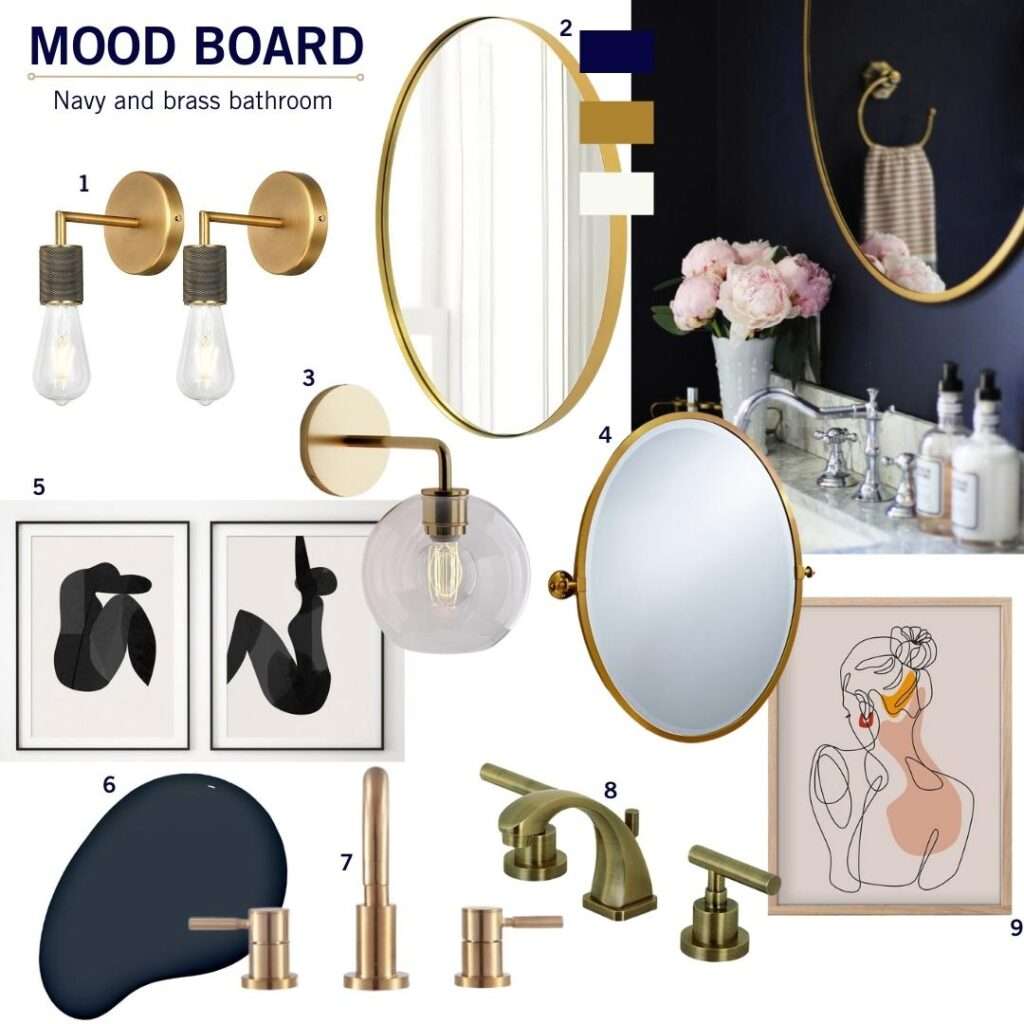 Antique brass is a tough color to match. Some pieces of hardware are very gold looking, others are very cooper looking. Antique brass is somewhere in the middle. I was recently talking with someone in the construction field who mentioned that companies offering the finish tried to make it popular 10ish years ago but it never took off, so a lot discontinued the lines, and just as of the last 2ish years, more and more are starting to bring it back. The different tone names I came across:
antique brass
champagne gold
brushed bass
matte gold
antiqued brass
matte brass
A major consideration was price. So I price shopped. A few fun examples below:
There's a lot of oak throughout the house, and I wanted to keep as much as I could in the bathroom, so I kept the oak cabinet on the wall above the toilet. When I walked in there one day, my husband surprised me with the cutest gnome figurines (I love gnomes!)
I have always love female form/abstracts art in bathrooms. When I got this print a few years ago and never had the right place to display it. The navy wall color is such a beautiful background for the piece I have.
There you have it – my navy walls, antique brass fixtures, oak wood accents bathroom reveal.
Sources:
What do you think? Any questions? Let me know in the comments below!