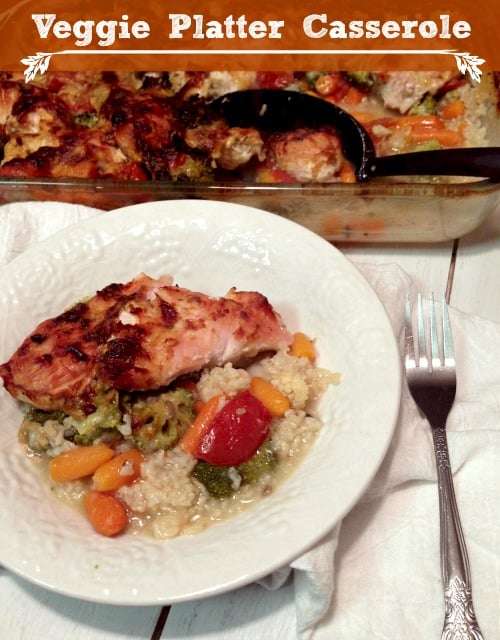 This past weekend I had a work conference (if you're ever curious about my day job – although it's not so much a 'job' because I happen to love what I do – you can check out the True Botanica website ) and surprise surprise…no one touched the veggie platter (the cookies, oh, those were gone!)
So I brought the veggie platter to my in laws house for dinner trying to pawn it off on them, but my Mother-In-Law already had carrots out (shout out to Sonja) and so I brought the veggie platter home (this poor veggie platter certainly had been traveling) and Nick says 'why don't you make dinner out of it?' Good call on his part, because I  did just that by creating this healthy and delicious Veggie Platter Casserole, and, unlike the veggie tray, this was eaten right away! So if you're ever stuck with a leftover veggie tray, here's an idea of casserole to make.
Ingredients
1

unloved left over veggie tray

aprox. 1 cup cherry tomatoes, 2.5 cups baby carrots, 2 cups broccoli florets, 1/2 cup cauliflower all chopped

1

cup

brown rice

2.5

cups

vegetable broth

2

lbs

chicken breasts

cut into halves

1

can 98% fat free cream of mushroom soup

1

cup

skim milk

1

cup

Parmesan Reggiano

shredded (Shredded Parmesan would be fine)

1

Tbs

each Salt & Pepper & dried parsley

be liberal with the salt and pepper when seasoning

1

tsp

garlic salt
Instructions
Preheat oven to 400. In the bottom of a baking dish put rice and cover with vegetable broth. Cut up the veggies and the chicken breast and place on top of rice. Add all the seasonings (be liberal with the salt and pepper-it is seasoning for the chicken and veggies and rice). In a bowl whisk together the cream of mushroom soup and the skim milk, then add the shredded cheese and mix a few times until everything is incorporated. Spoon the cheese mixture over the chicken and veggies and rice. Put in the oven and bake for 1 hr and 20-35 min (until the liquid is absorbed and the rice is cooked). Allow to cool for 10 minutes before serving, enjoy!