I'm so excited to share this Baby Food Maker Cookbook Announcement! I'm announcing my second cookbook entitled "Baby Food Maker Cookbook: 125 Fresh, Organic, Wholesome Recipes for Your Baby Food Maker Device or Stovetop" which will be coming out April 2019!
For the past year, I've been working incredibly hard putting together this beautiful book, and I could not be happier to share it with you!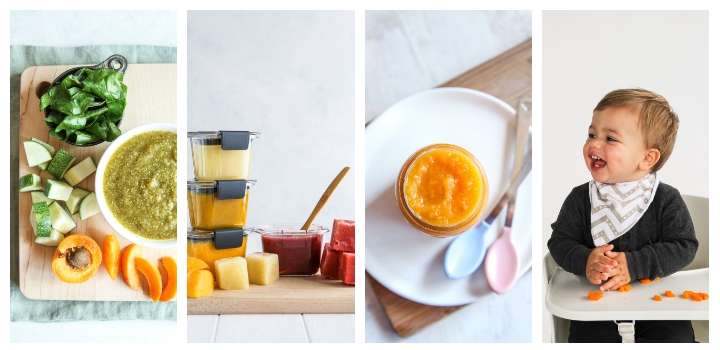 When I first started feeding solid food to Ben, I soon realized that making baby food was a little more challenging than I though. I'll spare you the full story about the first time I *tried* to make sweet potato puree, but basically it ended up taking over 2 hours and then went bad a few days later (that kind of time commitment is definitely not feasible or sustainable as a working mom). So I thought that was it for making him his food, I'd just buy him store bought food. Wellll….that didn't quite go as planned. He had a sensitivity to citric acid (a perfectly safe preservative used in store bought baby food) and any time he would take a bite of store bought baby food, he'd break out in a rash all over his tummy and chest, it was awful.
Then I found out about a device called a Baby Food Maker, it's a device that steams and processes food, all in one. It was life changing! Literally! I was able to make Ben's food in 30 minutes or less, with so little hands on time. The only problem is that there wasn't a cookbook on the market for how using a baby food maker to make baby food!
SO I WROTE ONE!! Obviously with the help of many many people! This book would not be possible without my incredible agent, my incredible publisher Crown Publishing/Penguin Random House, the entire publishing and editing team, my crazy talented editor who is a word wizard, and all the friends and family who helped (it totally takes a village!)
This book was such a huge project and something I am so proud of. Words fail me, almost. I'm so proud of the photography for this book. I was chosen as the photographer (it was a separate part of the contract, there was a publishing contract and a photography component) and I had to submit photos and was ultimately chosen to photograph this book – that is something I am doubly proud of. It took so much work but oh my gosh, I cannot wait for you to see it!! I even did a photoshoot with different babies, something I think really made the book even more beautiful (thank you to all the mamas and parents who participated!) GAH, I'm so excited, and I hope you love the book as much as I do.
This is the first cookbook for the popular baby food maker device, with 125 delicious, wholesome, nourishing recipes that will take baby from first purees to solids and beyond. Every recipe works for each of the popular models of the device and is adaptable for the stovetop plus a food processor, as well!
The Baby Food Maker Cookbook is the complete resource for parents who want to know what to feed the newest eaters in their families. Illustrated with beautiful photography, the 125 recipes are organized by the time frame for introducing foods over the first twelve months. Plus, the book includes:
A guide to using the baby food maker
Nutrition information for first foods
A handy calendar for tracking food introduction
Adult-friendly dishes so you can use the device beyond baby
From single-ingredient purees to delicious treats like Apple Pear Cinnamon Sauce Yogurt Parfaits, Chickpea-Sweet Potato Spread, and Berry, Avocado, and Coconut Milk Smoothie, these recipes show how to make the most of your baby food maker—and are just what you need to support your baby's development.
COMING APRIL 2019, AVAILABLE FOR PREORDER TODAY VIA:
Amazon|BAM|Barnes&Noble|GooglePlay|iBooks|IndieBound
Preorders are such a huge component of a cookbook (and helping it with the algorithm gods to it appears in searches, etc.) that if you are considering purchasing a copy, I would LOVE LOVE LOVE and be so appreciative if you preordered it. There will be many goodies coming for preorders and beyond. Thank you for all your support!!