I love love love Mediterranean food, it is probably my favorite type of food! When I came across recipe for Home Made Pita bread from Annie's Eats I just had to try to make it. It was incredibly delicious and my husband said 'so we are never buying Pita Bread again…' yeah, it was THAT good. The yogurt marinated chicken will also be a big repeat because it came out so beautifully. I used the Tzatziki sauce from my Lamb Meatball Kabobs post.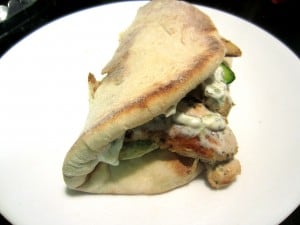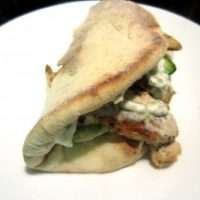 Ingredients
For the Tzatziki Yogurt Sauce: 1 cucumber peeled and shredded

1

Container Plain Greek Yogurt

1

garlic clove

pressed

1

pinch

of dill and salt

For the Chicken:

2

Garlic cloves

pressed

2

Tbs

Olive Oil

1

Tbs

Red Wine Vinegar

Juice from 1/2 a lemon

1

Container Plain Greek Yogurt

1

Tbs

dried oregano

1

tsp

each salt and pepper

1-2

lbs

chicken tenders or chicken breasts cut into strips

For the Pitas: 3 cups flour

1 ½

tsp.

salt

1

tbsp.

sugar or honey

1

packet instant yeast

1 ¼ to 1 ½

cups

water

roughly at room temperature

2

tbsp.

olive oil

vegetable oil, butter or shortening
Instructions
For the yogurt sauce: Shred the cucumber and let sit for 10 minutes, drain the excess water, then mix all the other ingredients. Refrigerate until ready to use

For the Chicken: Mix all the ingredients, add the chicken and let marinate for an hour or up to 24 hours. To cook just add a little bit of olive oil to a frying pan, drain excess liquid and cook until done.

For the Pita: follow the recipe below

To assemble the chicken gyro, add 1-2 tablespoons tzatziki sauce on one side of a pita, 3 slices of cucumber, 3 chicken tenders and enjoy.
Pita Bread Recipe from Annie's Eats
Yield: 8 pitas (really BIG Pitas)
Ingredients:
3 cups flour, plus 1/2-3/4 cup more as needed
1 ½ tsp. salt
1 tbsp. sugar or honey
1 packet instant yeast
1 ¼ to 1 ½ cups water, roughly at room temperature
2 tbsp. olive oil, vegetable oil, butter or shortening
Directions:
Mix the yeast in with the flour, salt, and sugar.  Add the olive oil and 1 ¼ cup water and stir together with a wooden spoon.  All of the ingredients should form a ball.  If some of the flour will not stick to the ball, add more water.
Once all of the ingredients form a ball, place the ball on a work surface, and knead the dough for approximately 10 minutes. If you are using an electric mixer, mix it at low speed for 10 minutes.  As the dough is mixing, continue to add flour, a tablespoon or two at a time, until the dough clears the sides of the bowl and is tacky but not sticky.  (I add a significant amount of flour, so don't be afraid to keep adding more until you reach the right consistency.)
When you are done kneading the dough, place it in a bowl that has been lightly coated with oil.Form a ball out of the dough and place it into the bowl, rolling the dough around so that it has a light coat of oil on all sides. Cover the bowl with plastic wrap or a damp towel and set aside to rise until it has doubled in size, approximately 60 minutes.
When it has doubled in size, punch the dough down to release some of the trapped gases and divide it into 8 equal pieces. Roll each piece into a ball, cover the balls with a damp kitchen towel, and let them rest for 10 minutes. This step allows the dough to relax so that it will be easier to shape.
While the dough is resting, preheat the oven to 450°. If you have a baking stone, put it in the oven to preheat as well. If you do not have a baking stone, turn a cookie sheet upside down and place it on the middle rack of the oven while it is preheating. This will be the surface on which you bake your pitas.
After the dough has relaxed for 10 minutes, spread a light coating of flour on a work surface and place one of the balls of dough there. Sprinkle a little bit of flour on top of the dough and use a rolling pin or your hands to stretch and flatten the dough. You should be able to roll it out to between ¼ – 1/8" thick – 6 inches in diameter. If the dough does not stretch sufficiently, you can cover it with the damp towel and let it rest 5 minutes before trying again.
Place discs on a lightly greased baking sheet or parchment paper and let rise, uncovered, until barely doubled in thickness, about 10 minutes.
Open the oven and place as many pitas as you can fit on the hot baking surface. They should be baked through and puffy after 3 minutes. If you want your pitas to be crispy and brown you can bake them for an additional 3 to 5 minutes, but it isn't necessary.
  Look at this Pita Bread-bread perfection!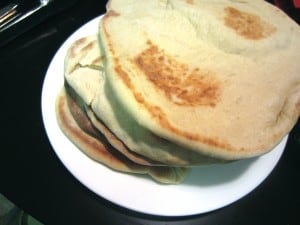 Another mouth-watering stack!
 The gyro chicken cooking up
 Assembly of the chicken gyro
 Ready to be devoured