I was rummaging around my freezer (truth be told in search of some ice cream) and found some leftover Cranberry Sauce from Thanksgiving.  What to do with cranberry sauce? I thought back on the post I had written about Thanksgiving Leftover Ideas, and then I thought about a post for Nantucket Cranberry Pie that Chelsea from This Grand Adventure blog had posted (her blog is awesome, you should definitely go check it out) and my mind was made up, I'd make little Cranberry Tartlets!
I've had a Nantucket Cranberry Pie before so I've always known that I wanted to make it one day, and with the cranberry sauce…yum, the result was fantastic!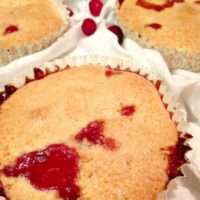 Ingredients
2

Cups

Cranberry Sauce

or make cranberry sauce using 2 cups cranberries, 1/2 cup sugar and 1/2 cup water-bring ingredients to a boil and reduce to low for 20 minutes, let cool and set

1/2

cup

chopped walnuts

2

large eggs

1

stick of butter

melted in the microwave

1

cup

granulated sugar

1

cup

Flour

1/2

teaspon salt

1

teaspoon

vanilla extract

1/2

teaspoon

almond extract

coarse white sparkling sugar

for topping
Instructions
Preheat oven to 350. Using four small tart cups (mine were 4 inch diameter paper baking tart liners found at Bed Bath and Beyond) place 1/4 of the cranberry sauce at the bottom of each, then sprinkle the chopped walnuts over the cranberry sauce. In a bowl mix together the eggs, melted butter, sugar, flour salt, vanilla and almond extracts. Using a spoon distribute batter (which will be very thick) among the four tart cups. Sprinkle a little coarse sugar on top of each tart cup.

Bake the tartlets for 45 minutes (I put mine on a cookie sheet before putting it into the oven in case of spills), until a toothpick comes out clean.

Remove from oven and serve warm or with ice cream (what I was originally looking for in the freezer when I came across the frozen cranberry sauce haha).
Serves 4-8 depending on if you'll share your tartlet!