This recipe for Guacamole is one of the best I have ever had, and it is all thanks to my amazing husband. He has made this recipe for many events and it is always a hit…the secret (or so we think) is the clove of crushed garlic. While it doesn't overwhelm with garlic flavors, it gives a beautiful little kick to the recipe.  What usually happens is that he is asked to make Guacamole, then he asks if I'll 'help' him and I cut and chop, slice and dice, and then he comes and uses his muscles to mash everything together…and then I get to taste test, I'm very happy when I get to do that  haha, so it's always fun making guacamole.
I've also heard it is ok to use Poblano Peppers instead of Jalapenos, and I've heard that you can use a potato masher to mash all the avocados, although we've only used a fork for the mashing- Hope you enjoy!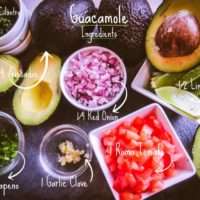 Ingredients
4-5

Avocados

halved and pits and skin thrown away

1

Roma tomato

finely chopped, gooey innards removed

1

Jalapeno

finely chopped, seed and stem removed

1

Garlic Clove

crushed

1

Tbs

Cilantro

minced

1/2

Lime

juice from the 1/2

1/4

Red Onion

finely chopped

1-2

tsp

salt
Instructions
Start by chopping the tomato, jalapeno, red onion and cilantro. Put all ingredients in a bowl. Add the crushed garlic clove. Add a pinch of salt.

Scoop the insides of the avocados into the bowl with a fork and add another little pinch of salt. Squeeze the juice of the lime into the bowl, and then mash away to incorporate all the ingredients together-I've heard a potato masher works for this, but a fork is what we use. Taste, and if it needs a little bit more salt add that and viola, you're done!