Less than hour outside of Milwaukee is one of my favorite luxury destinations, Destination Kohler, home to the five star, five diamond resort: The American Club. A few weeks ago after having been inundated with work and life business, my husband and I took a quick overnight getaway trip to the American Club in Kohler, WI, and per usual, it was beyond amazing.
Life has been very busy lately. With the upcoming release of my second cookbook and the upcoming arrival of twins this summer, time is just flying by with opportunities to get away becoming less and less feasible. So when my we had an overnight babysitter lined up for Ben (thanks grandparents!) we took the opportunity to plan a last minute getaway road trip to Kohler, WI. We called it a "babymoon" and birthday celebration, because my birthday was two days prior to the trip!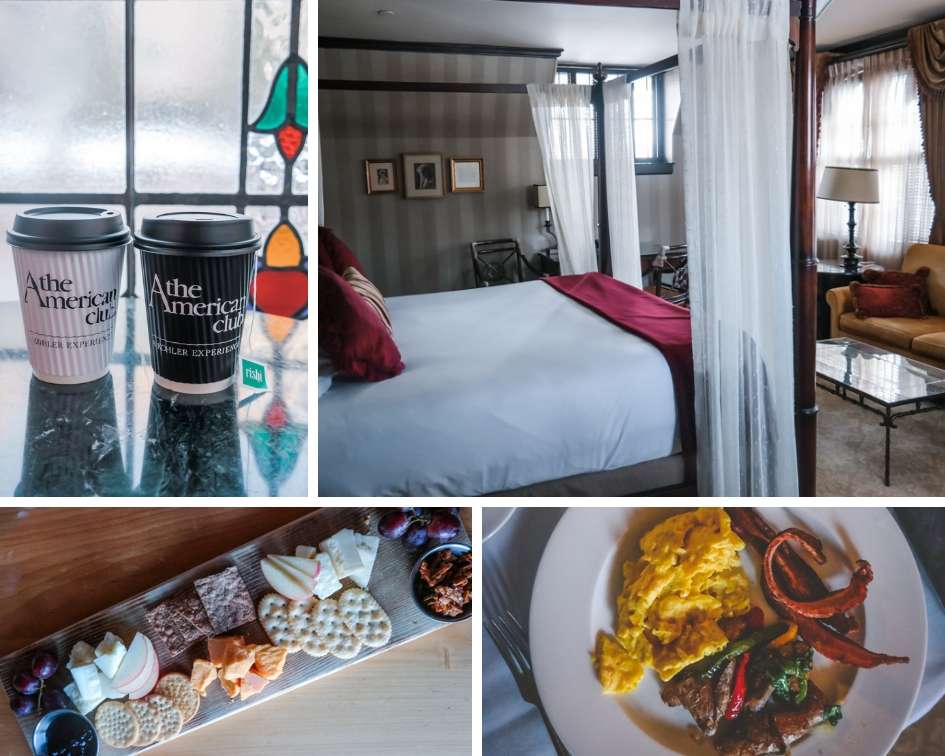 I love road trips with Nick, he is my forever favorite travel companion.
For this road trip we test drove a Mazda6 Signature and really enjoyed the car. The car was super comfortable and I loved the center console (perfect for hand holding), it was the perfect height and width and I loved all the features of the car: the sound system was amazing, the dashboard display was something super neat I've never seen before (the speed limit and your speed shows up on the windshield) and it has really great traffic sensors. Overall we enjoyed test driving this car for our weekend road trip.
Before even arriving at The American Club, I can tell you one of my favorite things is that you can call to book a room or spa service or meal, and the same person can walk you through everything – no transferring to a million different places. I love that, and it's so efficient and a great customer experience. We literally decided we were going to go on a Friday night two days prior and that same day were able to book our hotel room, a spa service, and make reservations for dinner and within minutes I had an itinerary emailed.
When you arrive and check in at The American Club, top notch customer service is experienced – you're offered a drink while checking in, they give you an itinerary of your stay and go over all the amenities (like afternoon tea and other fun offerings).
Since we were there for literally 24 hours, we just had time for a spa service and a dinner. The Kohler Waters Spa is my favorite spa I've ever been to. First off, it smells SO good (they have a signature scent that is relaxing and beautiful) and the spa itself is gorgeous and luxurious and welcoming. I got a pregnancy massage and at the end of the service, the staff gifted us two little rubber duckies dressed in spa gear. I started crying because it was so sweet (poor Nick, he was like 'honey are you ok?' lol, it was so nice!)
The spa also has a new cafe area where you can get food – I swear, I had one of the best smoothies and sandwiches of my life there!!
Then we went relaxed in our room which is so gorgeous in and of itself – I could spend forever in one of their rooms. The beds are incredibly comfortable and the bathrooms are state of the art and have the most beautifully big bath tubs in them. You're also welcomed with a hand written note and fancy waters and treated to turn down service at night (they made two little towel elephants – I felt so celebrated with this twin pregnancy!)
We went to dinner at the Black Wolf Run Restaurant. To get to the restaurant from the hotel there is a shuttle service provided which is so nice and convenient. The views at Black Wolf Run restaurant are spectacular, we even saw deer milling around outside. We've eaten at Black Wolf Run before (when I shared this post about a relaxing weekend getaway two years ago) and we love the rustic American grill featuring regional cuisine, and were equally impressed this time around!
The food is so good – they even have a Friday fish fry (fish fry's are super popular here in WI) which I got and thoroughly enjoyed! Everything was delicious!
Before leaving in the morning, we ordered room service breakfast. It was the perfect ending to our super relaxing overnight getaway. This is not a sponsored post, we paid for our own stay and services, I just really love everything at Destination Kohler, it's one of the most relaxing and beautiful and luxurious places on earth.
The overnight getaway was exactly what we needed to feel recharged and ready to tackle everything coming our way in the next few months. I'd love to hear from you in the comments, have you ever gone on an overnight getaway?
Other posts you might enjoy:
Thank you to Mazda for letting us test drive a car for this road trip and to Destination Kohler for a meal and spa treatment. As always, all thoughts and opinions are mine alone. Thank you for reading and supporting the brands I partner with which make the SweetPhi blog possible.