Oh. My. Goodness. Today I am announcing something doubly amazing…I'm pregnant…WITH TWINS!!! Ben is going to be a big brother…times TWO!
Definitely never thought I'd be typing the words "I'm pregnant with twins." It is just not a thought that crossed my mind.
We were over the moon to find out we were pregnant again (remember when there was just a little something in the oven when I announced I was pregnant with Ben? That seems like ages ago) because we really wanted to add to our family, pretty much since right when Ben was born. I just love being a mom and my whole life changed in the best possible way.
When we were at the doctors office for the first ultrasound, the doctor was like "you're pregnant!" and then she was looking at the monitor and said "I think it could be two, so I'm going to have you go pee because your bladder is full" and then she left the room! Ummm WHAT?!?! WAIT WHAT?!?! So I went to the bathroom as quickly as I could and returned and the doctor came back and did the ultrasound again and said "yes, there are two, congrats you're having twins!"
Oh wait…that's not all…as the doctor was doing the ultrasound, she saw a "something else" … she said it was too early too tell, it could be a shadow or a third sack!
Ummmm…talk about the most nerve wracking two weeks until we were scheduled to go back. And it was too early to tell anyone, so it was just Nick and I thinking "what ifs" and what we would possibly do and how we would manage.
Two weeks later we went back, and Nick said to me right before the doctor comes in "I think I'm going to faint if it's three"…"me too" I said lol. The doctor came in and confirmed it was just a shadow the last time and that I was pregnant with twins!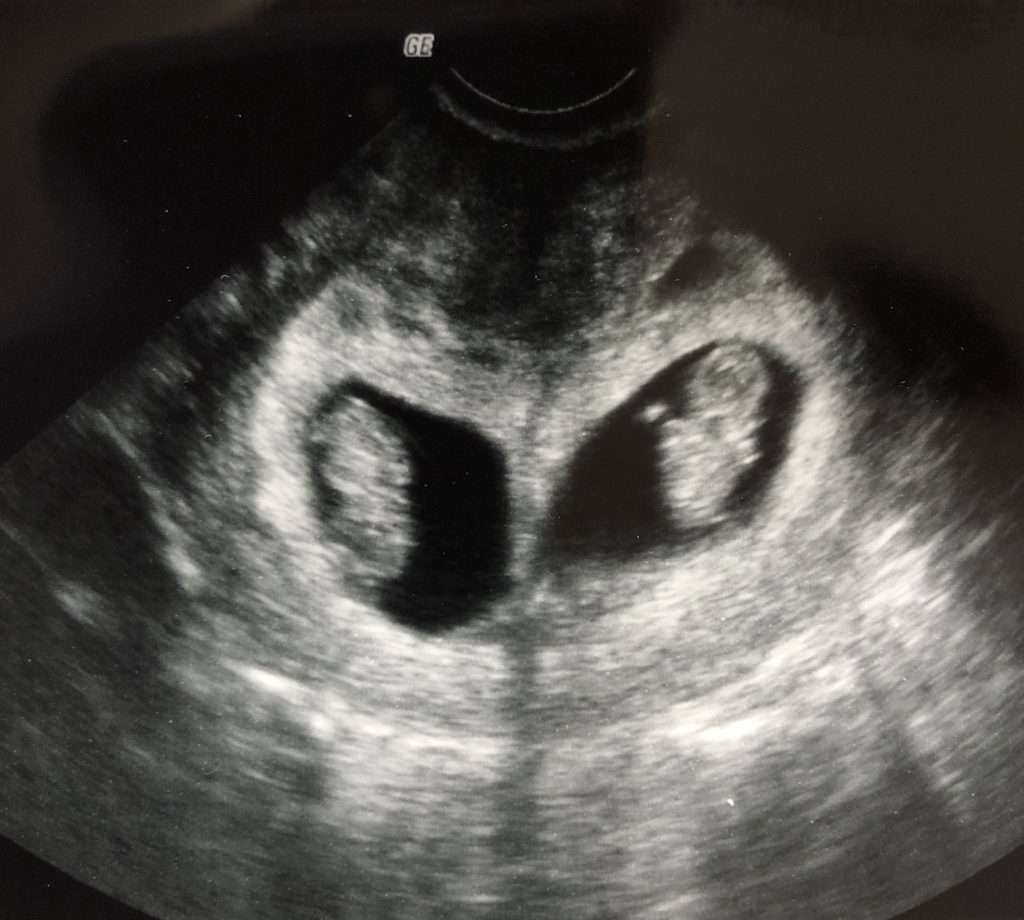 Twins and a toddler, wow! Life is about to change a whole lot in 4 months!!
Ok, so now to answer some questions:
How far along are you?
24 weeks! The twins are due sometime end of June.
Do twins run in your family?
Not in my family, but in Nicks! Nicks grandfathers mother (Nicks great-grandmother) was a twin!
We had some issues getting pregnant, infertility is the worst and I truly feel for anyone struggling with it, so to see if it would help the process, my doctor put me on Clomid. Clomid is a medication that helps with ovulation and when you start taking it you're told it can increase the chances of getting pregnant with 'multiples', but my doctor said she's never had anyone get pregnant with twins when taking Clomid (and she's a fertility specialist!) Welp…it was truly meant to be I guess, because here I am, preggo with twins!
How are you feeling?
Not gonna lie, it's been rough. The first few months I was so sick. I was throwing up all the time, lost my voice from throwing up, and then I'd get every little sickness that was going around. I had extreme hyperemesis gravidarum which is "a severe type of nausea and vomiting during pregnancy." Thankfully that has recently subsided.
Now I just feel huge. I feel really pregnant. With Ben I was sick, but I didn't really "feel" super pregnant until the last 3 months. It's so different this time around.
I can feel BOTH babies moving, and that's very odd, and very neat at the same time.
Do you know the sex of the babies?
YES! We are going to have a boy and a girl!!!!
How do you think Ben will react?
I think he's going to be an amazing big brother. My sister in law recently had a baby and whenever Ben sees the baby he's so sweet, he walks over to the carrier and looks in, and then sits and reads nicely with the baby on whomevers lap, it's so sweet. I think he'll enjoy having some siblings, right now I think he's a little young to understand that mom is pregnant.
We're very excited and cannot wait to be a family of 5, don't get me wrong though, the excitement is definitely mixed with a little bit of apprehension and a touch of being scared.
Other posts you might enjoy:
Thank you to Studio 29 Photography for the photos in this post!