Sometimes when one comes across something truly delicious one has to share it with the world! That is exactly what I'm doing today by telling you about Smothered Burritos, a new menu item at Qdoba.
I don't know about you, but I'm a huge fan of burritos-wrap up goodness in a soft shell and I'm good to go. So when my husband and I were out running errands and we stopped at Qdoba for lunch, I was naturally going to get a burrito, and as we were getting ready to order were asked "would you like to try our new smothered burritos?" I said "absolutely." The woman behind the counter proceeded to tell me "since the smothers have come out, I haven't eaten a regular burrito." Well color me intrigued!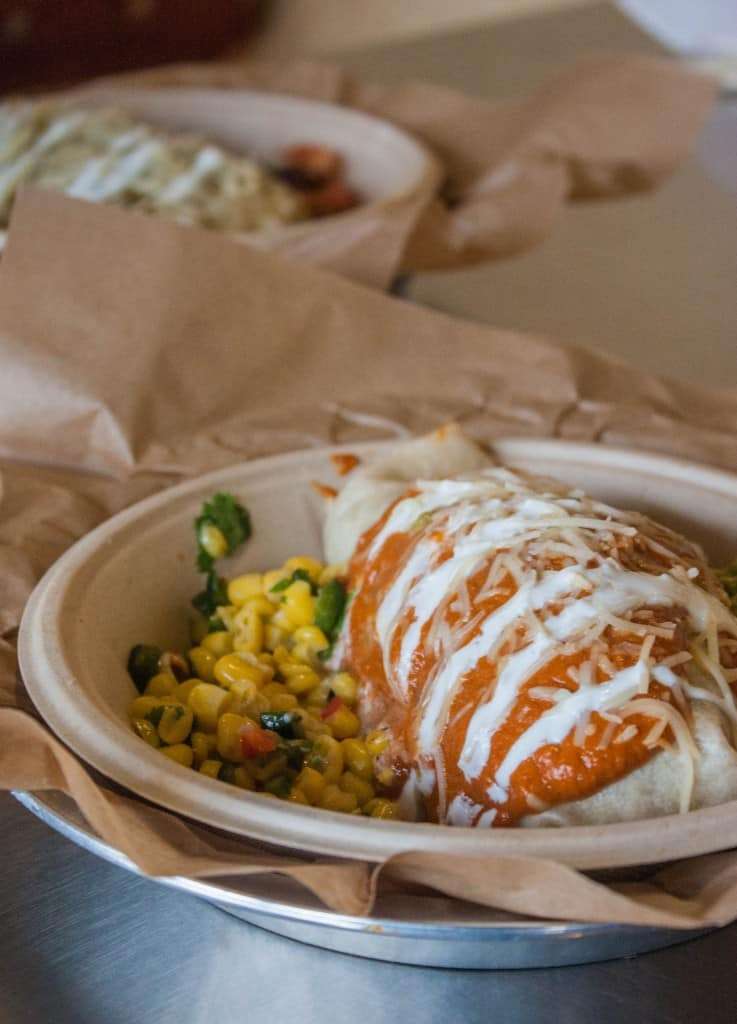 This being my first time experiencing or even seeing a burrito made this way, I was THAT girl asking a million questions (but there was no one in line behind me, and the Qdoba employee was so friendly, she literally told me about all the different sauces and how the smothered burrito comes, all in the friendliest way possible – and all off the top of her head…she knew all of it!!)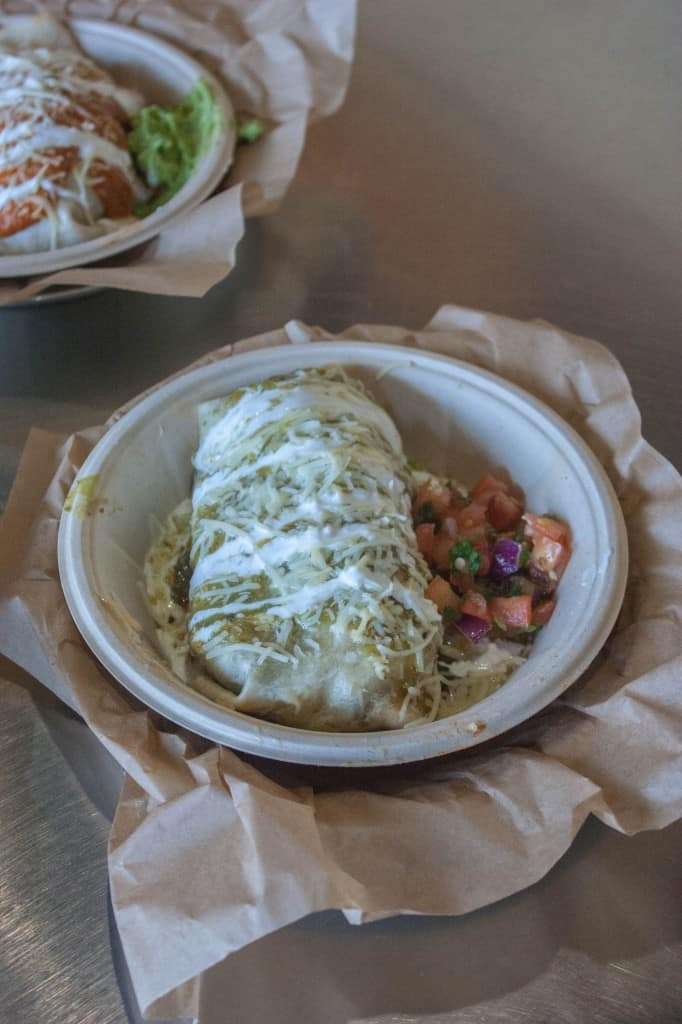 Smothered Burritos, or 'smothers' as they are called, are burritos that have sauce on the inside AND is then SMOTHERED with more sauce on top. It's meant to be over-the-top (literally it is lol) and comes with your choice of three amazing sauces (which you can mix and match I was told…so you want one sauce on the inside and then two on the top? Go for it! Want half and half? Totally your druthers)
Tangy Verde: Mild-to-Medium – bright and has a tangy kick – made from tomatillos and mild peppers
Bold Red Chile: Medium –  has a robust flavor with a hint of sweetness – made from  toasted red chiles
Smoky Chipotle Cream: Hot – has a rich and creamy texture with a smoky and spicy finish – made from smoky chipotle peppers
It was very hard to decide which sauce to get, I ended up getting the Tangy Verde (you guys know how I'm obsessed with tomatillos) and then my husband got the Smoky Chipotle Cream. Both were seriously delicious! I kept stealing little bites from him (and vice versa might I add) so we ended up sharing ours half and half (they're THAT good!)
Since the holidays are right around the corner, I think getting a Qdoba gift card for your loved ones as a stocking stuff is a genius idea (who doesn't love a good lunch date?)
AND, since the holidays are right around the corner and the folks over at amazing folks over at Qdoba (honestly, friendliest people EVER) want you to have a great holiday, we're giving 5 Sweetphi blog readers gift cards! To enter simply tell me which of the smothered sauces you'd like to try first and fill in the widget letting me know you've entered and for more entry options.
a Rafflecopter giveaway

Winners randomly chosen Dec. 31, 2014. 1 grand prize winner will receive a card loaded with 3 entrees-$30 value, 1 winner will receive a card loaded with 2 entrees-$20 value, and 3 winners will receive a card loaded with 1 entree-$10 value.
So grab a fork and dig in!
This deliciousness was sponsored by Qdoba, thank you for supporting the brands that make the Sweetphi blog possible, as always, all thoughts and opinions are mine alone.