Do you have plans for a Cinco de Mayo celebration yet? I sure hope not, because I'm going to save you a bunch of time and share with you how to throw an easy Cinco de Mayo Fiesta that everyone is going to fall in love with, and it involves some of the best Mexican food -made/delivered/set up-by none other than Qdoba Catering! AND, if you live in the state of Wisconsin, there's a pretty amazing giveaway happening at the bottom of the post which I would highly suggest checking out!!
It's no secret I have a slight obsession with Qdoba at this point, right? I mean, you've seen how, when we have football parties I just pick up a bunch of different chips and dips from Qdoba and last year around Cinco de Mayo I had a party catered by Qdoba, and you've seen me post on Instagram about the new loaded tortilla soup menu item that I love. So when I was thinking about this years' coming Cinco de Mayo holiday, I couldn't think of anything more perfect than using Qdoba catering again.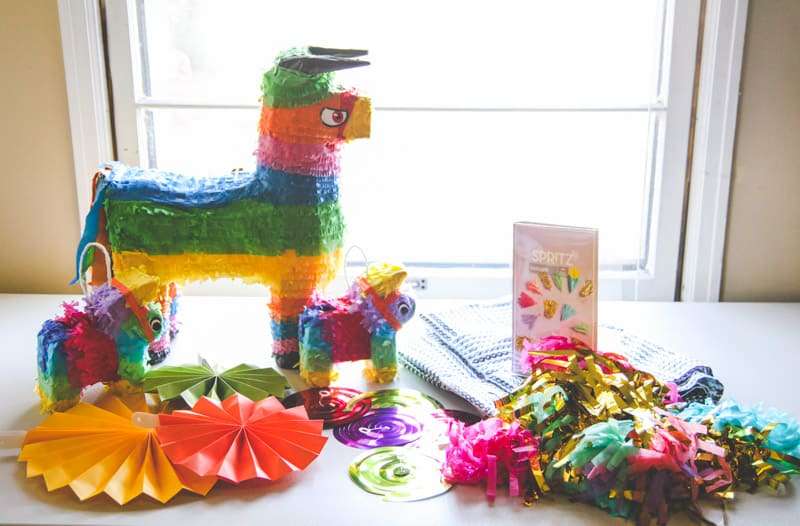 Delicious food, excellent customer service, AND VARIETY (something everyone will love because they can design their own meal!) Not to mention it's about as hands-on as I have time for at the moment (aka, I have no time and need all the extra help I can get, so the prospect of having a party becomes instantaneously less daunting because Qdoba is taking care of the cooking and set up.)
Let's talk about the food and variety a little more. I wasn't quite sure what I wanted to order. Naked burritos? Tacos? Chips & Queso? So many options! So I called up Qdoba Catering (1-888-CATER-WI) and just like last party I had, they were awesome. They walked me through the whole thing and hold me the various options and how it would all work. I decided on a naked burrito bar and then added some soft shell tacos on – that way guests could make tacos, burrito bowls, or nachos!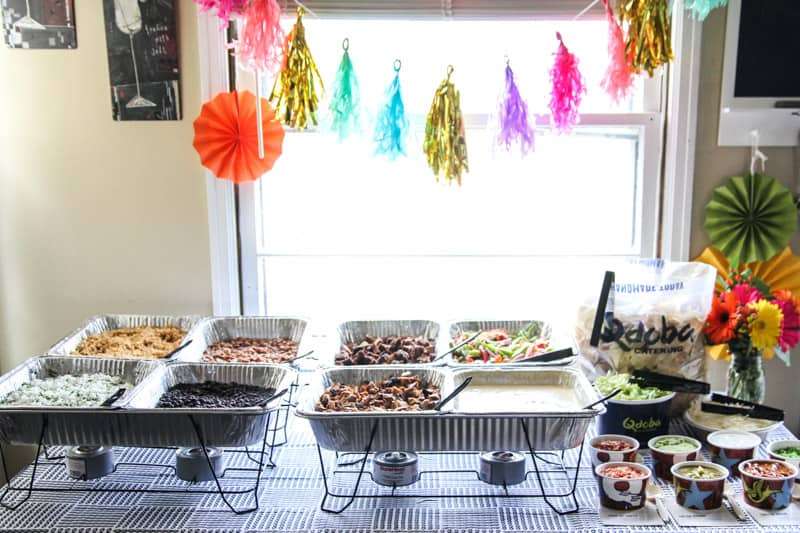 The day before the party I received a confirmation email, and then day of the delivery happened at the exact time they said it would. I cannot stress enough how much I love the way they set everything up. Literally, I stood there and just chatted away, but everything was set up for me.
Of course there were adorable little signs for all the salsas.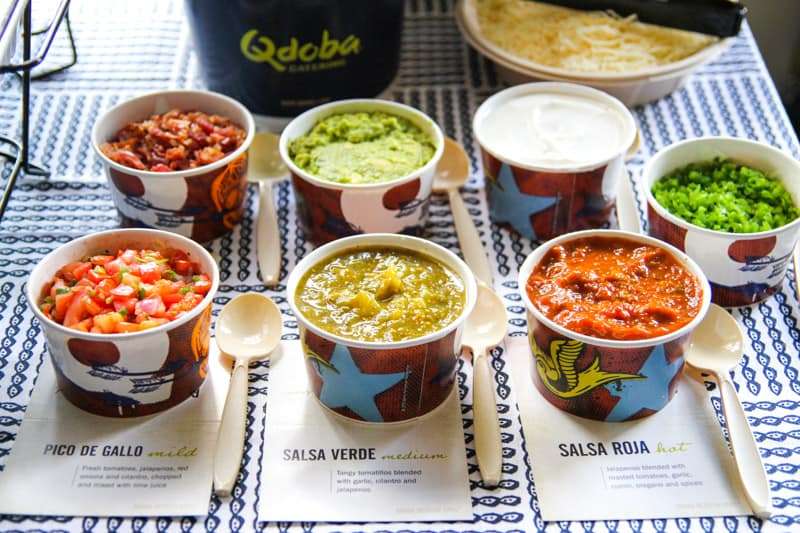 Just look at all those vibrant colors – don't you just want to dig in?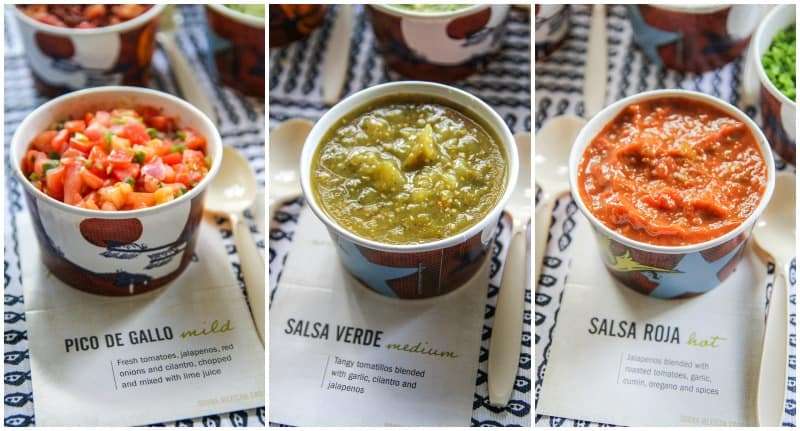 In terms of decorations, I kept it super simple: a tablecloth from Target, I felt the black and white patter really would go well with the other bright colored decorations (garland, and mini pinatas -seriously how cute are they? And the large bull pinata was also purchased at Target). The bright flowers were purchased from a local grocery store. And that's it, everything else was Qdoba! Can't get any easier than that, can it?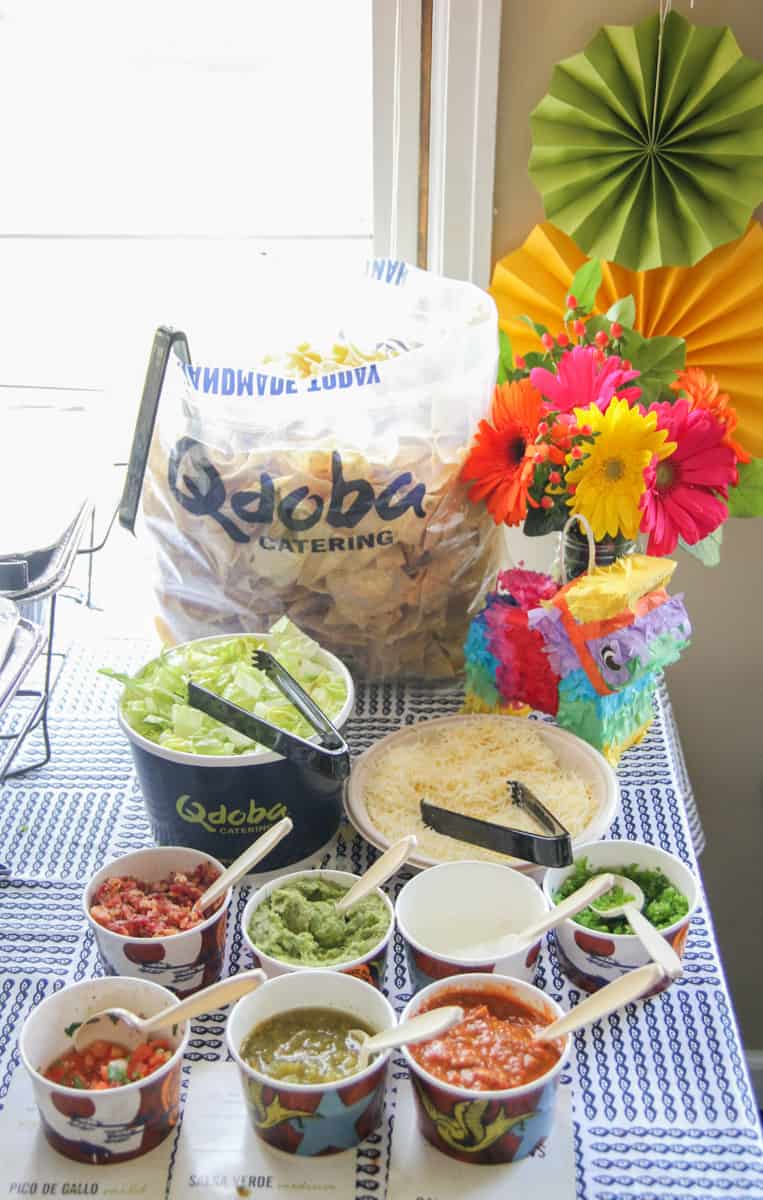 When I have parties, I normally don't get to even enjoy them because I'm always in the kitchen cooking or doing something, but with Qdoba catering the event, man-o-man, it was such an easy breezy party, that we ended up making margaritas and I got to enjoy time with my guests.
Here are some more pictures of the cool dishes that were created – one guest made nachos, one made tacos, one made a burrito bowl, one made a salad…pretty much every combination that could be made, was! The endless possibilities are so perfect for an easy Cinco de Mayo party!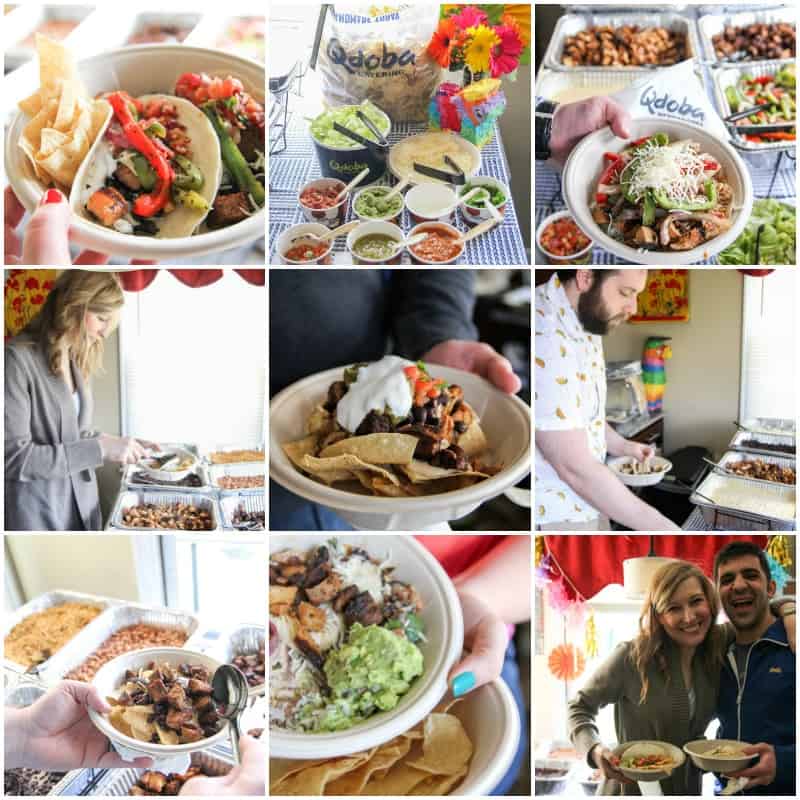 Let's of course not forget dessert! Qdoba catering has delicious cookies and brownies which make for great snacking after the meal!
Yet another thing I love about Qdoba catering? Cleanup is a breeze. They left a bag and instructions on how to clean everything up, so when the party was over, this was the entire party cleaned up: one bag!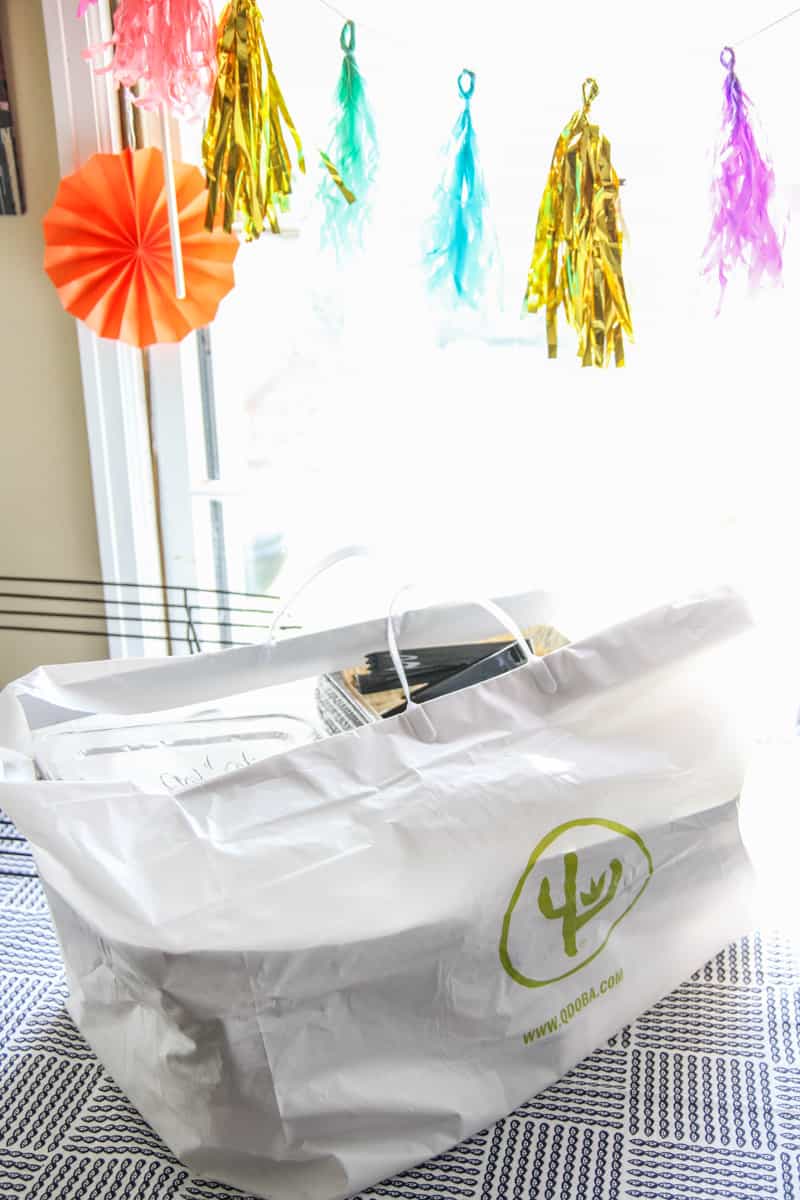 And because the lovely folks over at Qdoba Wisconsin and I want YOU to experience how amazing Qdoba catering is, there's a huge giveaway for those that live in the Milwaukee, Madison, or Fox Valley, Wausau, La Crosse, and the WI Dells areas: 1 winner will win a free 20-person catering bar, and then 1 winner will win a 10-person chip and queso bar! To enter the giveaway leave a comment answering the question – what kind of party you would have with Qdoba catering? After you comment, be sure to fill out the widget so we know you entered! Winners will be randomly chosen 4/25/2016, in time for Cinco de Mayo!
a Rafflecopter giveaway

Also, this is super cool – if you're ordering Qdoba catering (1-888-CATER-WI), mention code 'SweetPhi' and receive free queso on your Cinco de Mayo catering order (valid on catering orders made through the month of May at participating WI catering locations).
For you next party or gathering, I would highly highly highly recommend Qdoba catering-your guests will be sneaking in for some queso!
Other posts you might enjoy: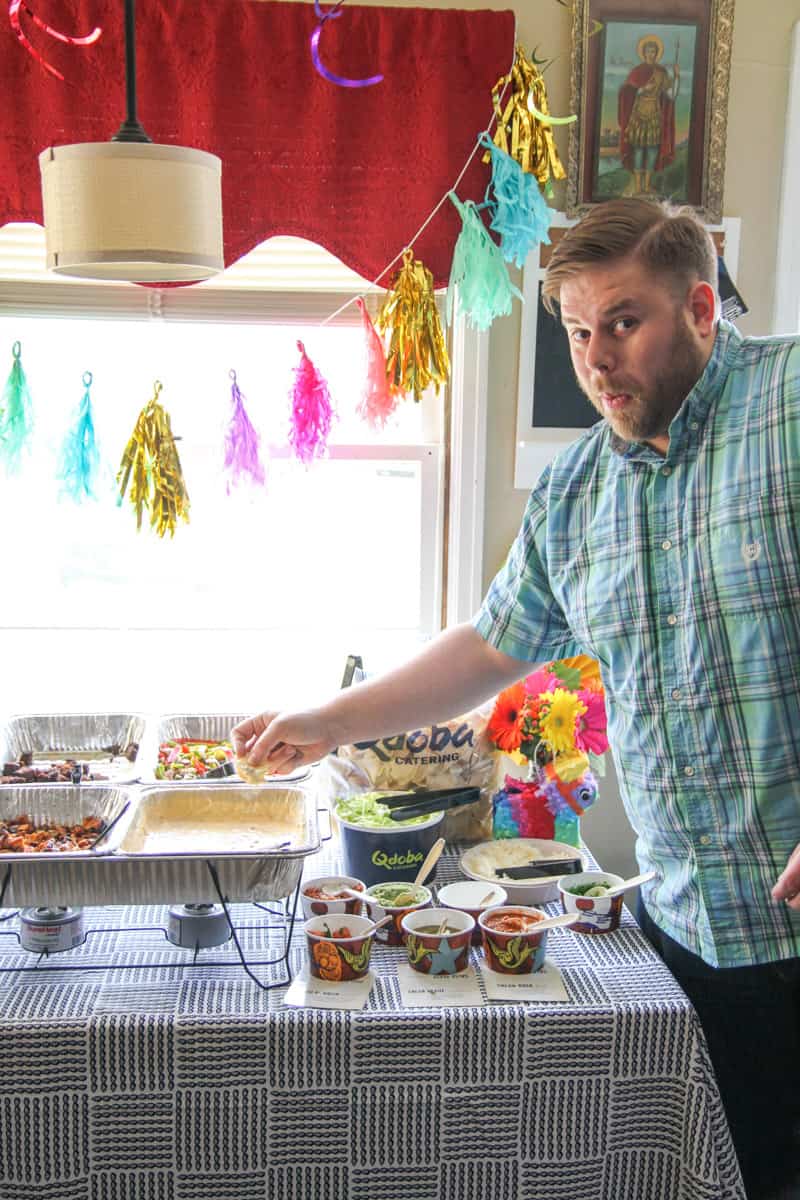 This deliciousness and catering giveaway is sponsored by Qdoba Wisconsin. As always, all opinions are mine alone. Thank you for supporting the brands that make the SweetPhi blog possible.