Celebrate Cinco De Mayo with a party this year, and use Qdoba catering for the most delicious, hands off, easy set up party, and did I mention delicious? It's party time, or, in this case, FIESTA time! And, if you live in Milwaukee, Madison or Fox Valley areas, definitely don't forget to enter the HUGE giveaway for Qdoba catering!
It's no secret I love Mexican food. I made black bean pie last Friday, and then before that: steak fajita tacos for two, slow cooker chicken tacos, Mexican hot chocolate caramel cookies, Mexican chocolate and raspberry bread pudding to name a few. You name the meal or snack time (morning, lunch, dinner, dessert) and I've got you covered.
I love Mexican flavors, the secret hints of spice, the fresh veggies (hello salsa and queso!) and the smooth cheeses.
But when I want Mexican food and flavors on the go, I turn to Qdoba. My fave! If you have been following my blog for a little while, you'll have heard me rave about them and then rave some more. There's just something about getting fresh flavors and delicious food that I don't have to cook that really appeals to me.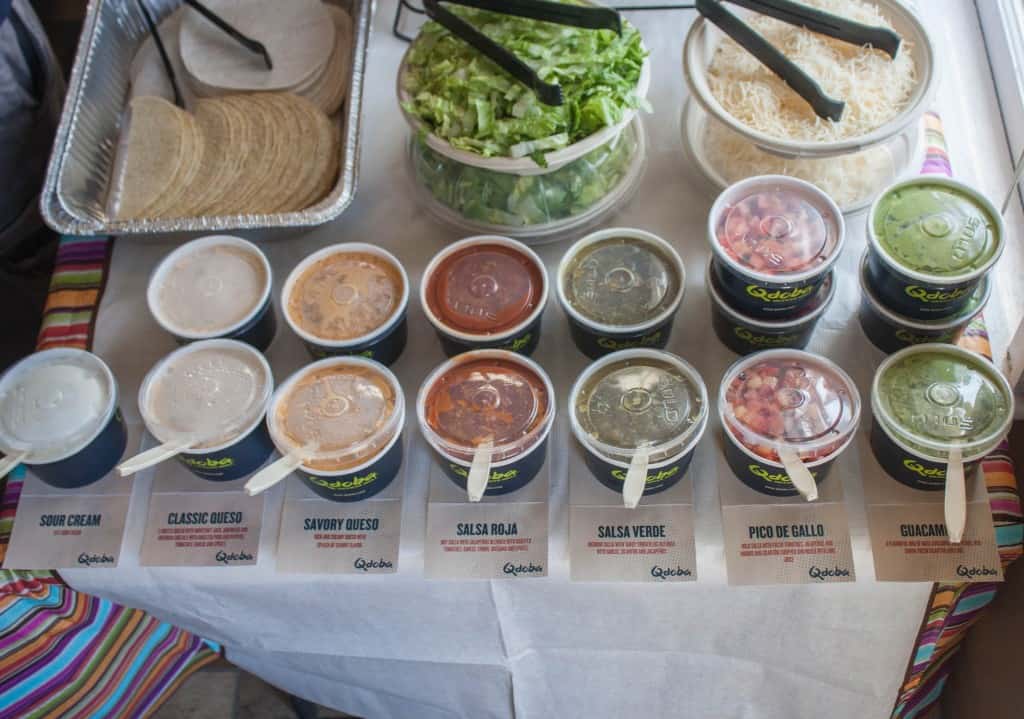 So when I was getting my favorite Qdoba lunch order the other day I was walking out of the restaurant and saw a sign for their catering.
I immediate thought of the upcoming holiday Cinco de Mayo.
Last year I wanted to have a party, but time just flew and I never got around to it.
Having someone else do all the cooking and set up? THAT I can always handle!
So I gave Qdoba catering a call and before I knew it, I had a naked burrito bowl catering party planned.
Qdoba catering walked me through the whole process, they helped with suggestions on what to order and quantities needed, they walked me through what would happen day of and the amount of space I needed. I was so surprised that I literally wouldn't have to do anything.
'Do I need to have anything ready for the catering?' I asked the operator.
'Nope, just have about 6 feet of free counter space and we'll do the rest.'
So of course I got into the theme and bought some decorations (from my suggestions I had made last year? Yeah I went ahead and bought those decorations – I mean, a piñata in a necessity, is it not?)
A few days before the party I received a confirmation email outlining my order, then day of the party I received a call from the delivery driver confirmed arrival time and who showed up exactly when he said he was going to.
From the moment he arrived until he finished setting up, it was like a whirlwind of food setting up perfection…except with no mess left and everything ready to go. He set up everything, he labeled everything, he left instructions for everything, he cleaned up everything, he organized everything. The set up and entire process was so efficient…wishes were swirling around in my head that every party would be that easy!
And because the lovely folks over at Qdoba and I want YOU to experience how amazing the catering is, there's a huge giveaway for those that live in the Milwaukee, Madison, or Fox Valley areas: 1 winner will win a free 20-person catering bar, and then 1 winner will win a 10-person chip and queso bar! To enter the giveaway visit the Qdoba Wisconsin Catering website to see catering bar options and offerings and answer the question – what would your cinco de mayo menu look like?
a Rafflecopter giveaway


If you haven't already gathered…I would highly highly highly recommend Qdoba catering for your next party or gathering, delicious food is set up for you and it is food everyone is sure to love!
This deliciousness and catering giveaway is sponsored by Qdoba. As always, all opinions are mine alone. Thank you for supporting the brands that make the SweetPhi blog possible.