The perfect focaccia bread has a slightly chewy texture and a crusty bottom and is laden with rich olive oil flavor throughout…this tomato rosemary focaccia is just that, and more!
Our tomato harvest this year was fantastic. It may have had something to do with the fact that I used some compost in the soil (yes, I have a worm compost in my basement, it's kinda gross and kinda cool at the time) or it may have had something to do with the fact that I over planted (don't tell my hubby he was right and I shouldn't have planted six plants in a foot by foot area). Whatever the reason, we had bowlful after bowlful of tomatoes.
And I just wanted needed to use them in everything, so when I set out to making bread (a feat in and of itself because I have zero patience) I thought it just a natural fit to top focaccia with tomatoes and rosemary.
This bread's wonderful chewy texture comes from the fact that there are two risings, so don't skip that step (trust me, it's suuuuuper hard to do, but so worth it!)
To make the focaccia you'll make the dough, let it rise, then punch it down (this step is always fun) then transfer it to an oiled pan, then press fingers down into it…make lots of little holes…then place tomatoes rosemary and olive oil on top let it rise again, then bake slice and enjoy!
You'll watch this focaccia disappear! Have one bite and you'll be hooked, it's the perfect combo of fresh rosemary, olive oil and tomatoes, all baked to perfection in the form of bread! It just screams fresh and delicious!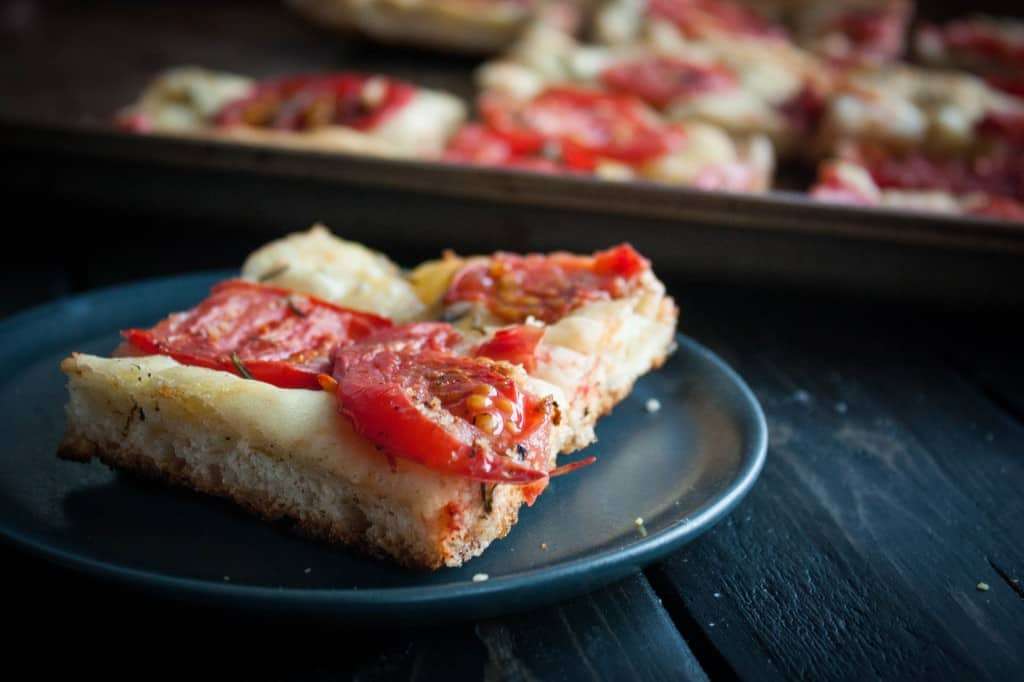 Ingredients
1 1/2

Cups

warm water

2 1/2

tsp

Active dry yeast

1 packet

1

Tsp

Sugar

4

Tbs

Extra Virgin Olive Oil

plus more for oiling a bowl and a pan

1 1/2

Tsp

Table Salt

3 3/4

Cups

All Purpose Flour

1

Tsp

Sea Salt

Fleur De Sel

1-2

large

Tomatoes

thinly sliced

3-4

Sprigs fresh rosemary

chopped
Instructions
In a bowl combine 1/2 cup warm water, yeast and sugar. stir once or twice and let stand until foamy (5 minutes).

Pour into a stand mixer bowl, add remaining water, 2 tbs extra virgin olive oil, table salt and flour. Use dough hook attachment and turn to speed 2 for 7 minutes. The dough will be soft, do not add more flour, form it into an oiled bowl. Cover with plastic wrap and let sit for 45 minutes.

Oil a large 15 1/2 by 10 1/2 Pan.

Punch dough down in the bowl, then transfer it to the oiled pan and stretch it out to fit the pan - it may come off the edges a little bit- press finger tips down into the dough to make little wells, don't poke through it though.

Place tomato slices on the dough, then sprinkle the rosemary over the tomatoes and sprinkle the Fleur De Sel over the tomatoes and then drizzle remaining 2 tbs olive oil over the dough, then cover it with plastic wrap and let rise for another 45 minutes.

Preheat oven to 450, then bake focaccia for 20-25 minutes until golden brown around the edges. Remove from oven, allow to cool for a few minutes then cut into squares and enjoy!