As I try to cling onto the last remaining days of summer, I'm sharing a deliciously refreshing and summery cocktail that will keep summer alive (at least in my mind). And for those of you that might not drink alcohol-shout out to all my pregnant friends- I'll share how to make this drink into a mocktail!
According to Wikipedia, a traditional mojito consists of five ingredients: white rum, sugar, lime juice, sparkling water, and mint.
And while I absolutely love traditional mojitos (see this picture on instagram) and they only have five ingredients, making them a perfect candidate for my Five Ingredient Fridays series, I wanted to change it up a bit, and did so by using Lemon LaCroix Sparking water (I'm obsessed with this stuff! You could also use different flavors such as lime or peach-pear) and using fresh peaches.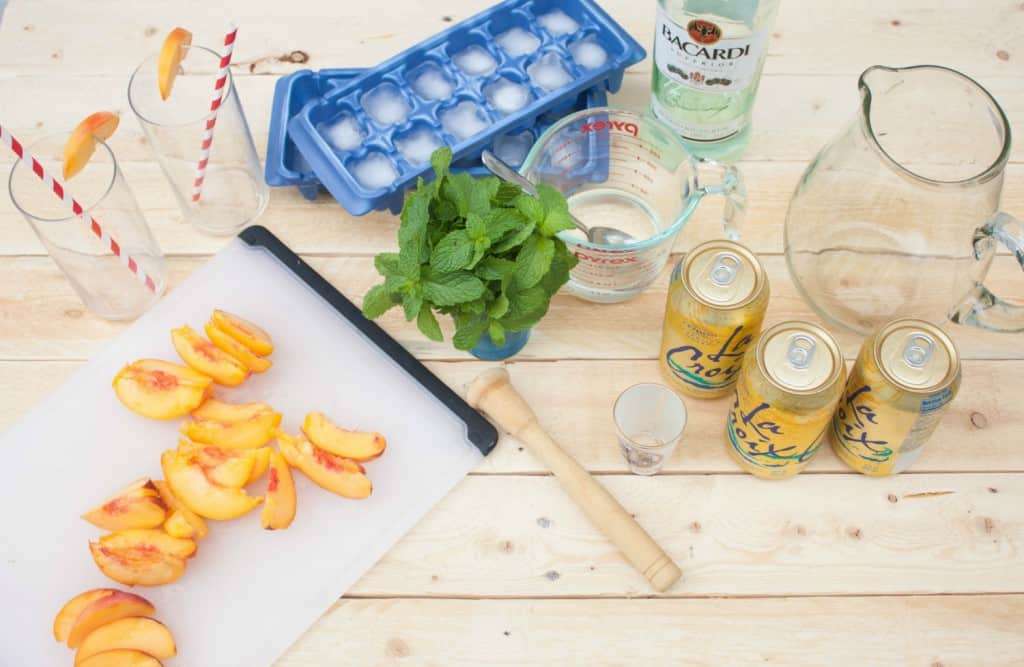 When I was doing some shopping at the farmers market, I walked by a stand selling bundles of mint for $1. I immediately veered off path to purchase some (you know how you have vendors you like to purchase from? I walk through the farmers market in zig zags so I get everything I need from my favorite vendors…I know my husband loves it!)
To make these delicious peach mojitos you start by adding peaches and mint into a pitcher
Then you pour in simple syrup
Then you muddle
Then you add ice
And then you add white rum.
But before we add the rum, I need to know…does anyone else collect shot glasses like I do?
I got the one I'm using in the photos when I went to BlogHer Food Conference in Miami, and thought it was only fitting to use a Miami shot glass make this drink…brings to mind images of palm trees and warm weather!
Ok, so back to the drink, you then pour in your rum (one shot glass full per half can of lemon sparkling soda water, so since I used 3 sodas, I put in 6 shots). If you're making a mocktail, just skip this step-the end result is just as yummy!!
Then you add the LaCroix sparking water
Stir the contents of the pitcher once or twice, and voila! Peach Mjoitos!
So summery!
OK, now it's GIVEAWAY TIME!
I'm giving away 2-$25 Target Gift Cards! Wha-what?!
To enter this giveaway simply 'Pin' any Sweetphi blog image/recipe photo and comment leaving the pin URL
*optional bonus entry if you follow me on Pinterest
Giveaway open to US residents only, giveaway ends 8/31/2014, happy pinning!
Ingredients
1

Cup

of Sugar

mixed with 3/4 cup of hot water to form simple syrup

3

Peaches

pitted and sliced

1

bunch of mint leaves

about 1 cup of loose leaves

6-8

oz

White rum

3

Cans Lemon LaCroix Sparking Water

2

trays of ice

about 24 ice cubes
Instructions
Start by making the simple syrup (I just turn my faucet on hot for a minute and then fill up a measuring cup with 3/4 cup of water, and then pour in the 1 cup sugar and stir it until the sugar dissolves.) If your faucet water doesn't get very hot, you can just microwave the water for a minute to get it to the desired temperature.

In the bottom of a pitcher add the peach slices and the mint leaves and pour half of the simple syrup in. Use a muddler and muddle the peaches and mint together vigorously for about a minute. Add remaining simple syrup.

Now add the ice into the pitcher, pour in rum (if making a mocktail skip this step). Then pour in Lemon soda water, stir it a few times, and you're done! To serve pour mojitos into glass and spoon in a few peach slices and mint sprigs for garnish, add a straw and enjoy!