This recipe for making cheese stuffed cheeseburgers- a.k.a. -the best cheeseburger ever (can someone please  #saycheeseburger ?) is part of a shop compensated by the social shopper amplification company Collective Bias® and its advertiser because I am a member of the Social Fabric® Community. #CollectiveBias
Ok you guys, I have to tell you, I'm at a loss for words at how to describe the amazing deliciousness that are these Cheese stuffed Cheeseburgers. Me…at a loss for words? Rarely does this happen, just ask my husband- who just so happens to be the handsome hand model you see in the photo above (I have been meaning to tell him I think he missed his calling as a hand model lol).
One of the keys to making this burger is using really good cheese. You want the cheese to ooze out a little, but not melt into the ground beef completely when cooking, so the cheese I used to stuff the cheeseburgers was Cracker Barrel Sharp Cheddar that I found while shopping at Walmart. The cheese has a nice zing of sharpness but is not too sharp to distract one from tasting the other flavors, like the cheese used on top of the burgers, Kraft American Singles, so you'll still get all the creaminess and melty flavors coming through!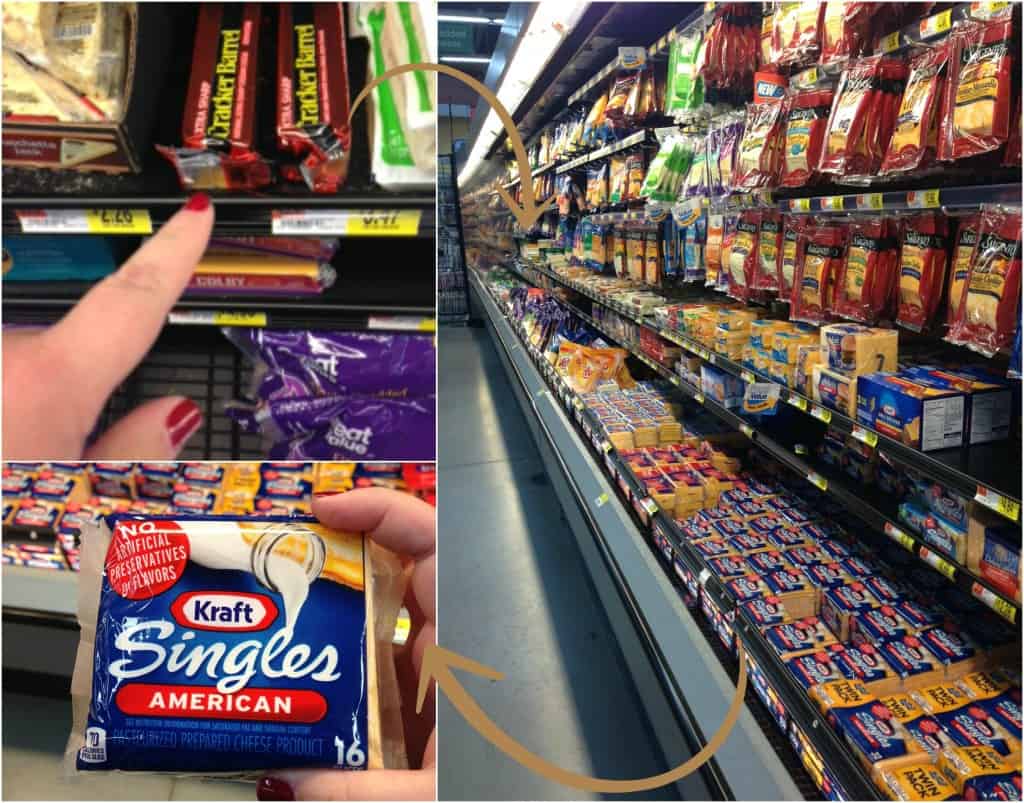 There are so many things I love about this burger:
It is the perfect twist on a classic cheeseburger that everyone is sure to enjoy.
It only has 5 ingredients-Ground Beef, Worcestershire sauce, Kraft American Cheese Singles, Cracker Barrel Sharp Cheddar, and Burger Buns (making it perfect for this weeks' Five Ingredient Friday) and also making it perfect for prepping without spending a bazillion hours in the kitchen.
It can be made perfectly either on a stovetop using the Big Pot Method (described below), or made by grilling the burgers outside AND…
It is a perfect burger for upcoming Memorial Day!
To make the burger, you'll start by mixing the ground beef and Worcestershire sauce and putting it in a bowl, then slice the cheese so it's all ready for stuffing:
Next, you divide the ground beef mixture into 8ths, then flatten and form each ball (I used a biscuit circular shapper for this), place 2 slices of cheese on one of the burger sides, pinch the sides closed, then you're ready to cook them!
Now that you have your burger patties stuffed and closed, you're ready to cook them…remember I mentioned The 'Big Pot Method' ? Well, you're going to thank me after trying this and seeing how easy clean up is after cooking your burgers on the stovetop. The way it works is that you use a big pot (hence the name) and cook the burgers in it, this way, cleanup will be a breeze because any splatter that normally would end up on your stovetop, is caught on the sides of the pot! Shout out to my Mother-in-Law who taught me about this method for making burgers!
When the burgers are done cooking, put on a bun with desired condiments (I'm a simple girl, I like Ketchup, Mustard, and dill pickle slices).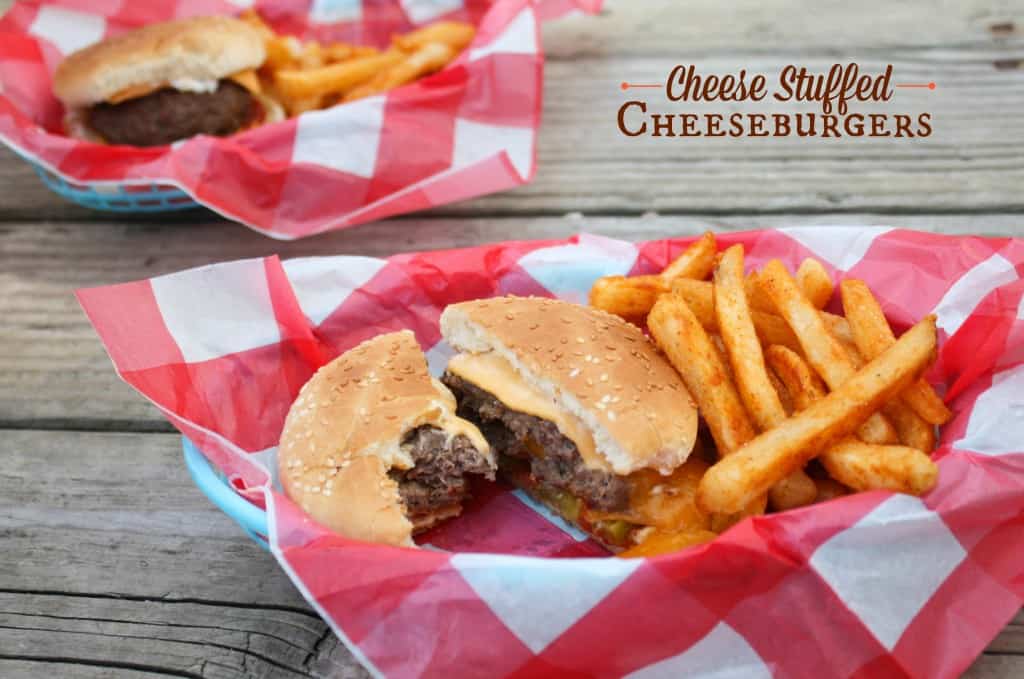 Here's the recipe for this deliciousness, enjoy!

Ingredients
1

lb

Ground Beef

1

Tb

Worcestershire Sauce

4

oz

Cracker Barrel Extra Sharp Cheddar Cheese

4

Slices

Kraft American Cheese Singles

4

Burger Buns

1

tsp

salt & 1/2 tsp pepper

toppings or condiments as desired, I use Ketchup, Mustard and pickle slices, sometimes I'll spread a thin layer of mayo on the top of the burger bun, but this cheeseburger is amazing all by itself!
Instructions
Start by mixing ground beef with Worcestershire sauce, salt, and pepper in a bowl. Mix very well, I used my hands to mix everything together.

Next, divide the ground beef mixture into 8 balls. Use a 3 inch circular mold or form uniform circles out of each of the balls, pinch the sides up a little.

Now add two slices of the Sharp Cheddar on top of 4 of the patties, you want the cheese to be kind of thick, so the two slices should be about 1 oz of cheese.

Place a beef patty on top of the cheese, and pinch the edges together. Really make sure the edges are sealed well, you don't want the cheese oozing out while it cooks.

To make the burgers on the stovetop, cook the burgers 5 minutes each side in a big pot over high heat, flipping only once.

When the burgers are done cooking, place a slice of american cheese on top of the burger, and then put on a bun with any other desired condiments and enjoy
If you want to make homemade fries, I talk all about tips and tricks to do so in
this
post.