This Cilantro, Lime & Wine Pesto Mac n Cheese has beautiful sophisticated flavor combinations, while also being a down-right comfort food!
Have you ever felt like there was something you found out about where you felt you had uncovered a major secret? Well, that happened for me not only by discovering this unique flavor combination, but also by discovering the region where the wine I used in this dish came from.

This past Fall, my husband and I took a trip to Portland (we seriously fell in love with the area) and based on a recommendation decided to take a day trip to Willamette Valley and check out some Oregon vineyards.  We drove along the highway, exited, and all of a sudden, it was like we were in a whole different world. Rolling hills as far as the eye could see with vineyards tucked and hidden into the gorgeous landscape.
To be honest, I didn't even know that Oregon had such an amazing wine country before I was standing, jaw to the floor, looking around. I may have looked like a super tourist, but I didn't care because it was just SO PRETTY! I highly suggest taking a trip to Oregon Wine Country, if even just to look at the beautiful landscape.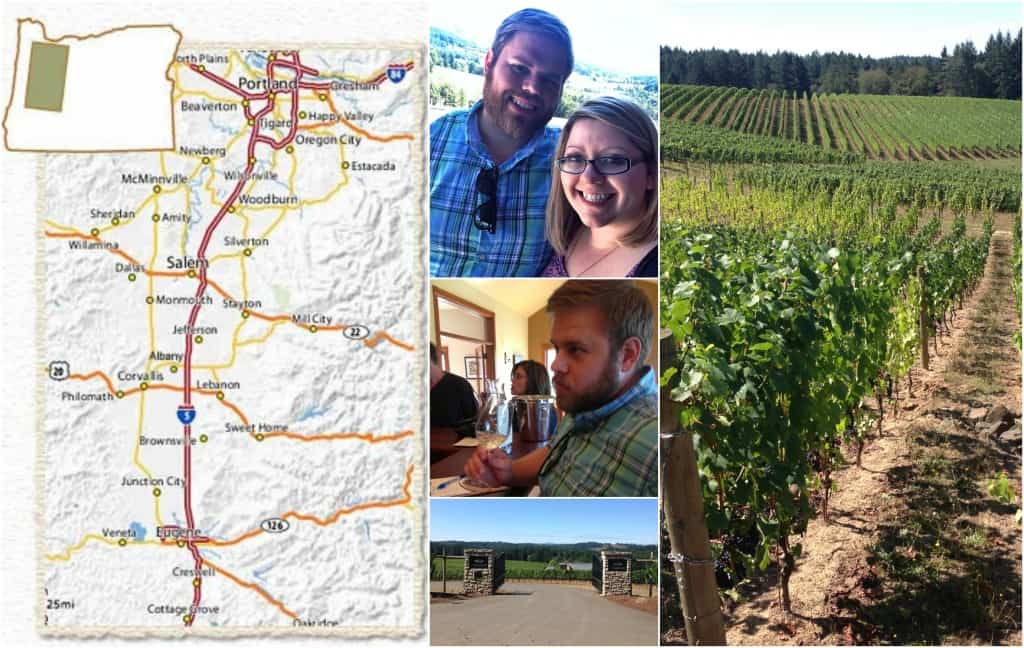 One of the Vineyards we stopped at was called Trisaetum (pronounced 'tris-say-tum' after the founders' two children, Tristen and Tatum) where we tasted their Pinot Noirs and Rieslings. A few fun things about this Vineyard that made me fall in love with it:
their wines are absolutely delicious
the tasting room has a beautiful art gallery that one can roam around in while sampling
the terrace where one can sit out on has a beautiful view (one can even touch the grapes -don't know if that's allowed lol)
we were told that they had tasting glasses that fit AN ENTIRE bottle of wine (sign me up lol) and
their wines were actually affordable and could be shipped (which we did and it was such a treat to get the 2 bottles of Rieslings upon returning home).
Fast forward to this week, I was enjoying a lovely glass of Trisaetum 2012 Ribbon Ridge Estate Riesling and was about to make dinner when I thought that a dash of wine would really compliment the flavors of the cilantro lime pesto, and so, this amazingness of cilantro, lime, and wine pesto mac n cheese was born!  The cheesy noodles burst with fresh flavor from the pesto! Soooo yummy!
Don't have any Riesling on hand? No problem, feel free to substitute with any white wine!
Ok, one last picture, I just can't resist, you know I have a serious love for Mac N Cheese (I even participated in a Mac n Cheese Mania event with my Blue Cheese Bechamel Mac n Cheese!)
Ingredients
For the Pesto
4

oz

Parmesan Cheese

Shredded

1

Cup

Cilantro

1/4

Cup

White Wine

such as a dry Riesling

3

Garlic Cloves

1

Tbs

Extra Virgin Olive Oil

Juice from 1/2 a Lime

1

tsp

salt
For the Pasta
1

lb

Elbow Macaroni noodles

I used Barilla Plus-multigrain pasta

2

Cups

Four Cheese Mexican Blend Shredded

a blend of Monterrey Jack, Queso, Cheddar and Asadero cheeses

1/4

Cup

Milk

1

Tbs

Butter

1

tsp

salt
Instructions
Cook pasta according to package instructions.

While pasta is cooking, make the pesto. To do so, just put all the ingredients in a food processor and pulse for 30 seconds to a minute, then you're all done. If you like a finer pesto, pulse for an additional 30 seconds. Set aside.

When pasta is finished cooking, drain water from the pasta and leave pasta in a colander while you make the sauce.

In the now empty pot you used to make the pasta, melt the butter and milk, over medium-high heat. When it starts to boil, sprinkle with salt, and turn heat off. Now add the pasta back into the pot, pour the shredded Four Cheese Mexican blend over the pasta, and spoon the pesto on top of the cheese. With a spoon slowly fold over until your mac n cheese ingredients are all combined. Allow to cool for a few minutes, then serve!