THESE balsamic grilled vegetables, they're honestly the BEST side dish recipe ever. For real, they're super delicious and perfect for summer.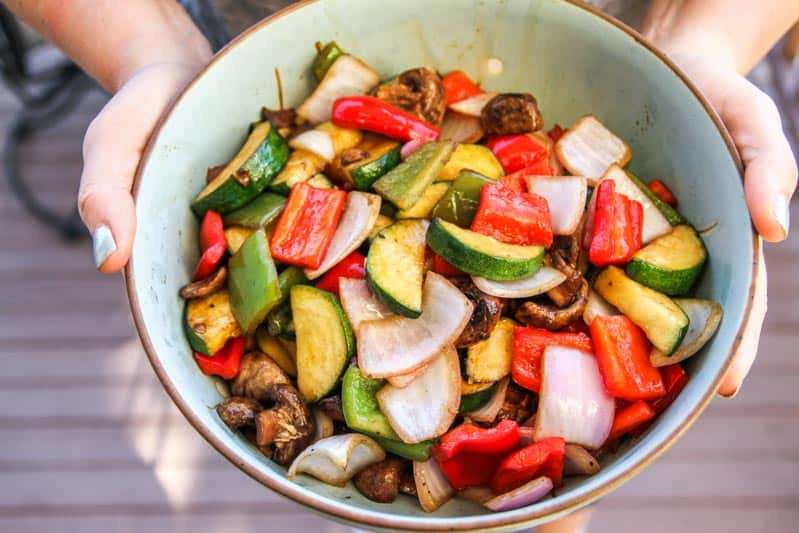 They disappeared from the table the first time I made them.
There was a family argument over who got to have the last (seconds or thirds at this point) serving the second time I made them.
Someone came over to my house and noticed the vegetables marinating on the counter who had had them before and said they were changing their plans and were coming back for dinner the third time I made them.
Then I made them for a group of local food bloggers, and they got the stamp of approval.
So at this point, I knew I had to share the recipe. If you're ever looking for the perfect side dish for any meal, these balsamic grilled vegetables are the way to go.
The key to making them is to let the vegetables marinate. An hour is fine, but this is one of those amazing dishes that can be prepped ahead, so I always make them the night before and put them in the refrigerator overnight, it really amps up the flavor.
Then when it's time to grill, you're all ready to go. These can also be baked in the oven!
I use a grill basket/pan for these balsamic grilled vegetables. This stainless steel grill basket with a removable handle is one kitchen utensil/item that I cannot rave enough about. I use it practically twice a week, the entire summer. Totally worth the purchase!
We got a new gas grill when we moved in to our new house, and we use it ALL the time now. I have also made these vegetables with a charcoal grill, they work great over whatever type of grill you have!
You can also customize this recipe with whatever vegetables you have on hand, or would like to use. I can tell you that my family loves the mushrooms so much, so I now add double mushrooms when making this for them.
Next time you're looking for a great side dish, I'd highly recommend making these balsamic grilled vegetables! I like making these on the weekend and then having them as a side to dinner during the week (I'm especially obsessed with having them as a side to these lamb meatballs and yogurt sauce…which leads me to ask, what are your favorite kind of meatballs & noodles?)
Yield: 6-8 servings
Balsamic Grilled Vegetables-Side Dish Recipe
Prep Time 1 minute

Cook Time 15 minutes

Inactive Time 1 hour 39 minutes

Total Time 1 hour 55 minutes
Ingredients
8 oz mushrooms, halved
2 bell peppers (I use 1 red and 1 green), cut into 1 inch squares
1 zucchini, halved and cut into 1/4 inch pieces
1/2 red onion, cut into large pieces
3 garlic cloves, finely chopped or pressed
2 tablespoons balsamic vinegar
2 tablespoons soy sauce
1 tablespoons extra virgin olive oil
1 tablespoon brown sugar
1 tablespoon fresh herbs, chopped (I use a mix of thyme, basil, oregano and parsley, or you could use 1 teaspoon dried herbs)
1/2 teaspoon salt
Instructions
Cut and chop the vegetables and put them in a large bowl.
In a small bowl, combine the balsamic vinegar, soy sauce, olive oil, brown sugar, fresh herbs and salt, and stir until combined. Pour over vegetables and stir to coat vegetables.
Cover vegetables and let them sit on the counter to marinate an hour, or cover and let marinate in the refrigerator overnight.
Light your grill to high, using a slotted spoon, transfer vegetables from the bowl to a grill pan. Cook over medium-high heat, stirring occasionally for 15-20 minutes, until vegetables are tender. Remove from grill, transfer into a bowl and serve.