What's better than plain 'ole apple pie? Coffee crumble apple pie! Made with fresh apples and coffee, this pie is everything you want in a delicious dessert!
Here in Wisconsin we were greeted with snow over the weekend. Time to bust out the winter boots, puffy snow coats and all things holidays. It's as if the holidays don't officially start for me until there is snow and miserable weather.
But let's not forget seasonal fruit, shall we?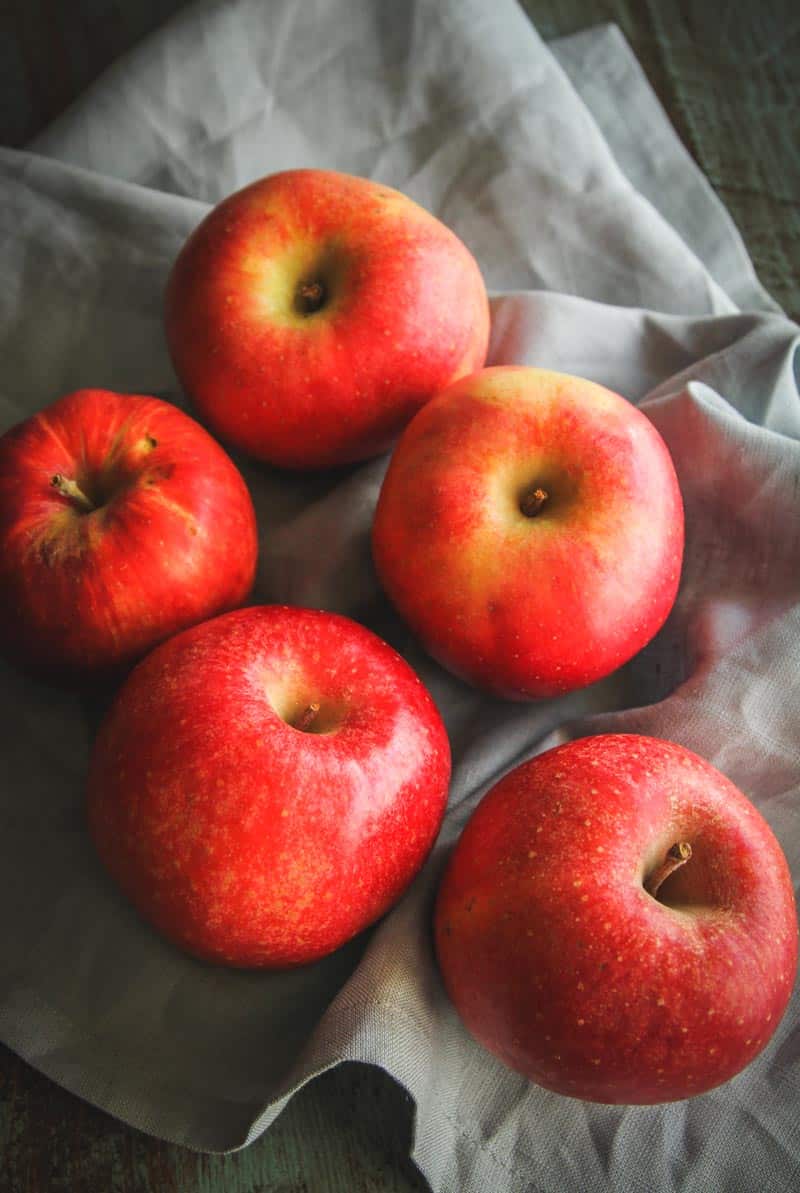 Every week when I used to open my Door to Door Organics order I would love receiving a sampling of seasonal organic produce, and in the fall apples are seasonal. And whenever I see apples I immediately think pie.
It's a classic American dessert, and it's perfect for the fall and winter.
[Tweet "Take #applepie to the next level with this coffee crumble apple pie from @sweetphi"]
Door to Door Organics is an organic delivery service, but they don't just deliver product, they deliver everything else your heart could desire, like coffee! One brand of coffee they carry is Colectivo (a Milwaukee roaster), like this one. So as I was making some coffee I thought about upcoming Thanksgiving and pies and how great it would be to have some pie with my morning coffee or at least some coffee cake, I was in a sweets for breakfast kind of mood. Why not combine my love for coffee, pie and coffee cake? It's a seriously delicious combination!
In this pie, apples cook to perfection and are topped with a crumble that has a hint of coffee in it and rests in a homemade pie crust.  I make homemade pie crust in the food processor, it's so easy that way but you could also use a store bought pie crust for this recipe. As the days go by, the coffee flavor in this pie intensifies.
Grab a cup of coffee and a slice of this pie and you'll be set for one delicious dessert!
Ingredients
For the pie crust:

1 1/4

cups

flour

1/2

teaspoon

sugar

1/4

teaspoon

salt

1/2

cup

1 stick butter, cold

1/4

cup

ice water

For the filling:

6-8

medium-large apples

I used Pacific Rose apples

1/3

cup

sugar

1/3

cup

brown sugar

3

tablespoons

corn starch

2

teaspoons

apple pie spice

For the coffee crumble topping:

2/3

cup

flour

1/3

cup

brown sugar

4

tablespoons

1/2 stick butter

1/4

teaspoon

finely ground coffee grounds

optional
Instructions
To make the pie crust:
In a food processor pulsate the flour, sugar and salt for 2 seconds. Cut the cold butter into tablespoon size pieces and add to the food processor and pulsate for 2 seconds, then with the motor running on low slowly drizzle in the ice water. The dough should be in little pea size pieces and easily come together with your hands. If the dough is too sticky add in a few tablespoons of flour - alternatively if the dough is too crumbly add in a teaspoon of water at a time.

Carefully remove dough from the food processor and form into a disc. Wrap dough disc in plastic wrap and refrigerate for an hour or put in the freezer for half an hour. Remove dough from the refrigerator and roll out on a floured surface, place in a 9 inch pie pan and crimp edges.
For the filling:
Peel, slice and core the apples and slice into pieces and put in a bowl, then pour in the remaining filling ingredients (sugar, brown sugar, corn starch, apple pie spice and stir until combined.

Pour filling into the pie crust.

Preheat oven to 400 degrees.
For the crumble topping:
In a food processor combine flour, brown sugar, butter and coffee grounds and pulsate for 5 seconds, until combined but some bigger chunks of butter still remain.

Spoon crumble on top of apples.

Place pie on a baking sheet to catch any drippings and bake for 1 hour, then turn the heat off and let the pie sit in the oven for half an hour more (don't open the oven).
I seriously love Door to Door Organics (as you already know when I posted this super easy corn salad that can also be used as a pizza topping or this farm-to-table dinner or these peanut butter banana granola bars), groceries delivered is one of my favorite things ever. Want to experience the awesomeness of Door to Door Organics? We're giving away a $100 gift certificate! To enter simply comment telling me your favorite pie filling, and for additional entries follow Door to Door Organics on their social media pages (facebook, instagram, twitter) and tag someone you think would love their services and include the #sweetphiblog hashtag so I can see the entry, don't forget to fill out the widget so I know you've entered, winner randomly chosen December 13, 2015.