Do you ever see those pictures of gorgeous farm to table dinners and think how fun it would be to have been there? Well, today I'm going to show you how to have a farm to table dinner in your backyard with recipes, decor and more, so you can have your friends and family over and create your own farm to table dinner!
I've always been drawn to local ingredients and the farmers behind such wonderful produce. So when I learned about Door to Door Organics' (this service is closed now) new 'local farm box' (a box of produce from local farmers delivered to your door on a weekly or biweekly basis) I just knew it would be a good fit for me. I love having farm fresh ingredients delivered to my door.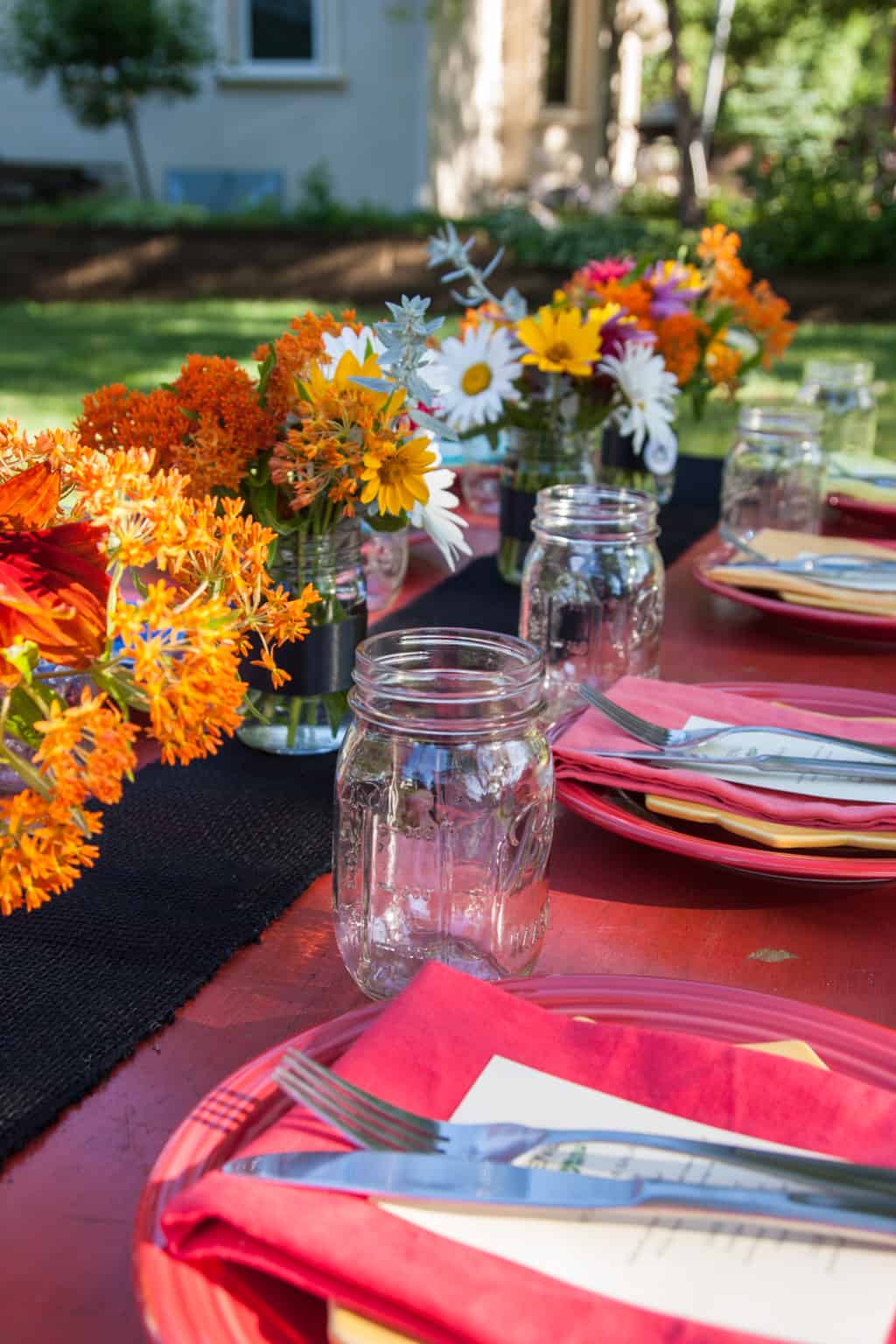 When I first started getting my local farm boxes I was so impressed with the produce, that I wanted to share with my in-laws (who always have us over for dinner), and what better way than to have a farm-to-table inspired dinner?
[Tag me on Instagram, @philiakelnhofer when you have a farm to table in your backyard! ]
The first step to having the farm to table dinner was looking at the different local ingredient offerings to see what was in season. I saw that greens (and fresh herbs) and tomatoes, along with kohlrabi, carrots and strawberries were all in season, so I built my menu around those ingredients.
For an appetizer I made my recipe for tomato tarts (one of the most delicious way to use tomatoes – and a dish requested by my hubby and his family all summer long!) along with a salad with homemade buttermilk ranch dressing, bacon, rosemary asiago cheese and soft boiled eggs (I'll share the recipes at the bottom). This was accompanied by sourdough bread and butter. All ingredients local and amazingly delicious. The salad – wow was it good. Everyone liked the uniqueness of the soft boiled eggs and the freshness of the dressing.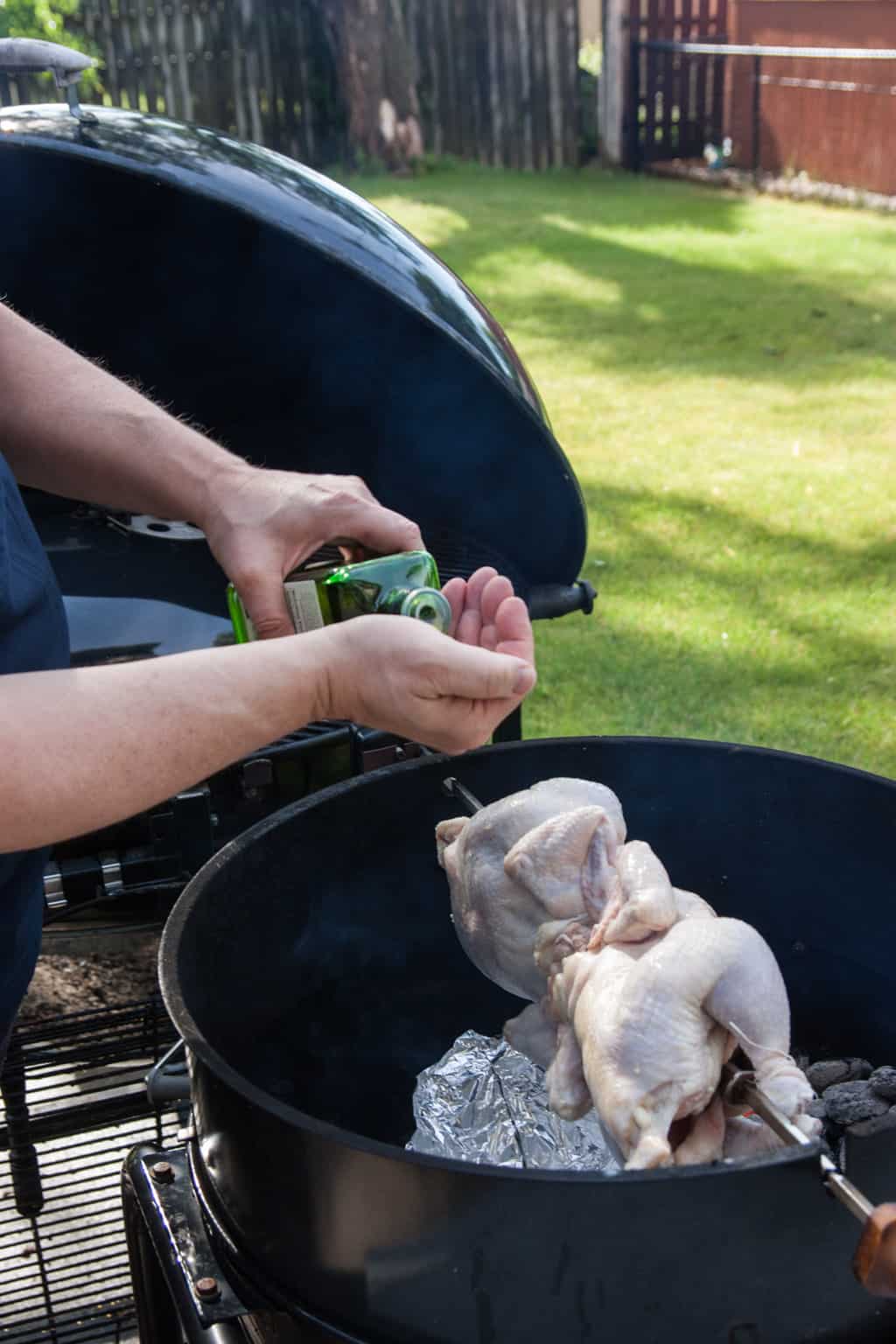 Then for the mains & meats course I made ginger glazed and seared carrots, roasted potato and kohlrabi salad (recipe here) and rotisserie chicken. If you don't have a rotisserie on your grill, fear not, you can bake the chicken (just like I did with this oven roasted chicken).
This is how my father in law eats rotisserie chicken lol – he eats the bits off the carcass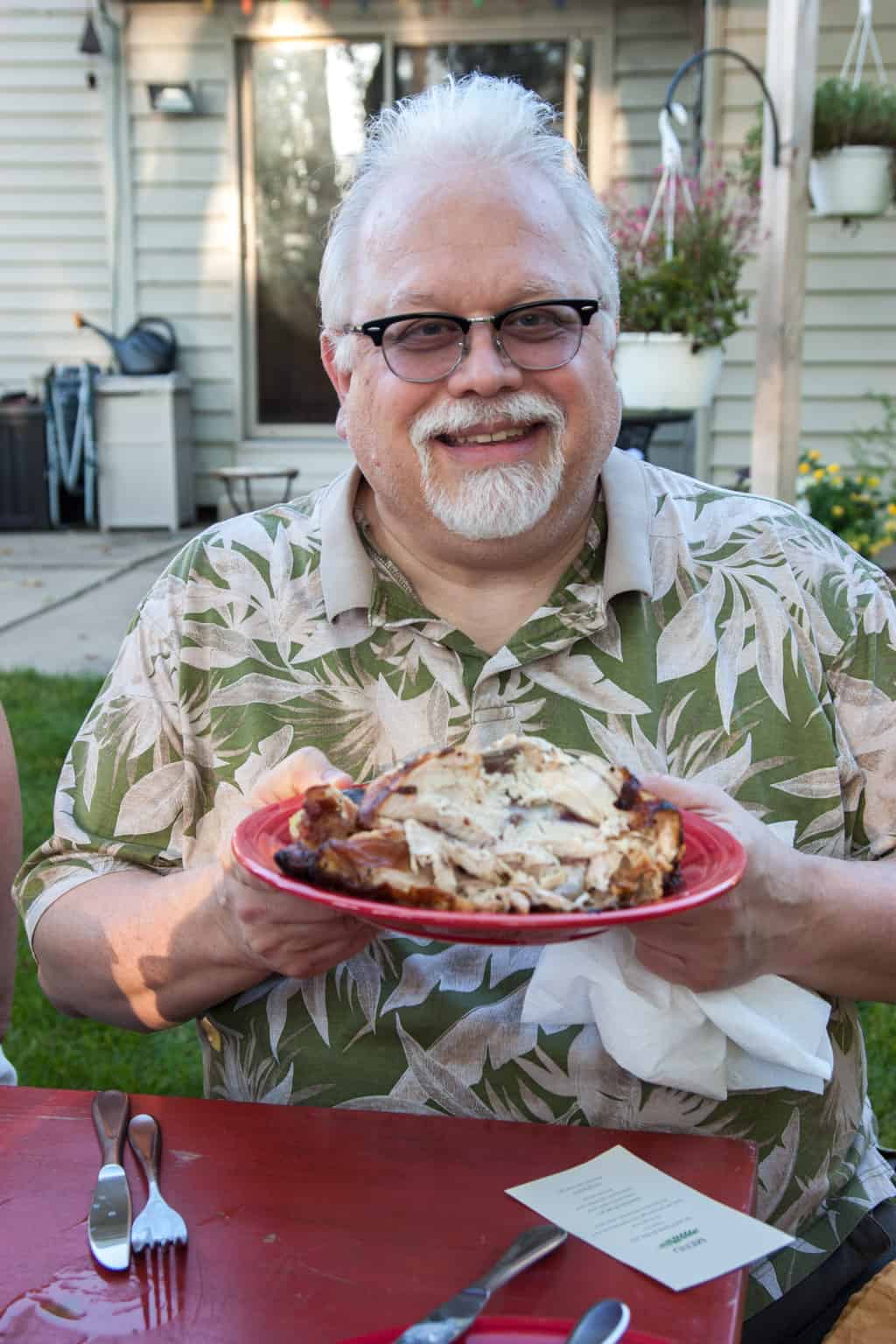 Dessert was 5 ingredient jam crumb bars with fresh strawberries (recipe for those coming tomorrow for five ingredient Friday!)
This meal could not have come together if not with the help of my in-laws and friends. The beautiful table along with the flowers (and fun pig statute) came from friends of my in-laws, they have one of the most enviable gardens you have ever seen – complete with a prairie! Before the dinner I visited their sprawling gardens and got to hand pick the flowers for the table, they even brought the gorgeous table and benches you see in the photos!
For a farm to table dinner it is only fitting to have flowers and serve drinks in mason jars, right? I made a pitcher of basil lemonade-a super refreshing summer drink, some adults may have added a little vodka 😉
And then for table decor I went with a simple burlap table runner and then cotton colored napkins with printed menus. For the menus I made them I just printed/cut them, here is a pdf of the farm to table dinner menu.
Another place I love to get fresh produce delivered from is throught Instacart grocery delivery. Everything I need at my local grocery stores is delivered right to my door! First time customers to Instacart will receive $10 off their first order using the code PHILIAK125.
As for the menu of the evening, #MyFarm2Table dinner was as follows:
STARTERS & SALAD
Tomato tarts (recipe here)
Salad with soft boiled eggs, homemade buttermilk ranch dressing, bacon and rosemary asiago cheese (recipe below)
MAINS & MEAT
Ginger glazed seared carrots (recipe below)
Roasted potato and kohlrabi salad (recipe here)
Rotisserie chicken (recipe below)
DESSERT
5 ingredient strawberry jam crumb bars (recipe here)
And here are the recipes for the salad, carrots, and rotisserie chicken:
salad, seared carrots, and rotisserie chicken recipes
Ingredients
For the salad-
1 lb bacon
4 oz rosemary asiago cheese, shredded
4-6 eggs, soft boiled
homemade salad dressing-1/3 cup buttermilk, reduced fat
½ cup plain yogurt, reduced fat
1 tsp fresh parsley
1 tsp fresh thyme
1/2 tsp fresh rosemary
1 tsp dried dill
½ tsp garlic salt
¼ tsp salt
8-10 cups spring mix lettuce
Pinch of freshly ground pepper
For the glazed seared carrots-
2 lbs carrots, cut at a diagonal into pieces
2 Tbs extra virgin olive oil
1 Tbs butter
1 1/2 tsp salt
1/2 onion, finely sliced
1 inch fresh ginger root, grated
3 sprigs thyme
2 Tbs brown sugar
1-2 Tbs lemon juice
For the rotisserie chicken -
2 (5-8 lbs each) whole chickens, innards-giblets removed
1/4 cup extra virgin olive oil
2 tsp salt
2 Tbs paprika
2 Tbs garlic salt
1 Tbs kosher salt
1 tsp onion powder
1/2 tsp ground black pepper
1/4 tsp cumin
Instructions
For the salad-
Cook the bacon and let it cool on top of paper towels, then crumble it up and put it in a small bowl and set aside.
Shred the cheese and put in a small bowl and set it aside.
To make the salad dressing simply whisk all the ingredients together in a small bowl and set aside (I put mine in a mason jar after making it).
To make the soft boiled eggs bring water to boil in a medium pot, when it is boiling carefully add in the eggs and let sit in the boiling water for 6 minutes, then turn off the heat and shock the eggs by running cold water over them. Set them aside and let them cool, then peel them and cut them in 4s.
To assemble the salad place lettuce in a large serving bowl, then mix in bacon, shredded cheese, and top with soft boiled eggs. Serve dressing on the side so guests can dress their own salads
For the ginger seared glazed carrots -
Heat oil in a skillet or large pan, add butter, salt and carrots. Cook for 5 minutes, add remaining ingredients and cook until carrots are tender (about 15-20 minutes) stirring occasionally.
For the rotisserie chicken-
Wash the chickens and pat dry with paper towel, sprinkle a little salt (about a teaspoon) into each chicken opening, put on the rotisserie spikes and tie the legs together with twine. Set your grill up and heat the charcoals, lay a piece of aluminum foil on top of the charcoal to catch the drippings.
Combine all ingredients for spice mixture in an empty jar or small bowl - paprika, garlic salt, onion powder, kosher salt, black pepper, and cumin.
Pour a little olive oil into your hands and rub chickens with olive oil, then sprinkle liberally with seasoning mixture.
Grill until internal temperature of the chicken is 165-175 with a meat thermometer.
Alternatively you could bake chickens in the oven at 425 for about 50-70 minutes or until the internal temperature is 165-175 with a meat thermometer.

Other recipes you might enjoy: