Ever have a bag of frozen broccoli but don't feel like boring steamed broccoli? Well I'm here to share with you that you can make crispy from frozen roasted broccoli. It's crave-able and has become a dinner vegetable side dish we make on a weekly basis.
I do have to admit that I cannot take credit for this recipe. Nick actually made it for dinner once, and I couldn't stop eating it. I think I ate like 75% and then said ooops, here, I left you some (and left him like a bite or two).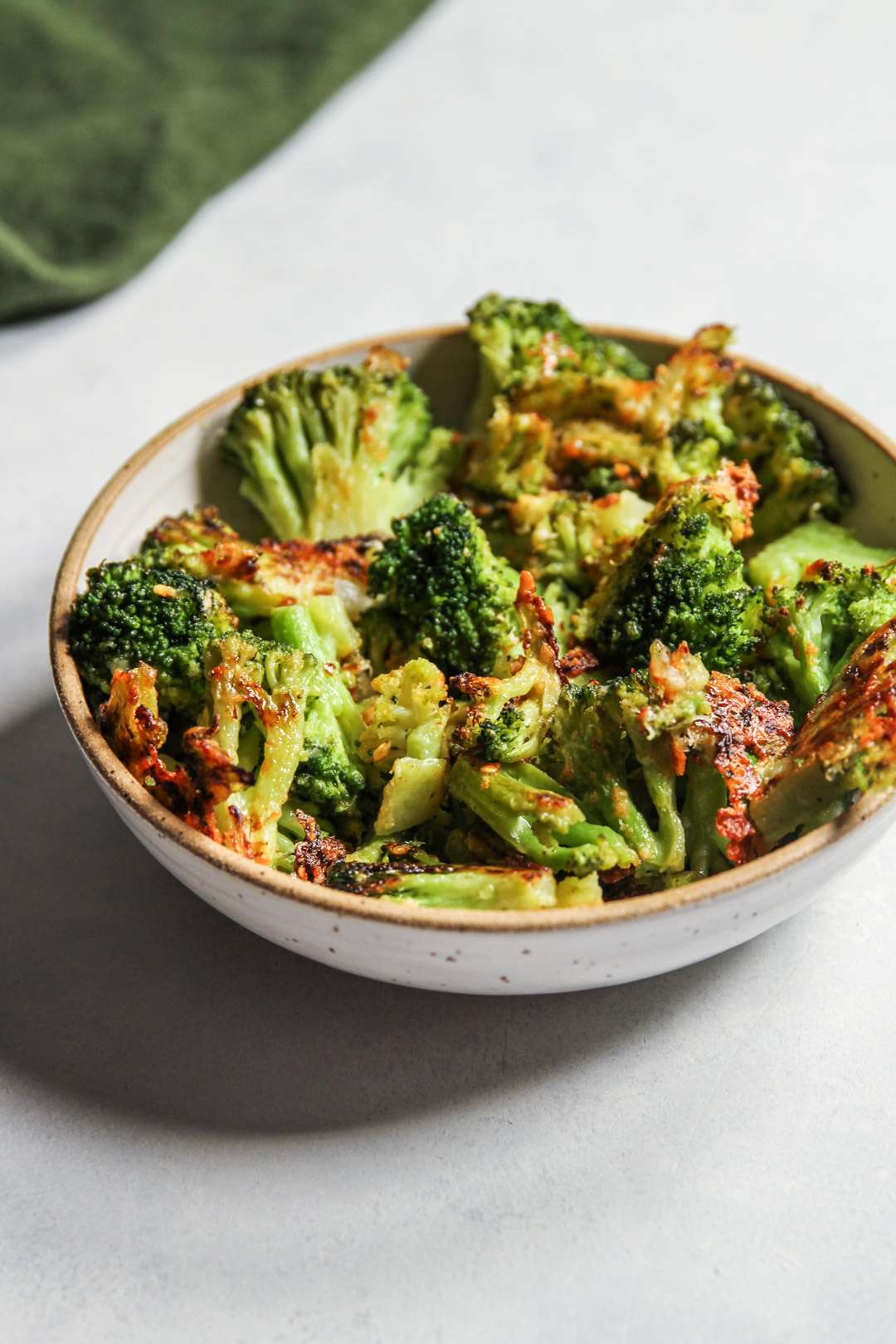 By the third time I'd had this broccoli side dish recipe (in a week) I just had to share the recipe. It's crispy roasted broccoli in a mixture of olive oil, parmesan and other spices.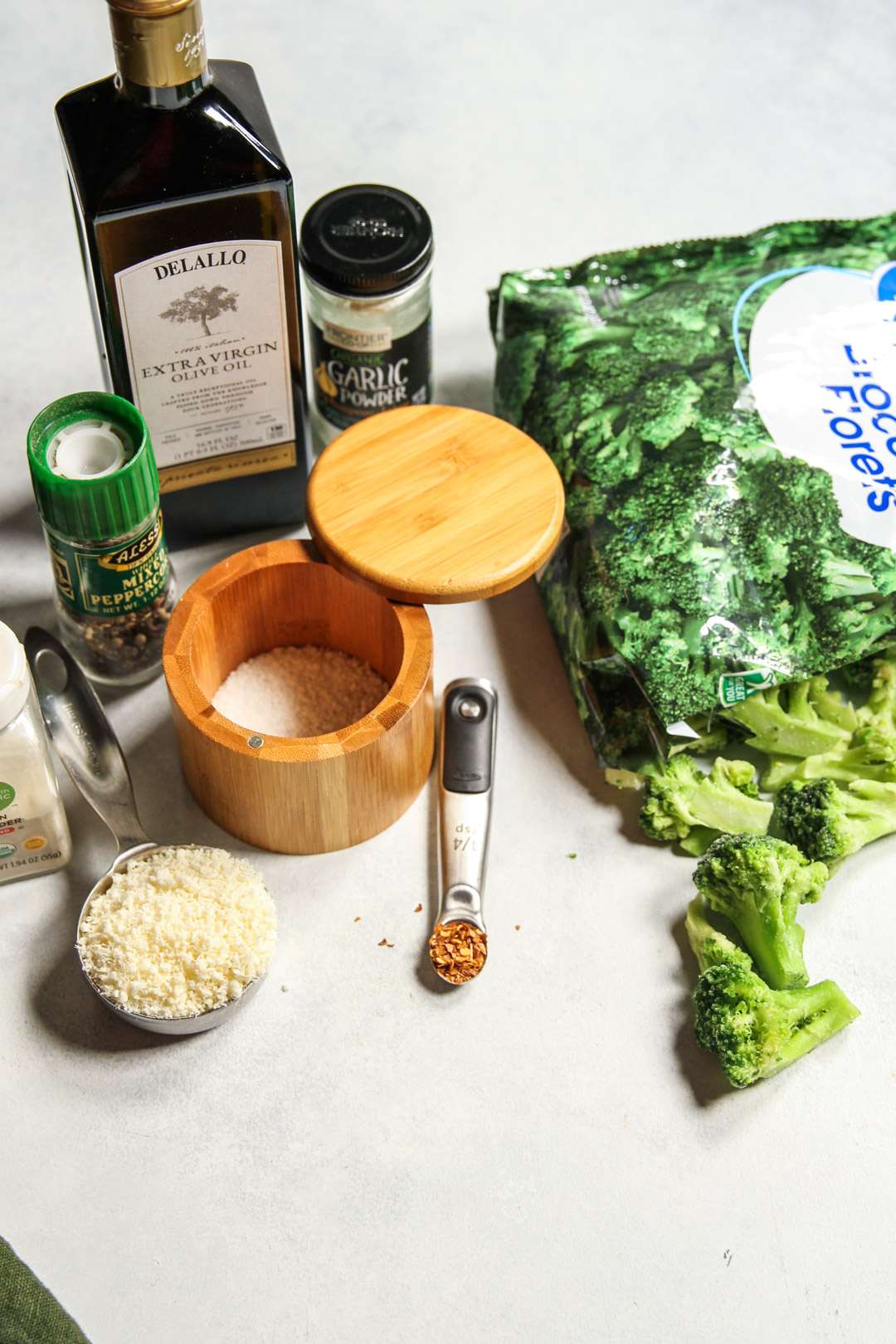 What ingredients do I need to make this crispy broccoli?
Extra virgin olive oil – this is the base of the recipe; it helps all of the seasoning stick to the broccoli.
Red pepper flakes – the red pepper flakes give this recipe a little kick and bring the broccoli up a notch, but it's not spicy
Garlic powder – every good recipe has garlic in it, am I right?!
Onion powder – Nick swears this is his secret ingredient!
Kosher salt – always a better choice than traditional table salt.
Pepper – we use fresh pepper and I counted 20 grinds…which is about 1/4 tsp.
Parmesan cheese – using fresh parmesan cheese is the best choice for the recipe.
Frozen broccoli florets – making this recipe from frozen is the very best part of it!  You only need a 12 oz. bag.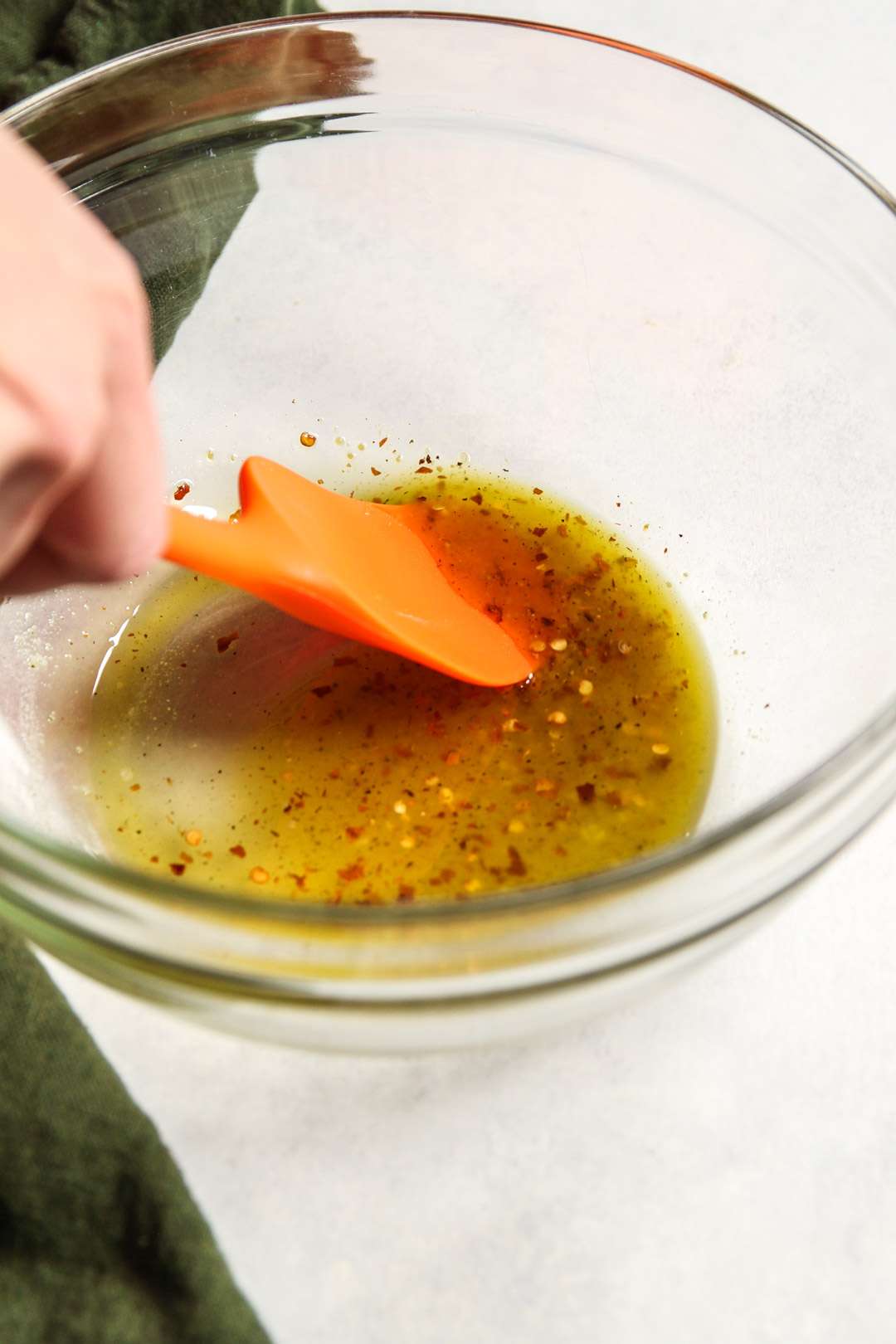 How do I make crispy frozen broccoli?
Put a rimmed baking sheet in the oven. Turn oven on to 425 (you want the pan to heat up while the oven preheats.)

In a large bowl mix together oil, red pepper flakes, garlic powder, onion powder, salt, and pepper, stir well until combined.

Add frozen broccoli and stir.

Add a sheet of parchment paper to the baking sheet 1 minute before adding the broccoli to it and put it back in the oven.

Add parmesan cheese to the broccoli and stir until well coated.

Bake for 16-18 minutes or until the you see some brown bits on the broccoli/parchment paper.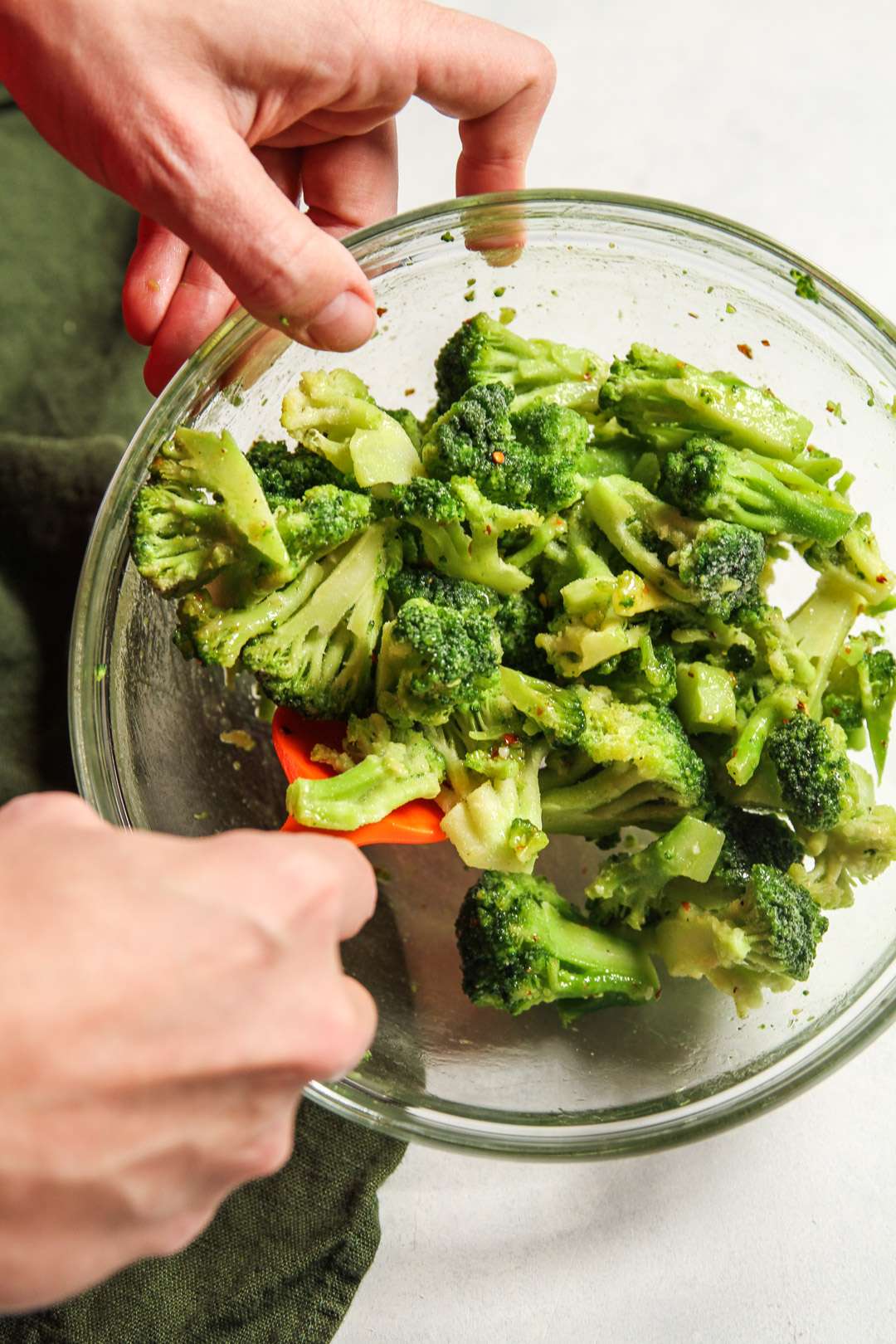 For this recipe, I combined some inspiration from the Toasty Kitchen's recipe for Parmesan roasted broccoli with red pepper flakes and my grilled broccoli side dish recipe.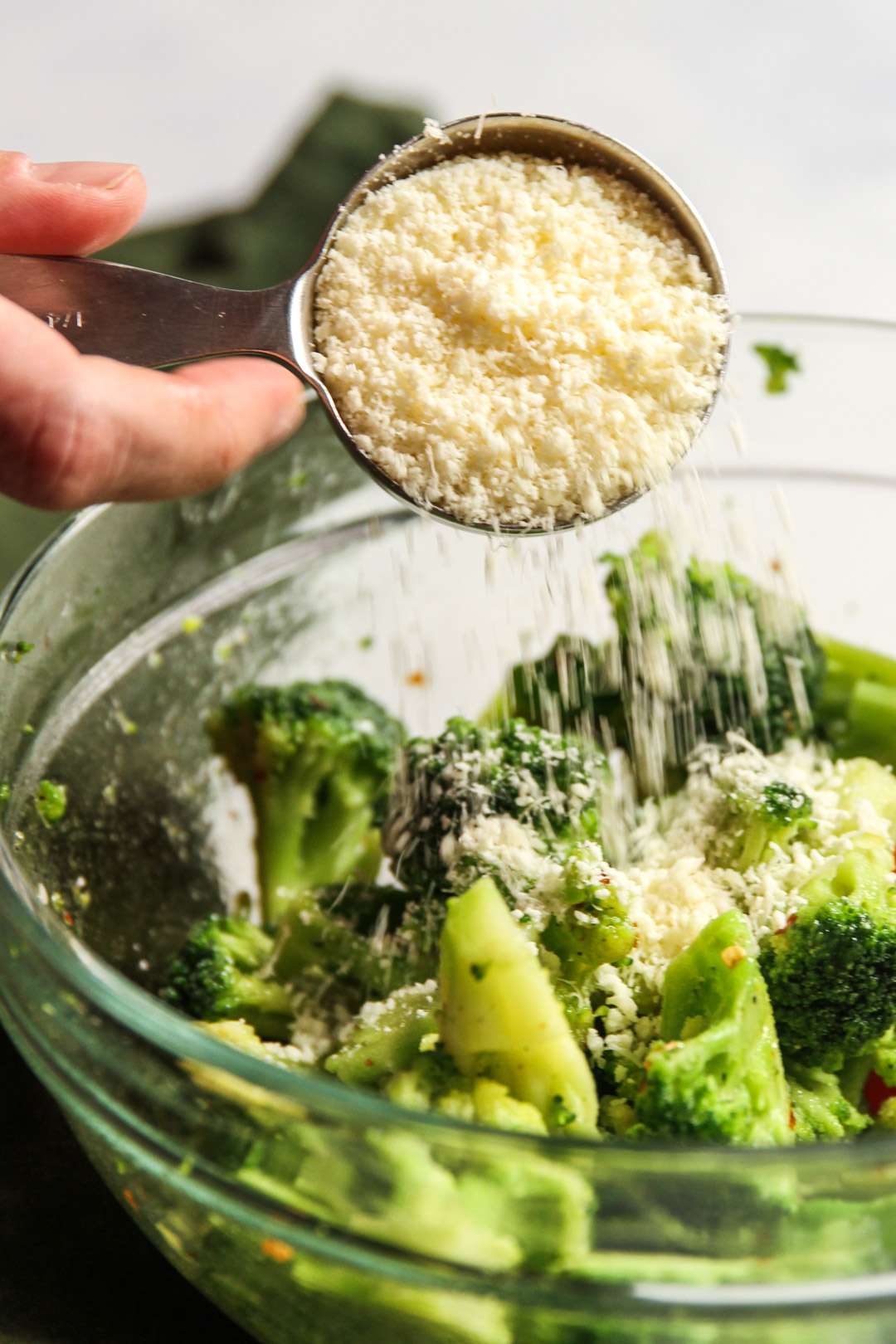 The trick with this recipe – what makes the broccoli crispy from frozen – is that you heat a baking sheet while the oven is preheating. And then you coat broccoli in olive oil and parmesan cheese, which, when baked, forms this crispy outer layer on the broccoli.
This broccoli is awesome all by itself, but if you're looking for a quick dinner (or breakfast) this crispy broccoli with a scrambled egg and side of toast- yum!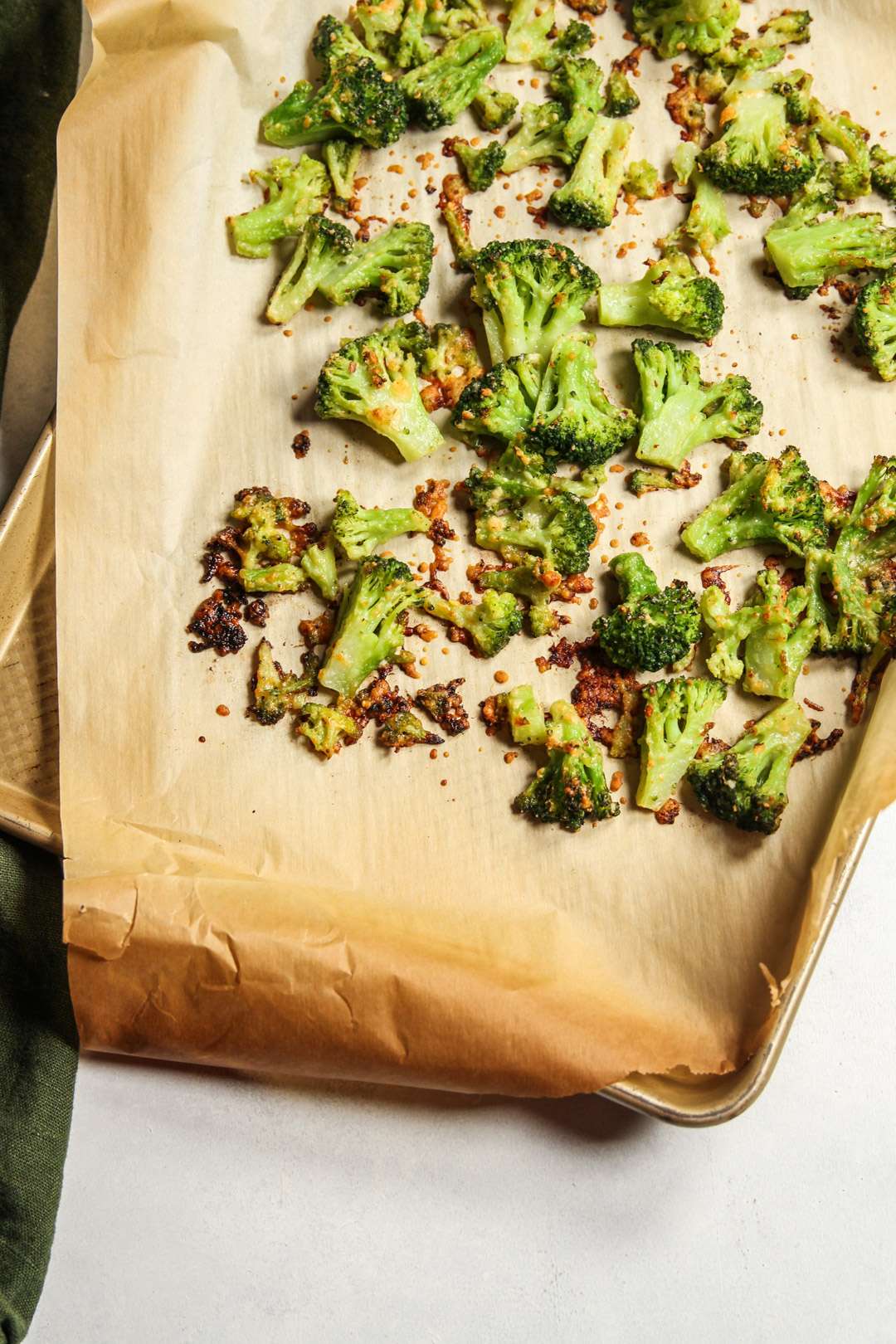 If you're not normally a fan of broccoli, I recommend trying this crispy from frozen roasted broccoli dish and it will change your mind!
WP Recipe Maker #32590

remove

Crispy from Frozen Roasted Broccoli

This broccoli side dish is crispy and delicious and simply made with a boring bag of frozen broccoli!

Course: Appetizers/Sides, Side Dish

Keyword: broccoli side dish, healthy recipe, healthy recipes, healthy side dish

Prep Time: 5m

Cook Time: 20m

– Baking sheet (Gold Touch)

– Glass Mixing Bowls

– 2 Tbs. Extra virgin olive oil

– 1/4 tsp. red pepper flakes

– 1/4 tsp. garlic powder

– 1/4 tsp. onion powder

(Nick's secret ingredient)

– 1/4 tsp. kosher salt

– 20 grinds pepper

(about 1/4 tsp. freshly ground pepper)

– 1/3 cup Parmesan cheese

grated

– 1 bag frozen broccoli florets

(12 oz. bag)

1) Put a rimmed baking sheet in the oven. Turn oven on to 425 (you want the pan to heat up while the oven preheats.)

2) In a large bowl mix together oil, red pepper flakes, garlic powder, onion powder, salt, and pepper, stir well until combined. 

3) Add frozen broccoli and stir. 

4) Add a sheet of parchment paper to the baking sheet 1 minute before adding the broccoli to it and put it back in the oven. 

5) Add parmesan cheese to the broccoli and stir until well coated. 

6) Bake for 16-18 minutes or until the you see some brown bits on the broccoli/parchment paper. 

Note: any parmesan mixture left in the bowl after you've transferred the broccoli out of the bowl makes a delicious dip for any bread or crackers you have.  The nutrition information presented on this site should be considered an estimate as the calculations will change based on the exact products you use in your own kitchen.

calories 440

carbohydrates 16

protein 15

fat 37

saturated_fat 10

cholesterol 23

sodium 1038

potassium 266

fiber 5

sugar 1

vitamin_a 735

vitamin_c 1

calcium 483

iron 2