Made with a creamy Garlic Bechamel Sauce, this pizza has it all- melted fresh mozzarella cheese,  crunchy prosciutto bits and then topped with crisp, peppery arugula…makes for one delicious pizza!
Since my father-in-law had made Neapolitan Pizza  grill attachment  (called a kettlepizza) last weekend, everyone was definitely clamoring for a repeat this past weekend, and he oh-so-kindly obliged (if you're interested in seeing how the KettlePizza worked or what he used, check out my post here).  My contribution (besides bringing the Bourbon Salted Caramel Chocolate Chip Cookies) was bringing a garlic bechamel sauce (that my husband had been kindly nudging me to make, so he should get credit for this idea).
Ah Pizza…how I love thee…and I don't know about you, but I could have pizza for all three meals of the day (ever had Breakfast Pizza … it's delish!) and after reading Stephanie from Girl Versus Dough's post on Caramelized Spring Onion and Fennel Pizza where she not only shared her delicious recipe but also mentioned #PizzaWeek I knew I just had to get on board! I mean…a whole week dedicated to Pizza? Yes Please!
Nosh On It is Introducing #PizzaWeek 2014: A Celebration for the Love of Pizza and so what better time than now to share my Garlic Bechamel Prosciutto Pizza! It is very similar to my 5 Ingredient Prosciutto Pizza I made a few months ago as part of the Five Ingredient Fridays Series I run here on the blog, but instead of using garlic flavored olive oil, it uses a creamy bechamel.
Thank you to my sister-in-law – pizza cutter extraordinaire…look at those perfectly straight lines!
I've adapted the recipe to be made in an oven, but if you happen to have a KettlePizza that makes your grill into a wood oven, this would be perfect for it!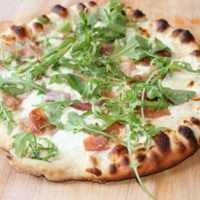 Ingredients
For the Garlic Bechamel

3

Garlic Cloves

crushed

1

tsp

salt

2

Tbs

Butter

2

Tbs

Flour

1/2

Cup

Half and half or heavy cream

2

Tbs

Parmesan cheese

shredded or 1 Tbs grated

For the Pizza

1

Pizza Crust

either store bought of made at home

4

oz

fresh mozzarella

2

oz

shredded mozzarella

4

slices

prosciutto

hand ripped into little pieces

1

handful arugula
Instructions
To make the bechamel: melt butter in a sauce pan and add crushed garlic cloves as the butter starts to melt, add in the salt, and whisk constantly until the butter has melted. Add in the flour and whisk until it is a paste-like consistency, then add the half and half (or heavy cream) and whisk until smooth. Add in the Parmesan cheese and whisk until it is melted and the bechamel is a thick smooth consistency.

Preheat oven to 450.

To assemble the pizza: spread a thick layer of the bechamel sauce over the pizza crust, lay down pieces of fresh mozzarella, sprinkle shredded mozzarella over the whole pizza, then lay down pieces of prosciutto. Bake for 20 minutes or until sides start to brown. Remove from oven, sprinkle arugula over pizza, slice, and enjoy!
Some of the above links are affiliate links, if you purchase amazon products through my store at no cost to you, I will earn a few pennies. As always, thank you for supporting the brands and products I love that make the Sweetphi blog possible. Please note that I am not affiliated with kettlepizza, we just happened to like their grill attachment!